Lymph nodes are small round shaped tissue resembling lumps that are part of the lymph system. Lymph nodes play an important role in the body's immune system. So, these glands will usually swell if there is an infection or other problem. Lymph nodes may even swell for several weeks after the infection clears. Checking your lymph nodes yourself can help you detect health problems early. If your lymph nodes are swollen for more than a week, see your doctor for a checkup. If your lymph nodes are painful and swollen, and accompanied by other symptoms, immediately consult a doctor.
Step
Part 1 of 2: Feeling Swollen Lymph Nodes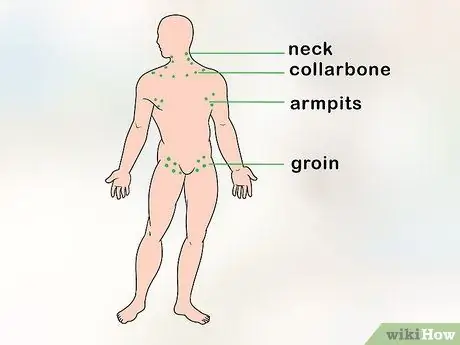 Step 1. Find the location
Lymph nodes are found in the neck, collarbone, armpit, and groin. Once you've located it, you can check for pain or swelling there.
Lymph nodes are also found in other parts of the body such as the inside of the elbows and knees. However, swollen lymph nodes in this area are rarely examined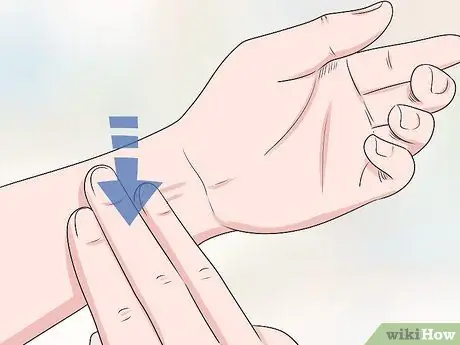 Step 2. Press one part of the body that does not have a lymph node for comparison
Press 3 fingers on the forearm. Feel the layer beneath the skin, paying close attention to the texture of the tissue beneath. That way, you can find out what the texture of a normal, non-bloated body part looks like.
Lymph nodes that are not swollen will feel denser than the surrounding tissue. These glands can only be felt easily if they are irritated or swollen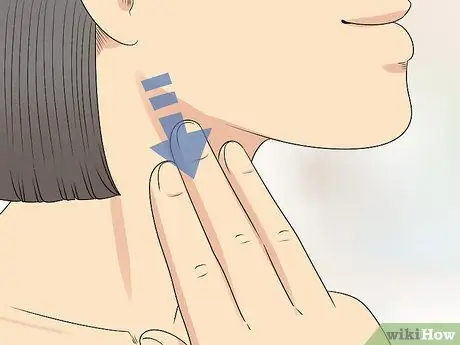 Step 3. Check the lymph nodes in the neck and collarbone
Use 3 fingers on both hands at once to feel behind the ears, down both sides of the neck, down to the jawline. If you can feel a lump with mild pain, your lymph nodes may be swollen.
If you can't feel the lymph nodes, don't worry. This is normal.
Gently press your finger and then slide it slowly until you can feel a dense band of tissue under the layer of skin. Lymph nodes are usually clustered and about the size of a pea. A healthy lymph node will feel more supple and elastic than the surrounding tissue, but not as hard as a rock.
If you can't feel the lymph nodes in your neck, try tilting your head in a direction that's difficult to check. This position will relax your neck muscles and allow you to feel the lymph nodes more easily.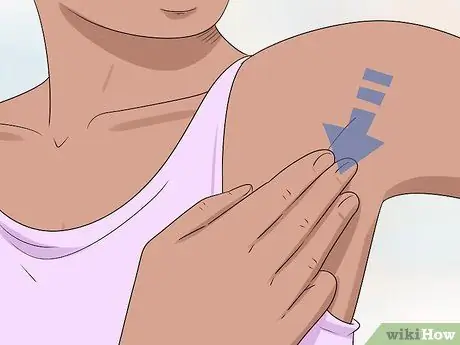 Step 4. Feel the lymph nodes in the armpit
Place 3 fingers in the middle of the armpit. After that, slowly slide the three towards the ribs until about a few cm on the upper side of the breast. The lymph nodes in this area are located under the armpit, close to the ribs.
Slide your fingers around this area while pressing gently. Slide your fingers toward the front and back of your body, and a few centimeters up and down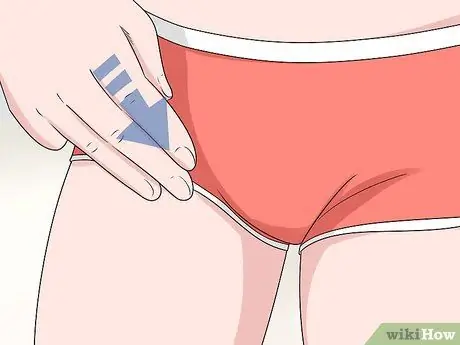 Step 5. Feel for the inguinal lymph nodes in the groin
Slide 3 fingers into the groove where the thigh and pelvis meet. Press this indentation a little harder and you should be able to feel the muscle, bone, and fat layer underneath. If you can feel a characteristic lump in this area, it is likely a swollen lymph node.
Lymph nodes in this area are usually located under the large ligaments. So, you'll be hard-pressed to find it unless it's bloated.
Be sure to feel both sides of the groin. That way, you can compare the textures and see which side of the gland is swollen.
Step 6. Determine if the lymph nodes are swollen
Do you feel the difference in texture compared to pressing the forearm? You should be able to feel the bones and muscles under the skin, but the swollen lymph nodes will feel different and slightly awkward. If you can feel a lump that is accompanied by pain, your lymph nodes may be swollen.
Part 2 of 2: Checking Lymph Nodes with Doctor's Help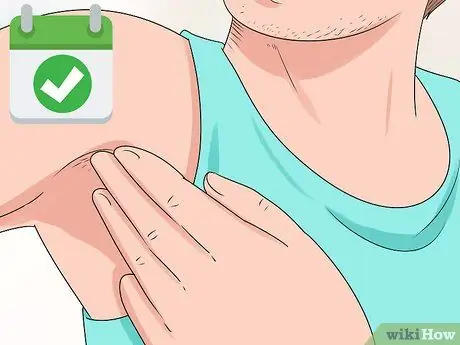 Step 1. Observe the swollen lymph nodes
Sometimes, lymph nodes swell in response to an allergy or a short-term infection from a virus or bacteria. If so, the size of these glands will usually return to normal within a few days. However, if the lymph nodes continue to swell, feel hard, or painful for more than a week, it's a good idea to see a doctor to determine the cause.
Even if you don't experience any other symptoms, it's best to see a doctor if swelling of the lymph nodes persists.
If you find a lymph node that feels hard, is not flexible, and is not painful that is more than 2.5 cm in size, see a doctor immediately.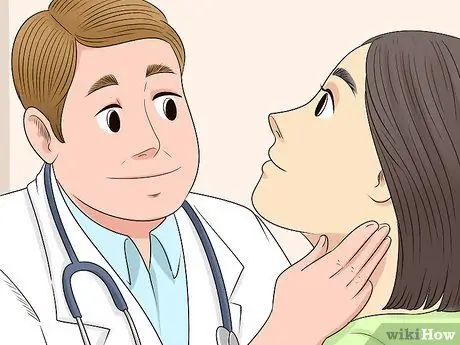 Step 2. See a doctor immediately if you experience certain symptoms
Swollen lymph nodes can also indicate that your immune system is battling a serious disease. See a doctor immediately if your lymph nodes are swollen with any of the following symptoms:
Weight loss for no apparent reason
Sweating at night
Fever that doesn't get better
Difficulty breathing or swallowing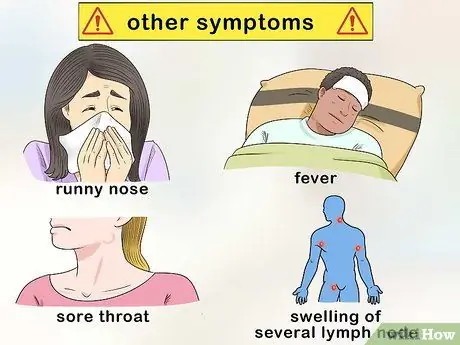 Step 3. Tell your doctor if you experience any other symptoms
While not all of them are signs of a serious illness, telling your doctor about your symptoms will help him diagnose you. Some of the symptoms that often accompany swollen lymph nodes include:
Cold
Fever
Sore throat
Swollen lymph nodes in several areas at once.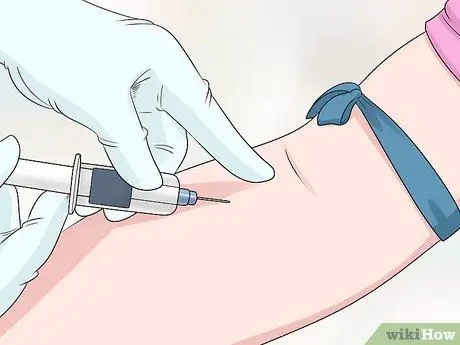 Step 4. Check if the swelling is caused by an infection
When you visit your doctor to check for swollen lymph nodes, the doctor will feel the nodes to make sure. After that, the doctor will check whether the cause is a bacterial or viral infection, either by taking a blood sample or taking a bacterial culture from a part of the body such as the throat.
Chances are, you will be tested for diseases that commonly cause swollen lymph nodes, such as a virus or Streptococcus bacteria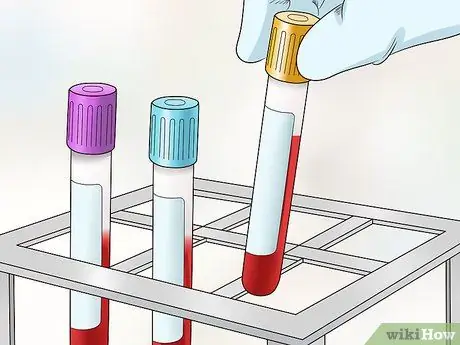 Step 5. Get tested for immune system diseases
Your doctor will probably check your immune system as well. You may be asked to undergo various tests, such as a complete blood test, which will measure the activity of the body's immune system. This test will help your doctor determine whether you have an immune system disease such as lupus or arthritis that causes swollen lymph nodes.
Diagnostic tests will help your doctor determine the condition of your immune system, such as whether your blood count is low, and whether there is anything abnormal in the lymph nodes themselves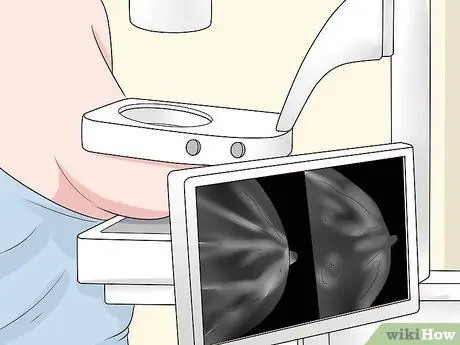 Step 6. Get tested for cancer
Although very rare, swollen lymph nodes may also be a symptom of cancer in the lymph nodes or other parts of the body. Preliminary tests used to identify cancer include blood panels, X-rays, mammograms, ultrasound, and CT scans. If the cause is suspected to be cancer, the doctor will recommend that you undergo a biopsy of the lymph nodes to find cancer cells.
A lymph node biopsy is usually an outpatient procedure. To take a sample of the lymph node usually does not require a deep incision or needle puncture.
What tests the doctor recommends will be determined by which lymph nodes are examined and what problems are suspected to be causing them.
Tips
Swollen lymph nodes are common and will usually go away on their own within a few days