Who is not embarrassed or awkward when the beauty of their skin is suddenly disturbed by the appearance of warts? Although annoying, warts are actually a very common skin problem and can be treated. So, how to distinguish warts from other bumps such as blisters or pimples? Basically, when you find abnormal lumps that appear alone or in groups, try to check their size, shape, texture, and color. Unlike a blister or pimple, warts do not contain fluid and as such, will feel firm and "fleshy" to the touch. Generally, warts also do not cause symptoms, except when they appear in areas that are tasked with supporting the body's weight, such as on the soles of the feet. The growth of warts is also quite slow. Therefore, any lump that appears suddenly is usually not a wart. Also, since warts are caused by a virus and can spread easily, remember to wash your hands after touching, identifying, or treating warts, and never scratch or touch warts outside of treatment!
Step
Part 1 of 3: Differentiating Warts from Other Skin Problems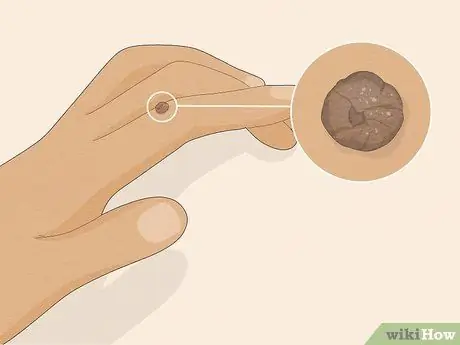 Step 1. Find small, grayish bumps that feel fleshy when pressed, on the surface of your skin
In general, warts are fleshy bumps that are gray in color, or in some cases, the same color as your skin. Generally, these lumps are small, about 1-10 mm in size, and you may find only one wart or several warts growing in groups.
Warts do not have eyes like pimples, but sometimes have a small black dot in the center, which looks like tiny seeds. These black dots can appear if the blood flow to the wart dries up, and the dried blood will then darken. In medical terms, the black dots in the center of the wart are known as thrombosed capillaries.
The appearance of warts is caused by a virus. In particular, different types of viruses will trigger the appearance of different warts, in different areas of the body.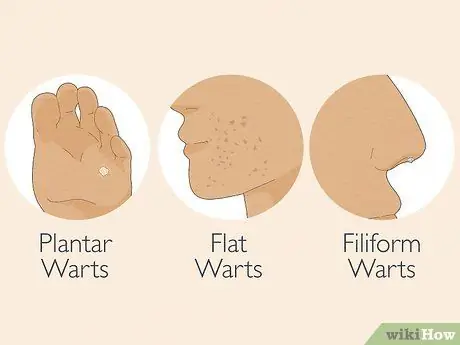 Step 2. Determine what type of wart you have
The most common types of warts can appear on any part of the body, especially on the hands. Generally, warts will look like raised bumps that resemble flesh in color, with an irregular surface texture. These are the most common warts, in addition to the less common types, such as:
Plantar warts. This type of wart will usually appear on the feet, especially in areas that often bear weight. In addition, plantar warts are often hard and may have a black dot in the center. The black dot is actually a broken blood vessel.
Flat warts. This type of wart will generally appear on the face, hands, and feet. Specifically, the wart will look like a group of flat, flesh-colored bumps. In some cases, the wart will also be shaped like a dome.
Filiform warts. This type of wart usually appears on the face, lips, nose, and eyelids, and looks like a thin rod resembling a skin tag. Sometimes, filiform warts will also look like a bunch of thin rods arranged in a circle.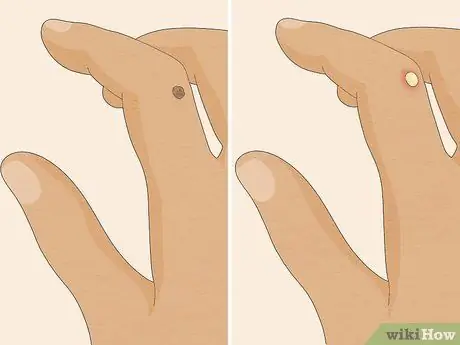 Step 3. Distinguish hard-textured warts from fluid-filled blisters
If the bump on your skin feels hard and fleshy, it's most likely a wart. However, if the lump feels tender and watery, it is most likely a blister, abscess, pimple, or cyst.
Wash your hands with warm, soapy water for at least 20 seconds after touching the wart or the surrounding skin area. Be careful, the virus that causes warts can spread very quickly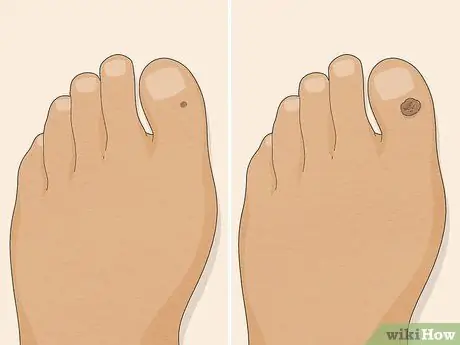 Step 4. Observe how quickly the lumps form
Generally, warts take about 2-6 months to appear prominent on the surface of the skin. In fact, even the fastest growing warts will only appear prominent after a few days or weeks. That's why, a lump that suddenly appears should be caused by another problem.
If the lump suddenly appears after a few minutes or a few hours, it is most likely an allergic reaction.
Hives, or small pink bumps that commonly appear as an allergic reaction, can also be itchy. Meanwhile, warts are generally not itchy or painful, except for plantar warts that appear on the soles of the feet so they can be painful when stepped on.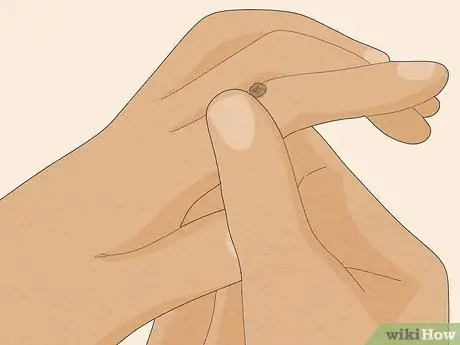 Step 5. Identify the texture of the wart
In particular, observe whether the texture of the wart feels rough, smooth, or stringy to the touch. The surface texture of the wart can actually help you and your doctor determine the most effective treatment method. Generally, the surface of the wart will feel rough and grainy, like the texture of cauliflower. In addition, there are also several types of warts that are small, do not protrude, and are smooth to the touch. In some cases, the wart will also look like a very fine collection of fibers or threads.
Common types of warts, such as those with a rough surface texture, can generally be treated easily using over-the-counter medications that can be purchased without a prescription at the pharmacy.
Other types of warts may require additional treatment methods, such as taking medicines to improve the immune system.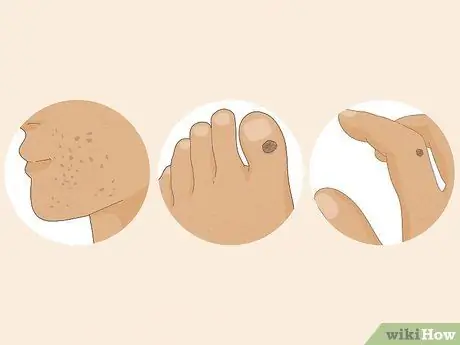 Step 6. Observe the location of the wart
In fact, warts can appear anywhere on the body, and the exact method of treatment depends on the location of the wart. Generally, warts will appear on areas that have been injured or withstand intense stress, such as on the fingers, hands, elbows, knees, and feet. To treat warts in these locations, usually salicylic acid is also quite useful.
To treat warts on sensitive skin areas, such as on the face, you should ask your doctor or pharmacist for recommendations for treatment. Remember, some ingredients commonly used to treat warts, such as salicylic acid, should not be used on the face area!
Always consult a doctor if you think you have genital warts. If you don't have a personal doctor, try to get yourself checked at the nearest sexual health clinic.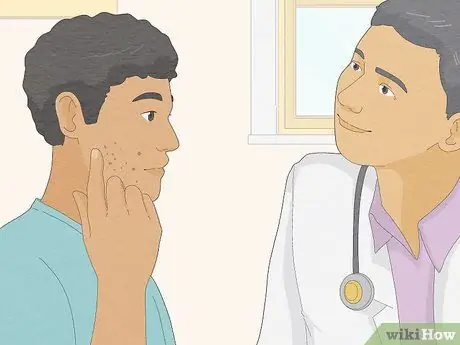 Step 7. Check with your doctor for a proper diagnosis
Although it can be treated at home, warts should still be checked by a doctor if they are widespread, painful, or do not respond to home remedies. In particular, warts that are widely spread indicate a problem with your immune system. Also, see a doctor if you feel you are experiencing symptoms of genital warts.
Warts that are dark or multicolored, and have an irregular shape, are often misunderstood as skin cancer because they share similar characteristics. If that's a feature of your warts, your doctor will likely do a biopsy, or take a tissue sample, to rule out the possibility
Part 2 of 3: Treating Warts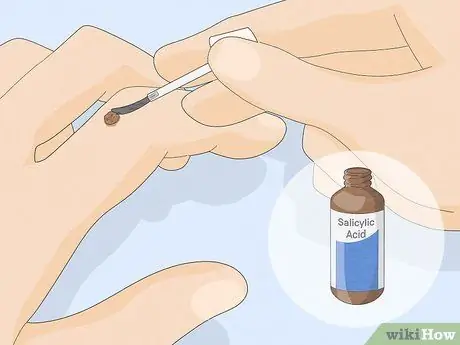 Step 1. Treat warts with topical medications that can be purchased without a prescription at pharmacies
To treat common warts, such as those on the fingers, hands, arms, or legs, use a wart medicine that contains salicylic or lactic acid. First, make sure you read the instructions on the product packaging and follow the instructions. If treated with topical medications, warts will usually go away on their own in less than 3 months.
If instructed on the medicine package, you can soak the area that has the wart in warm water for 10 minutes, then file the surrounding skin area with a nail file before applying the medicine, so that the substance contained in the medicine can work more effectively. Get rid of the nail file afterwards! Don't use it again to file nails or lend it to someone else.
Topical medications are generally sold in the form of gels, plasters, or bandages. Regardless of the form, the medication should be applied directly to the surface of the wart and should not be used on other areas of the body. Some of the possible side effects that you should be aware of are the sensation of pain and redness in the wart area.
Remember, salicylic acid should not be applied to the face area! If the wart is located on an area of skin that is classified as sensitive, ask your doctor or pharmacist for a recommendation for a more suitable drug.
Every night, right before you go to bed, apply an over-the-counter medication that contains salicylic acid to the wart area. In particular, the drug was shown to be effective in 75% of cases of warts.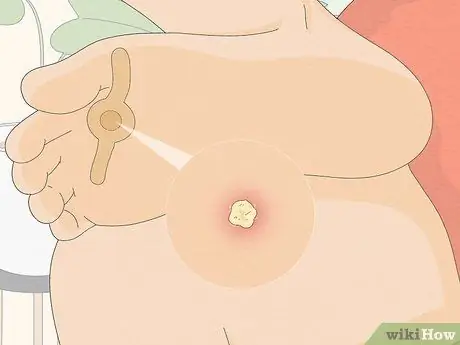 Step 2. Remove plantar warts with a plaster containing 40% salicylic acid
First, use a pumice stone to scrape off the dead skin cells around the wart, then cut the tape according to the size of the wart. After that, apply the plaster to the surface of the wart and let it sit for 24-48 hours. After 24-48 hours, scrape back the dead skin cells around the skin with a pumice stone, then apply a new patch until the wart is completely gone.
Throw away the pumice stone afterwards, and don't use it on other areas of your body.
Supposedly, the pain due to the appearance of warts will subside after 24-48 hours.
The use of pumice stone and salicylic acid aims to irritate the skin around the skin. Doing so will help your body build an immune system against specific types of warts, and once your immune system is established, the warts should go away on their own.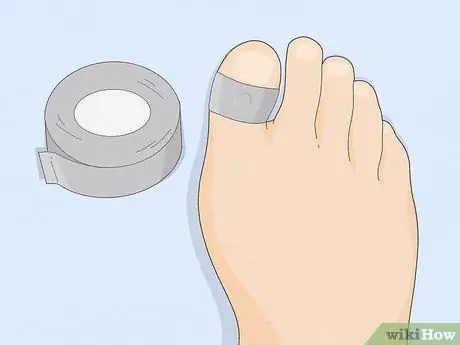 Step 3. Try covering the wart with tape for 6 days
The trick, cut the tape according to the size needed to cover the area, then immediately attach it to the surface of the wart. Change the tape every 2 or 3 days, or until the tape no longer adheres to your skin. After 6 days, soak the wart in warm water for 10 minutes, then file the area with a nail file, and leave it exposed for 12 hours.
Get rid of the nail file afterwards! This process can be repeated 3-4 times until the wart is completely gone. If you find it difficult to see a doctor or buy medicine, this home method is actually quite effective to use.
Although this method is also recommended by some doctors, always remember that its effectiveness has not been scientifically proven.
It is recommended that this method only be used in areas that are not visible to the naked eye. Do not use it on warts located on the face!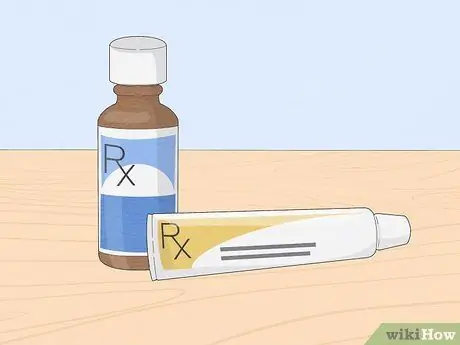 Step 4. Get a prescription from your doctor if the wart doesn't go away after being treated with over-the-counter medications
First of all, inform the doctor that your attempts to carry out self-medication for 2-3 months are fruitless. Most likely, your doctor will apply a more effective topical medication afterward, or prescribe one and ask you to apply it yourself at home.
Because the acid content in medicines prescribed by doctors is higher, make sure you always use them by following the instructions given by your doctor. Be careful, using the wrong medicine can damage your skin!
in addition, you may need to ask for a prescription medication that is safe to use on the face or other areas of skin that are also sensitive.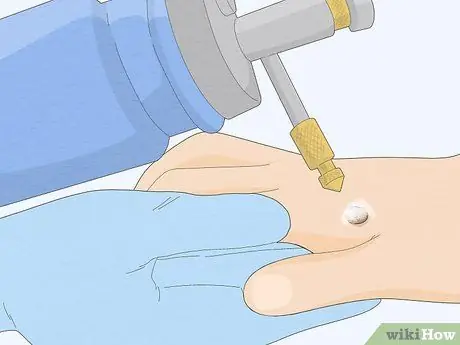 Step 5. Consult the doctor about the possibility of cryotherapy
Cryotherapy, which works by freezing warts using liquid nitrogen, is one of the most common wart treatment methods, especially for warts on the face. Possible side effects of the procedure are the appearance of dark spots and a minor pain sensation in the area where the wart appears. Although it really depends on the severity of the wart, the cryotherapy procedure may need to be done for 3-4 months to maximize the results.
If you want, you can also buy liquid nitrogen specifically designed for wart removal at the pharmacy. These products can be purchased without a doctor's prescription, and generally can be applied directly to the area that has warts. However, make sure you check the instructions for use on the product packaging, and don't apply the product to areas of the body that don't have warts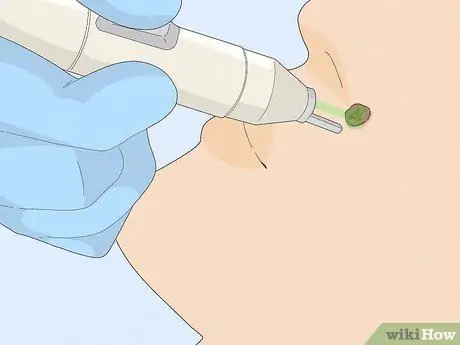 Step 6. Treat widespread warts with electrosurgery or laser therapy
To remove warts that are widespread, persistent, or very severe, your doctor may recommend electrosurgery or laser therapy. In both procedures, the doctor will burn and cut the wart to remove it. However, you may need to have several treatment sessions over several months to maximize the results.
Some of the side effects of electrosurgery are the appearance of pain, discomfort, or a burning sensation in the skin, in contrast to laser therapy which generally will only cause discomfort, not pain. However, be aware that both procedures may result in scars on your skin.
Don't try to cut or burn the wart yourself!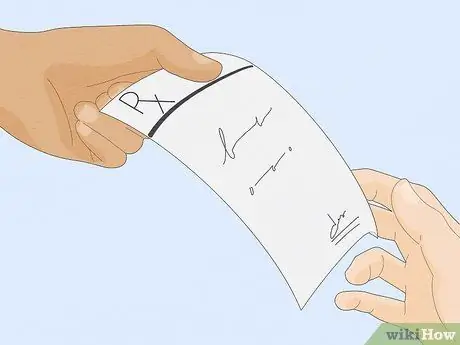 Step 7. Discuss options for treating genital warts with your doctor
Never try to treat genital warts without a doctor's help, or apply over-the-counter medications to the genital area! In addition to the effectiveness of these drugs is not guaranteed, the skin area around the genitals is also more sensitive so that there is a risk of damage if exposed to over-the-counter drugs.
Depending on the location and severity of the wart, however, your doctor may prescribe a topical cream or gel, perform a cryotherapy procedure, or recommend laser therapy to you.
Apply the medicine according to the instructions given by the doctor. In addition, do not stop taking the drug without the knowledge or permission of the doctor!
Part 3 of 3: Preventing the Spread of Warts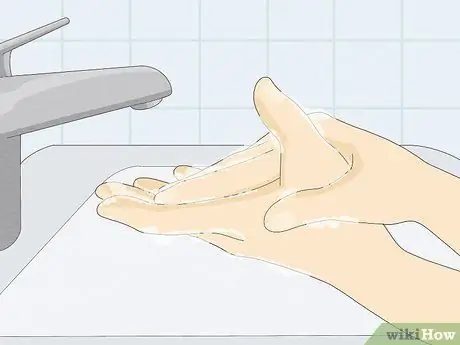 Step 1. Wash your hands frequently, especially if you have sores on your hands
Remember, maintaining hand hygiene is a must, with or without the problem of warts. In particular, hands should be cleaned more often if they are injured, especially because the virus that causes warts is easier to enter the body through an open wound.
After applying the wart medicine, wash your hands immediately with warm, soapy water for at least 20 seconds.
Always wash your hands thoroughly after going to the bathroom, before eating, after touching your face, after touching raw meat, after touching a dirty surface, or after touching someone who has warts.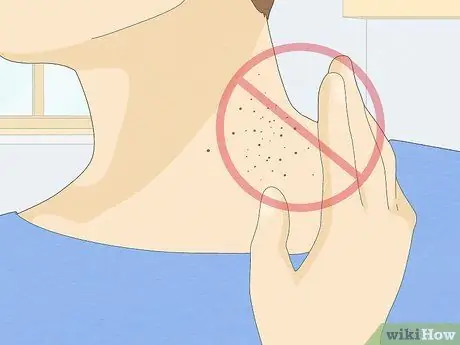 Step 2. Do not touch, scratch, or bite the affected area
As the treatment progresses, resist the temptation to touch the wart. Remember, wart drugs will not actually kill the virus that causes it. Therefore, it is still possible for the virus to spread to other areas of your body, even to other people's bodies, even though the treatment process is ongoing.
Scratching or biting behavior is also at risk of worsening the condition of the wart and making it infected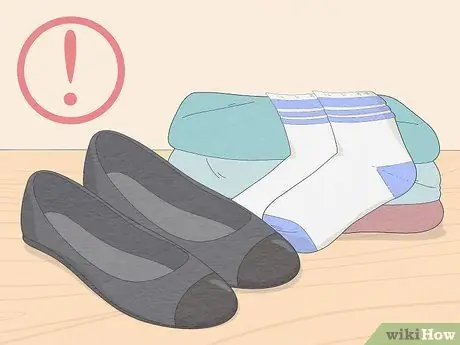 Step 3. Do not share towels, footwear, or clothing with others
Remind your housemates that they are not allowed to use your towels, clothes, socks, shoes, or cleaning products. If someone else has warts, never share towels, clothes, or personal hygiene products with them.
Even if the wart isn't showing up, it's best not to share towels, clothes, or cleaning products with other people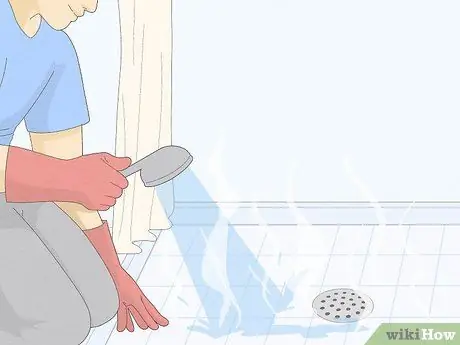 Step 4. Clean the bathroom floor or bathtub bottom if you have plantar warts
Warts that grow on the soles of the feet are known as plantar warts. If you have one, don't forget to clean the bottom of the bathtub or bathroom floor with a disinfectant solution, or a cleaning solution made from a mixture of 1 part bleach to 10 parts water.
Spray the solution all over the surface of the tub, then rub the tub walls with a kitchen towel. After that, rinse the surface of the tub with hot water, then wash your hands thoroughly afterward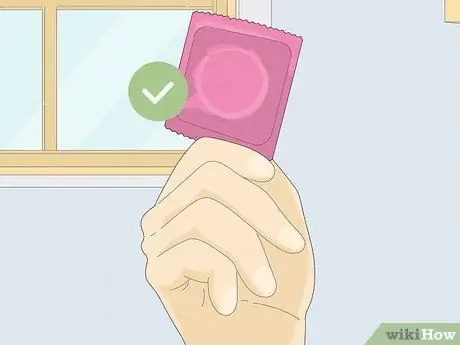 Step 5. Practice safe sex, and don't have sex while genital warts appear
In particular, do not have sexual contact of any kind when the wart has not completely disappeared. Inform your partner that you are undergoing the treatment process and therefore, all parties must wear a condom when having sexual intercourse.
Because genital warts can attack areas that are not covered by a condom, it is possible to transmit the virus even if you practice safe sex.
In fact, the virus is easier to transmit when warts are appearing. However, the process of spreading the virus is still possible even if no warts appear.
Tips
Because warts are contagious, don't forget to wash your hands often. Also, don't scratch, bite, or touch the wart.
Wash your hands thoroughly after applying the wart medicine. After that, remove any cotton buds, nail files, or other cleaning products that have come into contact with the wart.
Basically, warts are more prone to attack teenagers aged 12-16 years.
After the virus is transmitted, warts usually require an incubation period of 1-6 months. If left untreated, most warts will heal on their own within 12-24 months.
Try using home remedies to get rid of warts.
Warning
Some skin problems, such as calluses, lichen planus, and seborrheic kerotosis, have characteristics similar to warts. That's why, you should see a doctor to get an accurate diagnosis.
Use over-the-counter medications as instructed on the package.
Don't try to cut or burn the wart yourself! Remember, both procedures should only be performed by expert medical personnel.