Hard water that is high in minerals (such as calcium and magnesium) can be softened in several ways, usually by boiling or chemical treatment
While there are no studies that show any health risks associated with hard water, it can be uncomfortable to have it. This is because the minerals in hard water create deposits that can clog drains, stain glass and tiles, and leave residue on skin and hair. Fortunately, you can easily solve the problem of hard water without requiring a lot of time, effort and skill.
Step
Part 1 of 3: Softening Water for Kitchen Use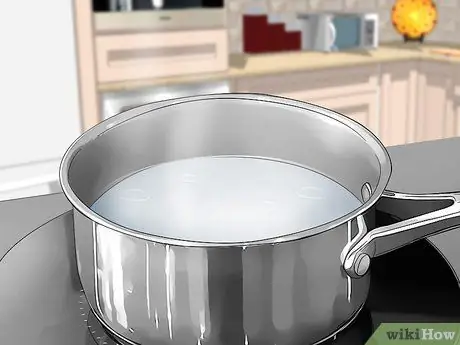 Step 1. Boil the water
Boiling water only removes certain types of hardness ("temporary hardness") so it doesn't apply to all homes. Try doing some of the things below to see if this method is suitable for use in your home:
Bring the water to a boil for a few minutes.
Let the water cool for a few hours. A white mineral precipitate will remain at the bottom of the pan.
Suck or scoop the water at the top, leaving minerals at the bottom.
Tip:
Before drinking it, eliminate the "bland" taste by moving the water back and forth between the two containers. This will return the air lost when the water is boiled.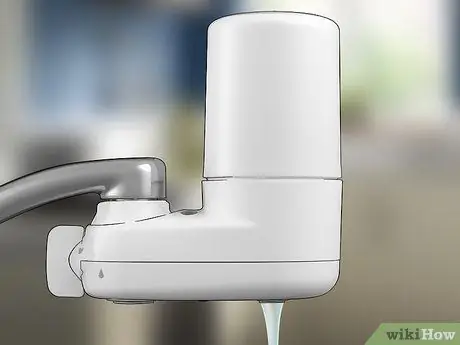 Step 2. Purchase a small ion exchange filter
Some products can be installed on a kitchen faucet, while others are sold in the form of a teapot to store drinking water. Softened water usually tastes better, but the effect will depend on the minerals in your water.
These filters don't actually remove most contaminants, unless the device includes a secondary filter (such as a carbon or reverse osmosis filter).
Most avid coffee lovers don't like the taste of coffee made from softened water. Buy a filter that fits into a faucet with a toggle valve so you can save hard water before using it to brew coffee.
Part 2 of 3: Softening Water for Washing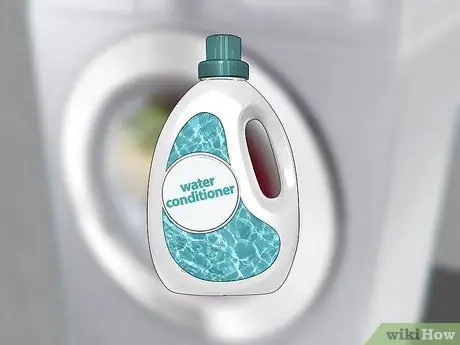 Step 1. Add non-settling water conditioner to the laundry
This product will trap some minerals in the water when you wash. Be sure to use a "non-precipitating" product. Maybe you need to do an internet search to find out. Do not use conditioner that "settles" as it can build scale on clothes and in the washing machine. After purchasing it, add the product to the laundry in this way:
Add a second conditioner when you rinse. If you don't do this, all the minerals will stick back into the laundry
Tip:
Add the product when you wash, according to the directions on the package. If you don't know the exact level of water hardness, add conditioner until the water is feels slippery and foam appears when the machine is running.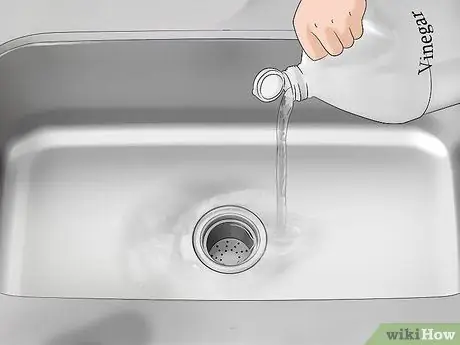 Step 2. Treat spots caused by hard water using vinegar
Distilled white vinegar can remove white spots on fabric, drains, or porcelain that are caused by mineral buildup. Apply vinegar as is or first dilute it with water using the same ratio. Next, rub vinegar on the spot, and rinse. This temporary solution can be exhausting if the crust builds up quickly. If your water is not too hard, this method can save money.
Towels can also turn stiff due to hard water. Handle towels in the same way.
Vinegar can bleach some types of fabric and damage clay utensils.
Some people add as much as 120 ml of vinegar to the water used for washing, while others claim that this can damage the rubber seal in the washing machine. Try contacting/visiting the washing machine manufacturer's website to be sure.
Part 3 of 3: Softening Water for Domestic Use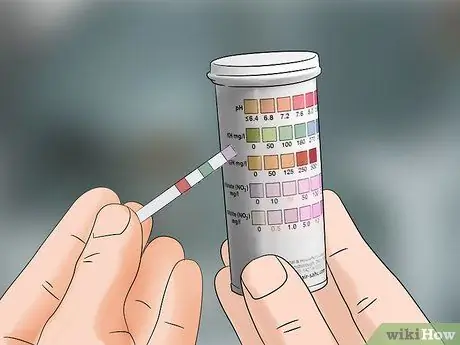 Step 1. Measure the hardness of the water
Water test strips can be purchased online at a low price. You can also purchase a more accurate water hardness test kit.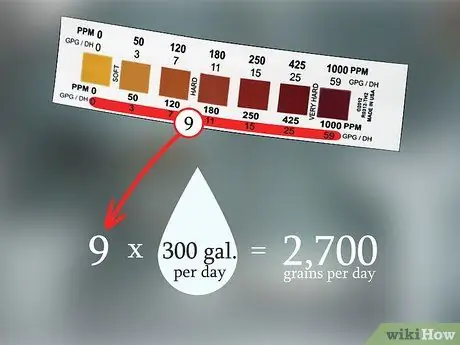 Step 2. Find the right size softener
In the US, most test kits will measure water hardness in "grains per gallon" units. Multiply this result by the number of gallons (about 4 liters) of water you use each day, on average (according to your water bill). The result is the number of "grains" the device will soften each day. Use a device capable of softening 10 times the number of grains you need. This means that the device will work for about 10 days before you need to turn it off.
In the US, the average person there uses 100 gallons of water a day (or 70 gallons if you only soften the water used indoors).
For example, the hardness of the water in your home is 9 grains per gallon, and you use 300 gallons of water per day. The calculation is 9 x 300 = 2,700 grains per day. With this result, a softener in the 27,000 grain (2,700 x 10) range is sufficient for your needs.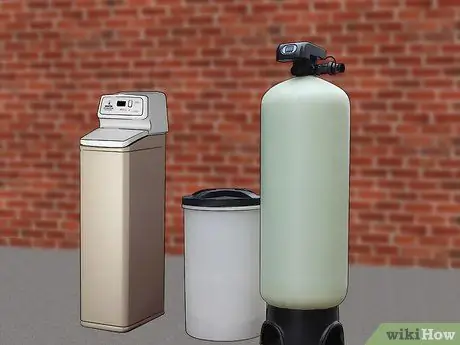 Step 3. Determine the type of softener
So far, the softener with the ion exchange system is the most effective product. Most other tools are very ineffective, or even just deceptive. There are two types of softeners with an ion exchange system:
Sodium chloride: This is the most common and most effective type. This tool will add a little salt (sodium) to the water.
Potassium chloride: This tool is less effective, but it is useful if you should not consume sodium. Potassium can harm people who have kidney damage or take drugs that prevent the absorption of potassium.
If you don't want sodium or potassium, choose one of the two softeners, then install a reverse osmosis or RO (reverse osmosis) filter to remove both substances after you soften the water.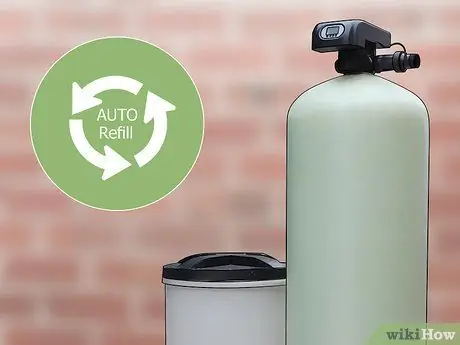 Step 4. Know how to care for the softener
After selecting the type of softener, take a look at the details. Most softeners will recharge themselves automatically, which will pause at that point. Some softeners do this whenever the softening resin is running low. Other products can be set to do so at a specific time, once a week so you never get unwanted hard water.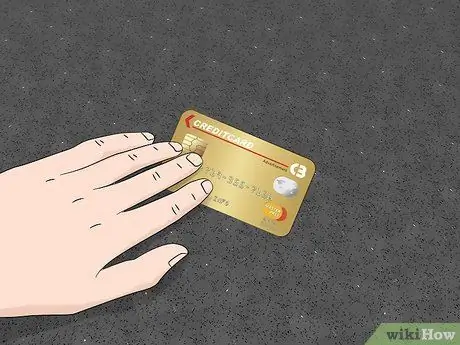 Step 5. Try getting the softener by leasing
You can buy softeners in cash or leasing by paying monthly installments. In addition to a lower initial payment, leasing usually provides a professional installation service so you don't have to do it yourself. Try to get at least 2 quotes on the installation and the installment fee.
Tip:
When comparing prices, also check the seal of certification, such as the approval mark from the NSF or WQA. This doesn't guarantee that you will get the best quality, but it is to differentiate a tool that has been proven to work well from a tool that is deceptive.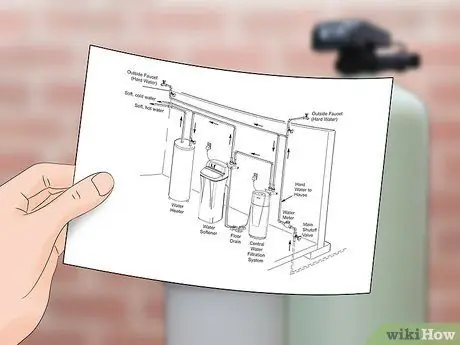 Step 6. Install the water softener
If you want to install the tool yourself, look up the related article on wikiHow. Most water softeners also come with detailed installation instructions, although it can be very useful if you have experience with plumbing basics.
Tips
A water softener system can save you money in the long run if you want to treat hard water that causes problems with clothing and drains
Warning
Reverse osmosis filters only soften the water in the short term before eventually breaking down due to the build-up of minerals. It is recommended that you use an ion exchange filter to soften the water, in addition to a reverse osmosis filter to remove other mineral contaminants. You can buy a device that provides these 2 filters.
Don't trust water softeners that claim to treat hard water without using an ion exchange method. Most of these products are scams in the name of science, including softeners that use magnets, electric coils, radio beams, and "catalysts." The best result would probably just be to reduce the amount of minerals that stick to the equipment, and even these aren't many products that can do that.