Drawing food webs is a great way to learn more about how organisms and animals live in their habitats. While food chains show how ecosystems function in a linear fashion, food webs are a more visual approach with several animals connected to each other. To create a food web, list the primary producers, herbivores, omnivores, and carnivores from the selected habitat. Connect them with arrows to indicate predator/predator and prey. The end result will look like real webs or maps.
Step
Part 1 of 3: Preparing the Nets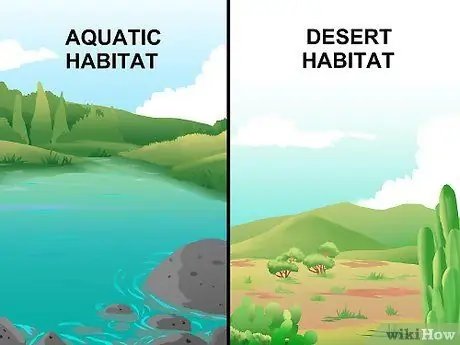 Step 1. Select a specific food web habitat
It is impossible to list all the animals and organisms living in the world so focus on one type of habitat. Your teacher can assign specific habitats. However, you can choose a natural location near your house, such as a lake or rice field.
For example, for a larger habitat, you could focus on water or deserts. Narrow habitats by location, for example Lake Toba, making it easier for you to construct food webs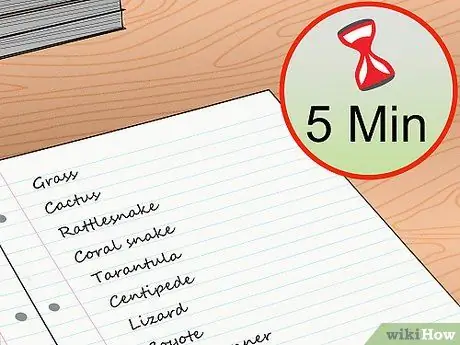 Step 2. Write a list of organisms in the habitat
Get out a notepad and pen and write down all the associated habitat-dwelling organisms you know. Include everything from small creatures and even plants. Try reading a science book that focuses on a particular habitat.
Note that this list does not necessarily include all the creatures that live in the associated habitat. For example, if you have 30 minutes to create a food web, spend a maximum of 5 minutes creating the initial list.
If you study the desert, list scorpions, cacti, and spiders.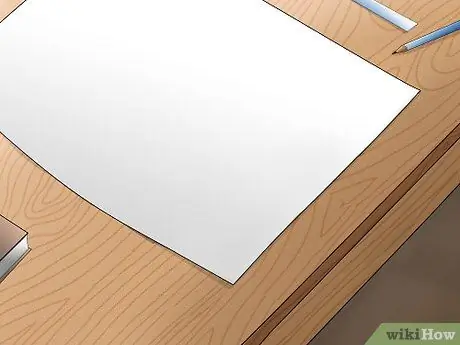 Step 3. Prepare a large sheet of paper to make a web
Because they are not linear, food webs take up a lot of space, depending on the number of organisms included. Choose paper that is large enough to allow you to include your name and even an illustration. You can also use an image processing program on a computer.
If your paper is running out of space, try reducing the font size or even writing on the back page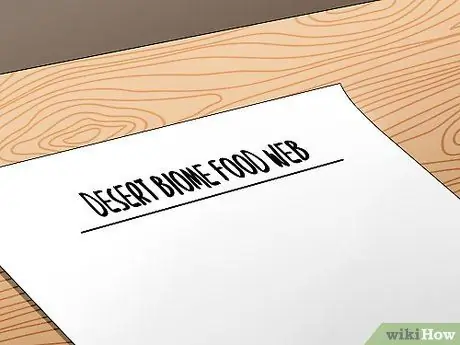 Step 4. Title the food web
Above the food web, write the title in large font. Your title should describe the entire food web well. You should also mention the type of habitat studied.
For example, you could title it "Desert Food Webs". You could also write "Circle of Life in the Ocean" or "The Jungle's Food Web."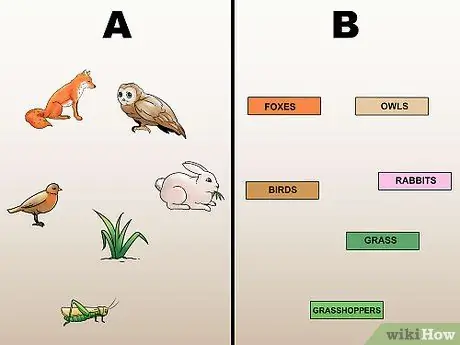 Step 5. Decide whether to label, illustrate, or both of the food web
We recommend implementing a uniform system for identifying food webs. You can add a small illustration, but it will take a long time to create. Otherwise, simply label the organism by its name or Latin name.
For example, wolves in webs are labeled with their scientific/latin name, namely "Canis lupus"
Part 2 of 3: Mapping the Initial Web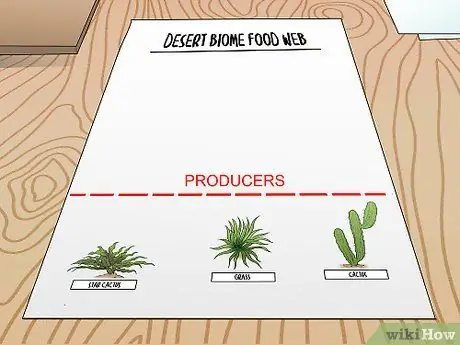 Step 1. Enter all manufacturers on the page
Primary producers are organisms that make their own food using sunlight or chemical energy. Producers are the basic unit for any food chain or web. Space each producer so they don't touch each other on the page.
For example, if you describe a food web in a desert, one of the producers is a cactus. These plants survive by photosynthesis to convert sunlight into energy.
Another name for primary producers in an ecosystem is autotrophs.
Some people prefer to put primary producers at the bottom of the page to create the "foundation" of the food web. However, this is not mandatory. You can place manufacturers anywhere on the page, as long as each manufacturer is spaced out enough.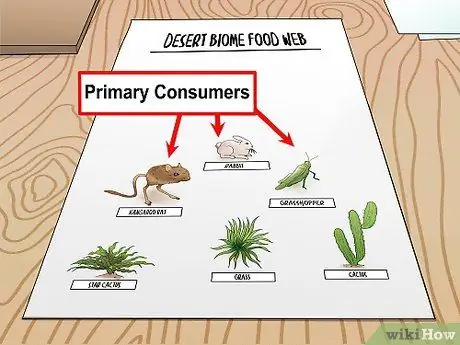 Step 2. Insert primary consumers into the page
This is the next stage in the food web. Primary consumers are creatures that eat producers. These organisms are always plant eaters, which are also called herbivores. Like manufacturers, try to find some primary consumers.
Look at the list of organisms to determine potential primary consumers. You can also ask, "What creature will eat the producer on the list?"
For example, in a desert food web, cacti and grass (both producers) will be eaten by grasshoppers (primary consumers).
Since food webs are not lists, the exact location of organisms is not very important. Obviously, each organism must have enough distance to draw arrows.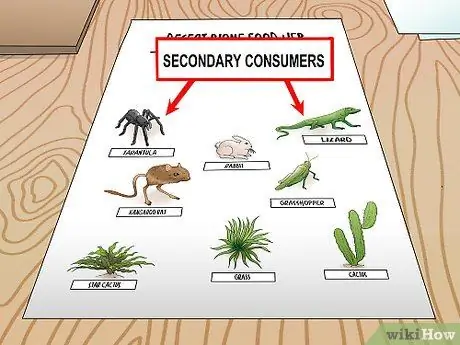 Step 3. Enter secondary consumers
These animals are carnivores, or omnivores that also eat plants. Look at your list when selecting a creature and include it on the page.
For example, in a desert food web, rats are secondary consumers. Omnivores can eat grass and grasshoppers
Part 3 of 3: Including Final Details
Step 1. Include tertiary consumers and beyond
These creatures prey on secondary consumers, primary consumers, and producers. These animals do not have to eat animals from all 3 of these categories, but must prey on secondary consumers to be considered tertiary consumers. The rest, you can add animals that prey on tertiary consumers, and so on.
You can add as many levels or layers as you want in the food web. Late predators, which are usually carnivores, are the alpha predators in your food web.
For example, in a desert food web, snakes can be tertiary consumers. This animal preys on mice. Eagles are quarter consumers because they prey on snakes.
If you want a food web design to resemble a pyramid, it's a good idea to start with the producers on one side of the page and end with the predators on the other end.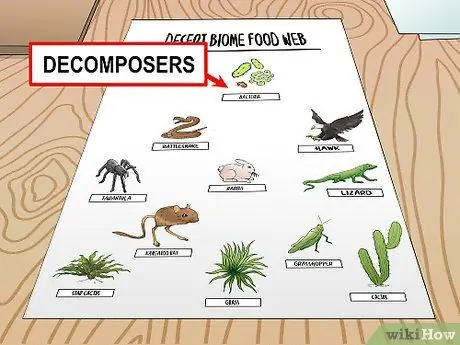 Step 2. Deepen the complexity of the food web by adding detritivores or decomposers
These are creatures that feed on dead organisms, and complete the final link in the chain of life and energy transfer. Detritivores such as worms actually eat dead animals. Decomposers, such as bacteria, help break down the carcasses of dead organisms.
It is important to know that the work of the parser is usually invisible to the naked eye. However, they are all important parts of the food web system.
These organisms can be placed anywhere on the page.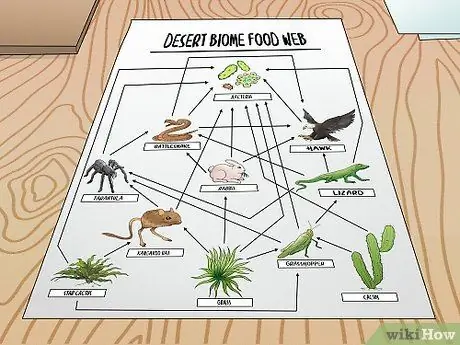 Step 3. Draw arrows between organisms that signify energy transfer
This is when food webs start to really look like webs. Create a series of arrows connecting predator and prey. The direction of the arrow starts from the eater and points to the creature being eaten. Each animal or organism can have several arrows pointing at or coming from it.
For example in the desert food web, you start with 1 arrow from the grass that points to the grasshopper. Also make an arrow out of grass pointing at a mouse.
This is the main difference between food web and food chain. Food webs are more "chaotic" and show many different arrows to and from different organisms. Your final product will not be linear.
You can also color code the arrows for larger nets. For example, the arrow connecting a plant and the animal that eats it is colored green, and the arrow connecting two animals is colored red,.
If you are drawing a food web digitally, use the " shape " tool to create arrows.
Tips
Not all food webs of the same habitat will look alike. Your webs can be unique depending on the animals or organisms included
Warning