The tetanus vaccine is widely known, but do you know when it is needed? Tetanus cases in the United States and other developed countries are low because of high vaccine coverage. This vaccination is very important, because there is no cure for tetanus, which is caused by bacterial toxins in soil, feces, and animal waste. These toxic bacteria form spores that are very difficult to kill because they are resistant to heat, as well as various drugs and chemicals. Tetanus attacks the nervous system and causes painful muscle contractions, especially in the jaw and neck muscles. Tetanus can also interfere with breathing, resulting in a risk of death. To prevent this problem from happening, you need to know when the tetanus vaccine is needed.
Step
Part 1 of 3: Knowing When You Need to Get a Tetanus Vaccination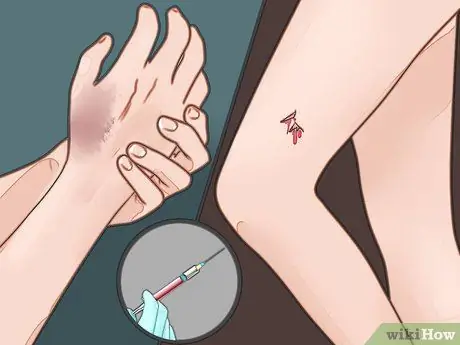 Step 1. Ask your doctor for a booster dose of the tetanus vaccine after certain injuries
Usually, bacterial toxins enter the body through open wounds caused by objects contaminated with tetanus. Ask for a booster dose of the tetanus vaccine if you have one or more of the following injuries or wounds that are prone to tetanus:
Wounds that appear to be contaminated with soil, dung, or horse dung.
Stab wound. Objects that can cause this type of injury include wood chips, nails, needles, broken glass, and human and animal bites.
Burns. Second-degree burns (partial burns or scalded skin), and third-degree burns (burns involving all layers of the skin) are at higher risk of infection than first-degree burns (superficial burns).
Crush injury that damages tissue due to the pressure of a heavy object. This injury can also occur when a heavy object falls on the body parts.
Injuries that result in tissue death. Such tissues are no longer supplied with blood, so they are at a higher risk of infection (in addition to being severely damaged). For example, gangrenous wounds (dead tissue in the body) are at higher risk of infection.
Wounds containing foreign bodies. Wounds that still contain foreign objects such as wood chips, broken glass, gravel, or other objects are at a higher risk of infection.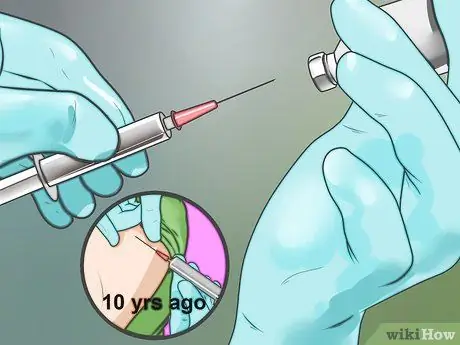 Step 2. Know when you need the tetanus vaccine
Ask for the tetanus vaccine if you have never had the basic tetanus vaccine (primary tetanus vaccination) or can't remember the last time you had the tetanus vaccine. You need to know if a booster dose of the tetanus vaccine is needed when you have an injury. You need a booster dose of the tetanus vaccine if:
Your wound was caused by a "clean" object, but the last time you had a tetanus shot was 10 years ago.
Your wound was caused by a "dirty" object, and the last time you had the tetanus vaccine was 5 years ago.
You are unsure whether the wound was caused by a "dirty" or "clean" object, and your last tetanus vaccination was more than 5 years ago.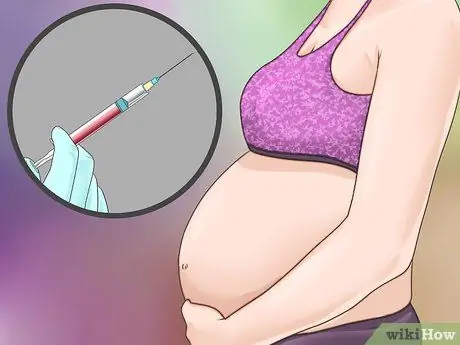 Step 3. Get a tetanus vaccination while pregnant
To help transfer tetanus antibodies to the fetus, you should have a tetanus vaccination between 27-36 weeks of gestation.
Your doctor may recommend the Tdap inactivated tetanus vaccine (diphtheria, pertussis, tetanus) during the third trimester of pregnancy.
You should get the Tdap vaccine immediately after delivery if you haven't had it before or during pregnancy.
You may need to get a booster dose of the tetanus vaccine if you were injured by a dirty object or injured during pregnancy.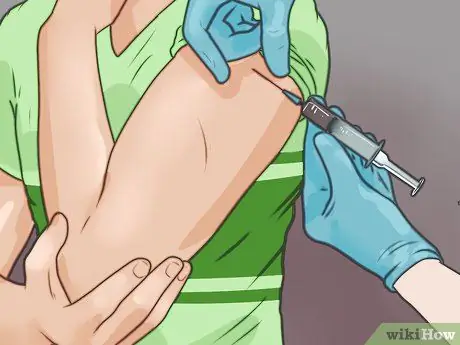 Step 4. Get immunized
The best way to treat tetanus is to prevent it early. Most people don't have serious reactions to vaccines, but some mild reactions are common. This mild reaction includes swelling, pain, and redness at the injection site which will usually resolve in 1-2 days. You do not need a booster dose of the tetanus vaccine as long as you are always re-vaccinated before 10 years. The following are some vaccines that can protect you against tetanus:
DTaP. The diphtheria, pertussis (whooping cough) and tetanus vaccines are usually given to infants aged 2, 4, and 6 months, then repeated at 15 and 18 months. The DTaP vaccine is very effective for toddlers. The booster dose is needed by children between the ages of 4-6 years.
Tdap. Over time, protection against tetanus will decrease, so children need to be given booster doses. The Tdap vaccine consists of a full dose of tetanus vaccine, and a lower dose of diphtheria and pertussis vaccines. Everyone between 11-18 years old is recommended to undergo booster vaccination, especially between 11-12 years old.
Td. To maintain protection against tetanus, as an adult you will need a repeat Td (tetanus and diphtheria) vaccine every 10 years. Protective antibody levels may disappear in some people after 5 years, so a booster dose of the vaccine is recommended if you have a deep, contaminated wound and haven't had a repeat vaccination in more than 5 years.
Part 2 of 3: Getting to Know and Learn about Tetanus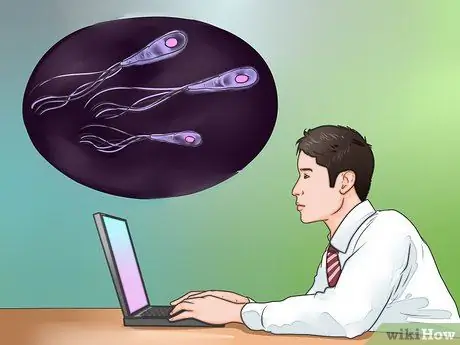 Step 1. Know who is at risk for tetanus and how it is transmitted
Nearly all cases of tetanus occur in people who have not been vaccinated, or adults who have not had a repeat vaccination after 10 years. However, this disease is not transmitted from person to person, so it is very different from other vaccine-preventable diseases. However, the disease can be transmitted through bacterial spores that enter the body through open wounds. These spores can release harmful neurotoxins that cause muscle cramps and stiffness.
Complications from tetanus are most common in people who have never been immunized or adults with insufficient immunization rates in industrialized countries.
You are also more at risk for tetanus after a natural disaster, especially if you live in a developing country.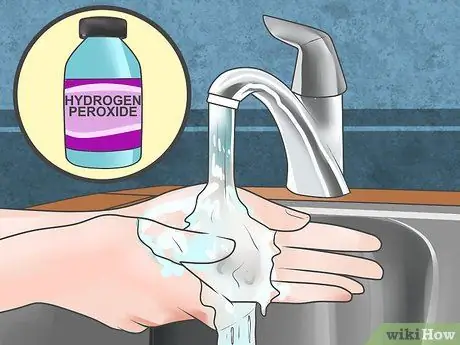 Step 2. Reduce your risk for tetanus
Clean and disinfect wounds or injuries immediately after encountering them. Delaying wound disinfection for more than 4 hours increases the chance of developing a tetanus infection. This step is even more important if the wound is caused by an object that has penetrated the skin, causing bacteria and dirt to penetrate deep into the wound, which is ideal for bacterial growth.
Pay attention to the cleanliness of the object causing the wound to determine if you need a booster dose of the tetanus vaccine. On dirty or contaminated objects, there is soil/dirt, saliva, or animal/human waste, while on clean objects, there is no such impurity. Remember that you cannot detect the presence of bacteria on an object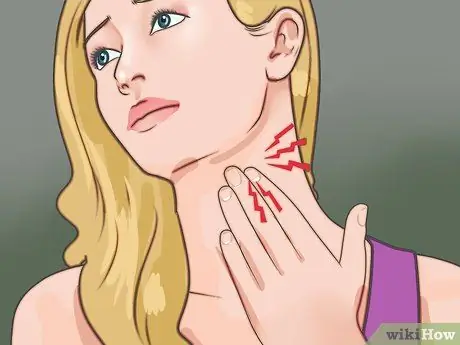 Step 3. Watch out for the symptoms of tetanus
The incubation period for tetanus varies from 3-21 days, with an average of 8 days. The severity of tetanus is classified on a scale of I to IV. The longer the symptoms appear, the less likely cases of tetanus that occur. Common symptoms of tetanus (in order of appearance) include:
Jaw muscle cramps (commonly referred to as jaw locking)
Neck stiffness
Difficulty swallowing (dysphagia)
Abdominal muscle stiffness like a board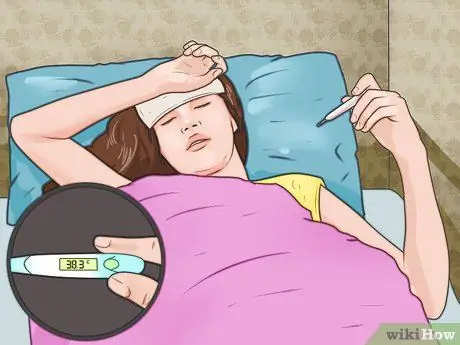 Step 4. Recognize other symptoms of tetanus
The diagnosis of tetanus is based on the symptoms alone. There is no blood test that can diagnose tetanus, so paying attention to the symptoms is very important. You may also notice a fever, sweating, increased blood pressure, or a fast heart rate (tachycardia). Be aware of other possible complications, including:
Laryngospasm, or cramping of the vocal cords, which blocks breathing
Cracks in the bones
Seizure
Abnormal heart rhythm
Secondary infections such as pneumonia, due to prolonged hospital stay
Pulmonary embolism, or blood clots in the lungs
Death (10% of reported cases of tetanus are fatal)
Part 3 of 3: Treating Tetanus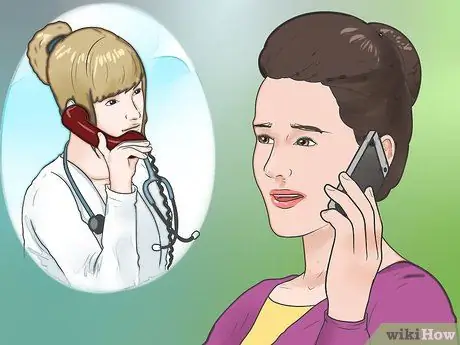 Step 1. Seek medical attention
If you think or suspect that you have tetanus, seek medical attention immediately. This condition is an emergency and you will need to be hospitalized due to its high mortality or mortality rate (10%). At the hospital, you will be given a tetanus antitoxin, such as tetanus immunoglobulin. This antitoxin will neutralize toxins that have not yet bound to the nervous tissue. Your wound will also be cleaned properly, and you will be given a tetanus vaccine to prevent this infection from recurring in the future.
Being infected with tetanus does not make you immune to this infection later in life. You still need the tetanus vaccine to prevent it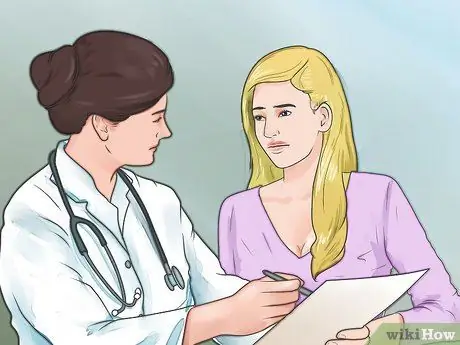 Step 2. Ask your doctor to prescribe your treatment
There is no blood test that can diagnose tetanus. So. Laboratory tests are not useful for evaluating this disease. As a result, most doctors do not take a wait-and-evaluate approach to disease, but instead take targeted care if a tetanus infection is suspected.
The diagnosis of tetanus by a doctor is based primarily on the clinical signs and symptoms that arise. The more severe the symptoms, the faster the action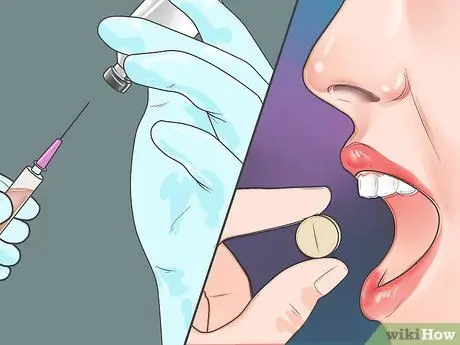 Step 3. Treat the symptoms of tetanus
There is no cure for tetanus infection, so treatment is directed at the symptoms and possible complications. You will be given antibiotics intravenously, injection, or orally. In addition, you will also be given medication to control muscle cramps.
Some drugs that can control muscle cramps include sedatives such as benzodiazepines, including diazepam or Valium, lorazepam (Ativan), alprazolam (Xanax), and midazolam (Versed).
Antibiotics are generally not effective against tetanus, but may be prescribed to inhibit the reproduction of the bacterium Clostridium tetani. Thus, slowing down the production of poison.
Tips
There is a tetanus vaccine that can also protect against diphtheria and pertussis (Tdap), or just diphtheria (Td). The protective effect of these two types of vaccines can last up to 10 years.
The date of your last tetanus vaccination should be recorded in the medical record at the doctor's office. Some people carry a special card to confirm the date of their immunization. You can get this card from the doctor.
If you are at risk for a tetanus infection, be sure to understand the signs and complications they can cause. Muscle cramps that occur may be very severe and interfere with breathing. The resulting spasms may also be so severe that they fracture the spine or other long bones.
Better to prevent than sorry. If you are worried about a tetanus infection, get vaccinated right away.
Some rare diseases can cause symptoms similar to those of tetanus. Malignant hyperthermia is an inherited disease that causes a rapid-onset fever and severe muscle contractions when you are injected with a general anesthetic. Numbness syndrome is a very rare nervous system disease and can result in periodic muscle cramps. Symptoms usually begin to appear in the mid-40s.