Maybe you don't think much about the importance of the urinary tract when urinating. However, when you have a urinary tract infection (UTI), you can't think of anything other than the pain you feel. Because people with UTIs need antibiotics, you'll need tests, a urinalysis dipstick, and a prescription. Then, you can use natural methods to relieve UTI pain at home and prevent the same infection from happening again.
Step
Method 1 of 3: Getting Medical Treatment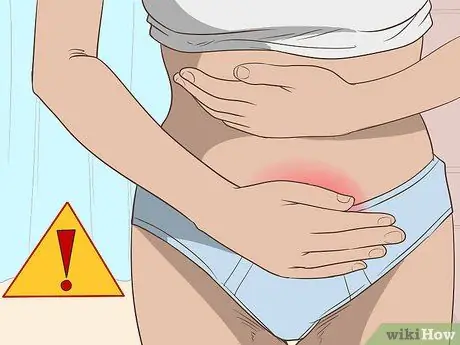 Step 1. Watch for pain when urinating or any changes in urine
If bacteria in your urethra and bladder cause an infection, you may experience pain or difficulty urinating. You may feel the urge to pee all the time, but no urine comes out, or very little. Other signs of a urinary tract infection are:
Burning sensation when urinating
Pain or tenderness in the stomach
Urine that is cloudy and unusual in color (dark yellow or greenish), or smells
Feeling tired or sick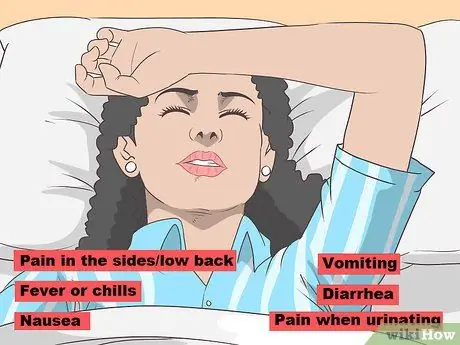 Step 2. Seek medical attention if you have a prostate or kidney infection
If you have signs of a UTI for days or weeks without treatment, the infection can spread to your kidneys. In men with untreated UTIs, the infection can spread to the prostate. If you experience any of the following symptoms of a prostate or kidney infection, go to the ER:
Pain in the sides of the body or lower back
Fever or chills
Nauseous
Gag
Diarrhea
Pain when urinating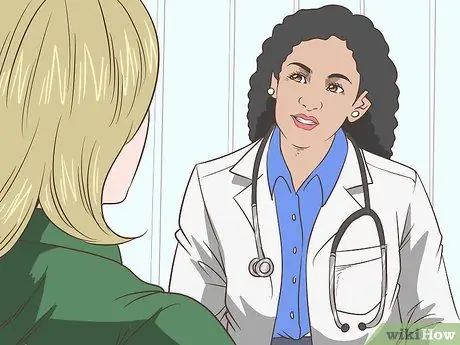 Step 3. Have a medical examination as soon as possible
Call your doctor if you have signs of a UTI. Your doctor will take your medical history and ask about your symptoms. The doctor will also take a urine sample to test for bacteria in order to diagnose a UTI and determine the treatment.
Your doctor may perform a rectal exam if he or she believes that your prostate is infected.
A pelvic exam may be necessary if there is an odorous discharge from the vagina. This is to find out if there is a cervical infection.
If you have had multiple UTIs or complications, your doctor may take photos of your urinary tract to see if you have kidney stones or blockages.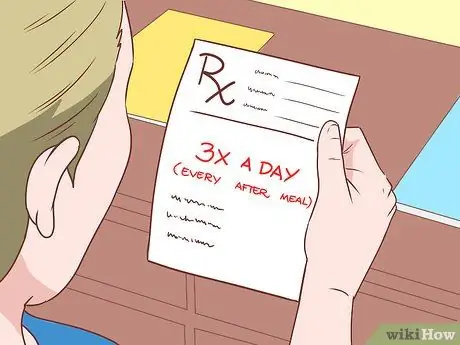 Step 4. Take the prescribed antibiotics until they run out
The doctor will prescribe antibiotics to treat the bacteria that cause the UTI. Follow the dosage as directed and do not stop taking antibiotics even if symptoms begin to improve. You have to finish it so the bacteria don't come back.
Ask your doctor about the side effects of antibiotics and whether you should avoid alcohol during treatment.
If you have a history of vaginitis, ask your doctor about preventing yeast infections with a combination of antibiotics and antifungal medications.
Step 5. Call your doctor if you don't feel any improvement within 2 days
UTIs should begin to improve after taking antibiotics for a day or two, but call your doctor if there is no improvement. It may be that the medication needs to be changed or the infection could be caused by something else and requires a different treatment.
Method 2 of 3: Reducing Discomfort
Step 1. Take over-the-counter pain relievers for fever and pain
You may need painkillers for the first day or two of treatment until the antibiotics take effect. With pain relievers, urination will be more comfortable and the fever will go down.
Avoid ibuprofen or aspirin if you have a kidney infection as they can cause complications.
Do not take pyridium or phenazopyridine until after seeing your doctor. These pain relievers can be purchased without a prescription, but they can cause the urine to turn orange and invalidate the test results.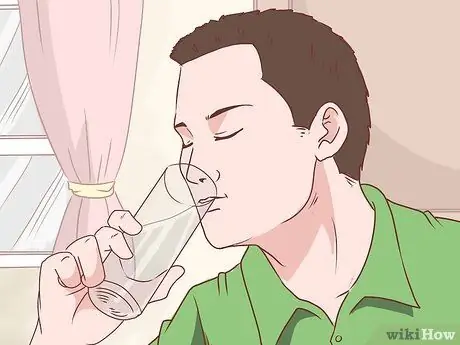 Step 2. Increase fluid intake
During and after a UTI, you need plenty of fluids to clear the infection and hydrate your body. Drink 6-8 glasses of water 250 ml each day. You can drink water, herbal or caffeine-free tea, or lemon water.
Although cranberry juice has long been believed to treat or prevent UTIs, research shows that it is ineffective and there is little evidence of its ability to prevent UTIs.
Avoid alcohol, sugary drinks, and caffeine, which can irritate the bladder.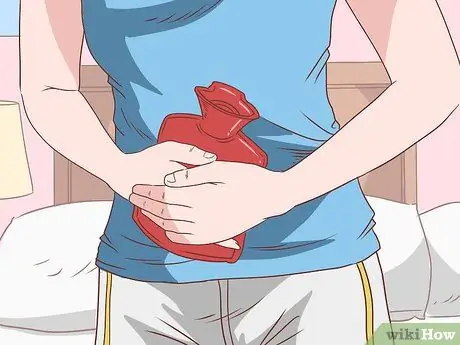 Step 3. Place the heating pad over the pelvic area
Place a heating pad or hot water bottle on your lower abdomen, back, or between your thighs. The comfortable heat can ease the pain.
Step 4. Urinate immediately if you feel it
Don't hold your pee even if it hurts to urinate. Urinating will help remove bacteria from the urinary tract. Drinking lots of water will dilute the urine so it's less painful.
Step 5. Soak in a mixture of warm water and vinegar or baking soda
Fill a tub with warm water and add 60 ml of white vinegar or 60 ml of baking soda (for prepubescent children). Vinegar water or baking soda can reduce pain and kill germs near the entrance to the urinary tract.
If you don't have a bathtub, use a large bucket. Sit so that your bottom is submerged in the vinegar or baking soda. Remember that you only need to add a little vinegar or baking soda to the size of the bucket
Method 3 of 3: Prevent UTIs From Coming Again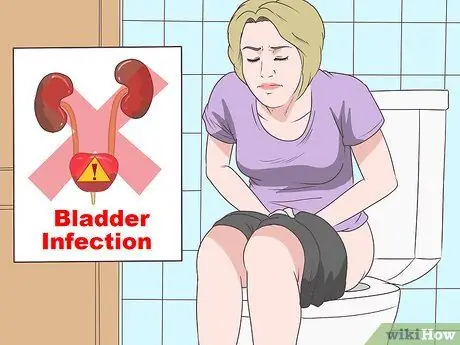 Step 1. Urinate frequently to prevent bladder infections
Make sure you're drinking enough to be able to urinate more often when you feel like it. Urination will remove germs from the urinary system so that it can accelerate the healing of UTIs or prevent bladder infections.
Lean forward slightly after you've finished urinating to make sure your bladder is completely empty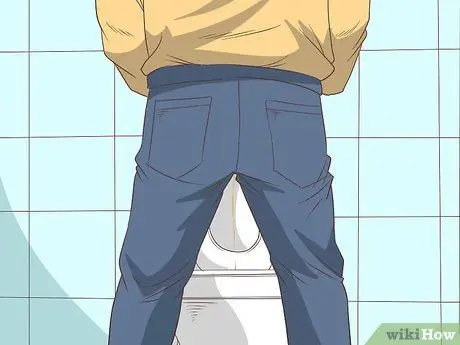 Step 2. Urinate after sex
Because sex can introduce germs into the urinary tract, you must urinate immediately after sex. Don't just lie down and delay going to the bathroom because waiting means giving bacteria time to enter the urinary tract.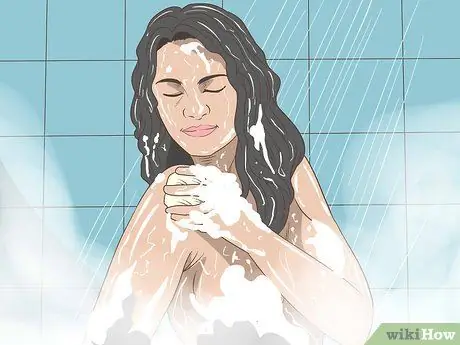 Step 3. Take a shower under water, don't soak
If you bathe and the bath water is dirty, bacteria will reach the entrance to the urinary tract. Do not sit with a wet towel or in a hot tub. When showering, avoid products with strong scents, such as soaps, cleansers, sprays, or douches.
You should also avoid scented feminine hygiene products that can irritate the urinary tract
Step 4. Wash the genitals from front to back after urinating
Do not use the same tissue to wipe the front after the back. Instead, wipe from front to back so that no new germs enter the urethral opening. Discard the tissue after use. Don't forget to wash your hands to prevent UTIs and other diseases from spreading.
If you get dirt on your hands, wash them before wiping (the cause of 80–95% of UTI cases is the bacteria in feces, E. coli)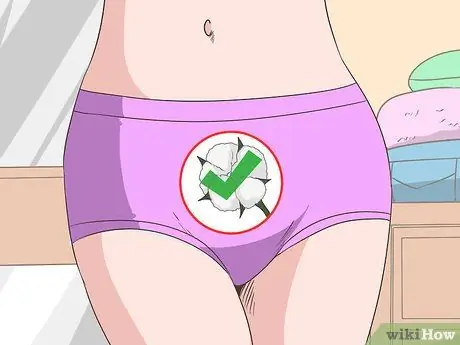 Step 5. Wear loose underwear
To keep the genital area dry, wear cotton underwear that doesn't trap moisture. Choose underwear that is loose and does not rub against the genitals. For example, wear loose shorts instead of tight underwear.
Change underwear every day to prevent the spread of germs to the urinary tract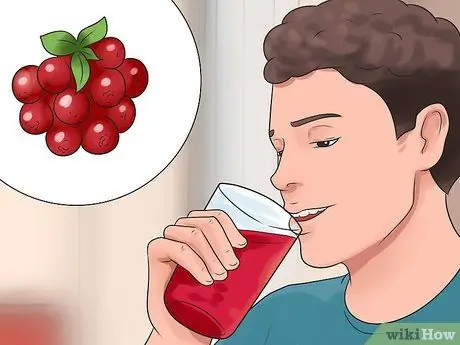 Step 6. Drink 250 ml of cranberry juice 3 times a day
Drinking cranberry juice can help prevent UTIs in women who experience them frequently. You can also take 400 gram cranberry tablets once a day.
Tips
Over-the-counter UTI products that are commonly available are test strips and analgesics. While they can determine whether you have a UTI and relieve pain, they cannot address the cause of the infection