Measuring flour may seem like an easy and simple thing, but in reality many people do it wrong. One cup of white flour weighs 4 1/4 ounces or the equivalent of 120.49 grams (based on international avoirdupois ounces, 1 ounce = 28.35 grams, no 100 grams). If you pack the flour tightly, or even scoop it straight out of the container, you can end up using a completely different weight of flour if you measure it properly by scooping the flour from the container into your measuring device and then leveling the top so it's even. You'll be surprised how correctly measuring out the flour can make a significant difference to your baked goods.
Step
Method 1 of 3: Measuring Unsifted Flour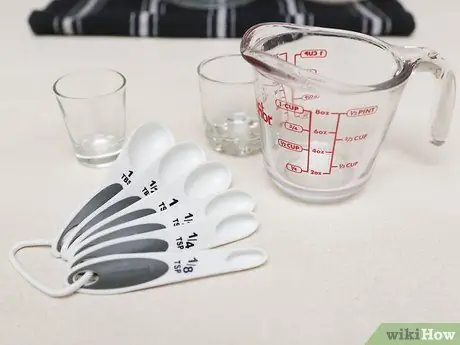 Step 1. Use an appropriate measuring cup of the right size
This is the best way to ensure accuracy when you measure flour by volume. It will be more difficult to measure precisely if you are using an oversized measuring cup, as you cannot do the final step by leveling the top surface. So for example if your recipe calls for 1 1/2 cups of flour, use both sizes, namely a 1 cup dry measuring cup and a cup dry measuring cup. If your recipe calls for 2/3 cup flour, use a 1/3 cup measuring cup and measure twice, instead of using a larger measuring cup.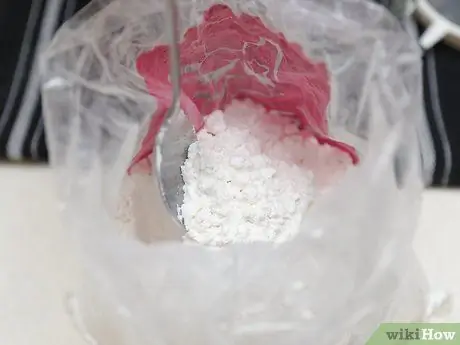 Step 2. Stir in the flour
Flour tends to be densely packed and compressed in packs. If you don't stir before measuring, you could end up taking in more flour than you need for your recipe. Place a spoon in your flour storage container and stir.
You may want to store the flour in a container with a glass lid. Plastic, or metal instead of keeping it in its original packaging or bag. That way your flour won't clump together, and it'll be easier to reach inside and stir when you need to use it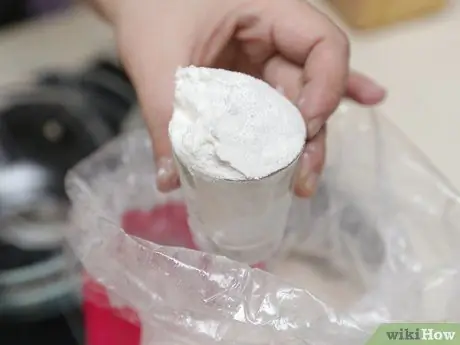 Step 3. Spoon flour into your measuring cup
Use a spoon to scoop the flour into the measuring cup until it's a little too full. Do not tamp flour into the glass. Simply spoon lightly into the glass until it is full and a mountain-like peak forms.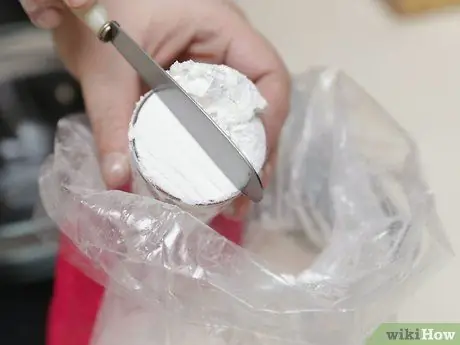 Step 4. Align
Use a flat surface, such as the back of a knife, to flatten the surface of the flour and remove excess by running the knife over the measuring cup. Do this on top of the flour container so that excess flour falls back into the storage container. You are now ready to use this measured flour in your recipe. If additional quantities are needed, measure again in the same way.
Method 2 of 3: Measuring Sifted Flour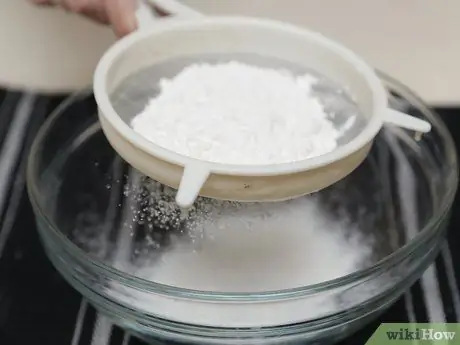 Step 1. Sift flour
Pour a little more flour than you need into a flour sifter, and sift over a bowl or basin. Sifting the flour loosens the arrangement of the flour grains and traps air in between, resulting in a lighter cake. This may sound like a great thing to do in any recipe, but you should only sift in the flour if the recipe calls for it. For certain breads and pastries, a denser end product is more desirable.
If you don't have a flour sifter, you can just stir it in. Pour the flour into a bowl and use a whisk or whisk to stir briefly until the flour is light and fluffy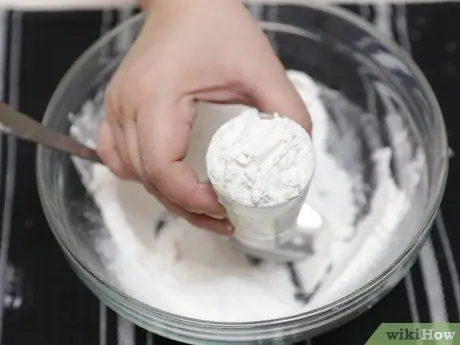 Step 2. Spoon the flour into your measuring cup
Use a spoon to measure the flour into a measuring cup of the right size. Avoid using a measuring cup that is larger than what you need, as it will be difficult to get an accurate measurement this way.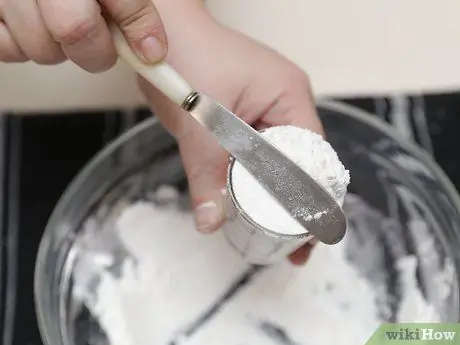 Step 3. Smooth the surface of the flour
Run the back of a knife or other flat surface over the rim of the measuring cup, and let the excess flour fall back into the flour storage container. Now you can use this perfectly measured flour in your cake or dish recipes.
Method 3 of 3: Measuring Flour by Weight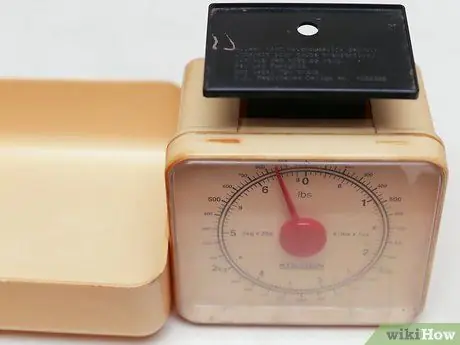 Step 1. Buy a small kitchen scale
If you like or often bake bread or cakes and want to make sure you measure your flour correctly, buy a kitchen scale. This is because even the technique of measuring flour and leveling it is not as accurate as the technique of weighing flour to ensure it is at the desired weight. Given that even half an ounce can make a difference in your baking results, using a scale is the best option for the serious baker.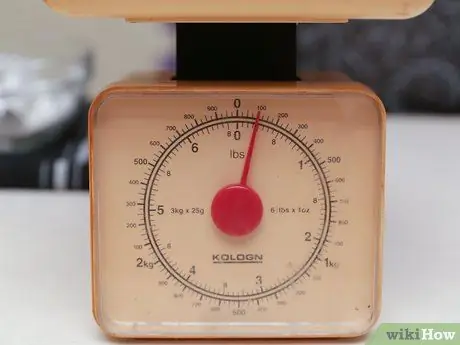 Step 2. Find out the specific weight of flour you are using
One cup of natural white flour weighs about 120.49 grams, but other types of flour weigh differently. If you're using whole wheat flour, self-raising flour or another type of flour, find out how much it weighs for 1 cup of that flour. Here are the weights of some of the commonly used types of flour:
Cake flour: 1 cup = 113.4 grams
Self-raising flour: 1 cup = 113.4 grams
Whole wheat flour: 1 cup = 113.4 grams
Whole grain pastry flour: 1 cup = 95.68 grams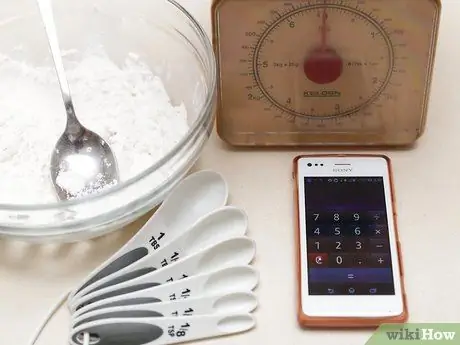 Step 3. Perform a conversion or calculation to find out how much total flour you need (in grams)
If your recipe calls for 2 cups of plain flour, for example, you'll need to find out how much that is in grams. Do a calculation or convert from cups (a measure of volume) to weight in your head or use a calculator to figure out how much to weigh.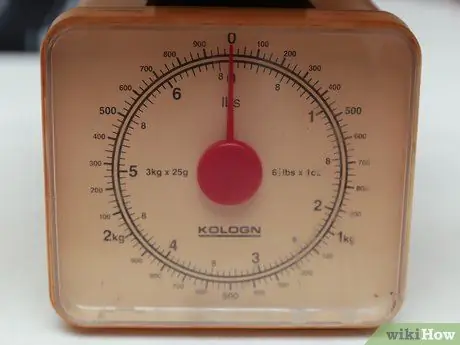 Step 4. Make the weight of the flour container on the scale to zero
Since whatever container you use to weigh flour should not include the weight of the flour, you must subtract the weight of the container from the final weight. You can do this easily by using your scale to bring the weight of the container to zero. To do so.
If you are using a manual mechanical scale, turn the knob back to the zero position while the flour container is on the scale.
If you are using a digital scale, press the Clear button while the container is on top of the scale.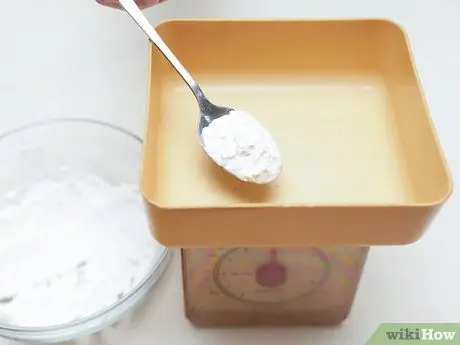 Step 5. Add flour slowly until the scale shows your desired weight
Once the weight of the container is zeroed, you can add your flour to it and while it is weighing. Spoon flour into the bowl until you reach your desired weight. If you use plain white flour, it will weigh about 120.49 grams per cup. If you are using a different flour, double-check to see how much 1 cup of flour should weigh.
Tips
You can use a kitchen scale to determine the right amount of flour if the recipe calls for flour by weight.
In addition to using a knife, you can also use a spatula or other kitchen utensil to level the surface of the flour if you measure it with a measuring cup.
Be sure to use dry and clean bowls, utensils, and measuring cups. Particles trapped in the measuring cup can affect the accuracy of flour measurements.
Based on the international avoirdupois ounce used in America and the UK, 1 ounce (ounce or oz) = 28.35 grams, and this is used in this article, no 1 ounce = 100 grams, as in the Dutch metric system.
1 cup (US) = 240 ml