Keeping a daily journal can be a satisfying therapeutic activity. Fill your diary with all your deep thoughts, feelings, aspirations, ideals, nightmares, fears, hopes and more. But before doing so, try to keep a diary that is inspiring and fun to write about. Choose and decorate a diary to strengthen your passion for writing and turn it into your own unique and memorable personal treasure.
Step
Method 1 of 3: Decorating the Outside of the Book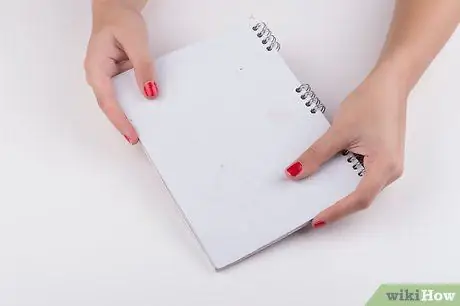 Step 1. Choose a journal that is easy to modify
Regardless of the shape of the journal you have, there are several ways to decorate it and make it unique. However, a pretty leather cover notebook is much more difficult to decorate than a regular paper journal. However, there is certainly no "wrong" type of book to buy. It's just that, consider the type of book that you really want to decorate and "may" get scribbled or glued.
Look for modifiable diary sets on the internet. Usually, this kit includes everything needed to create a unique diary.
Don't limit your choice to books that are sold as "diaries". Visit a bookstore or craft supply store in your city to find a wide selection of sketchbooks, journals, and notebooks that can be easily changed to suit your needs.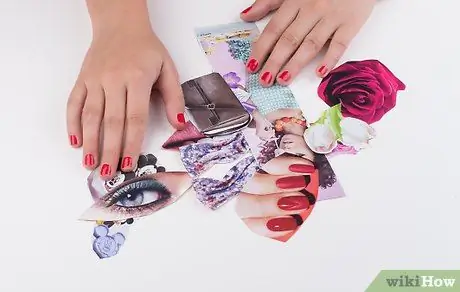 Step 2. Decide on the theme your diary will carry
You don't have to have a specific theme, but when you're having trouble figuring out what decor to use, look for ideas by considering your favorite things, colors, patterns, and shapes. Another step you can take is to visit sites that can give you tips or advice, such as Pinterest. Sites like this are perfect when you want to choose a theme or book aesthetic. Decide if you want to make the book look professional and neat, or cheerful and goofy. For example, if you like cats, you can use them as the main theme of your book and take inspiration for decorations.
Choose your favorite quote or song lyrics and use it as inspiration.
Cut pictures from magazines or old photos to make your diary more unique and personal.
Make a personal collage. You can make your diary a collection of photos of animals, music, movie stars, food, and other things you like.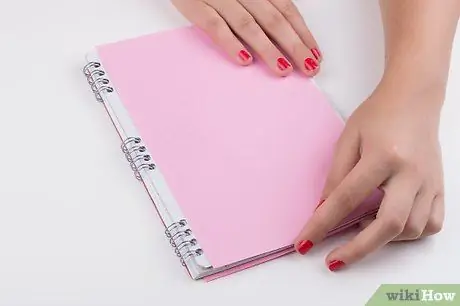 Step 3. Wrap the outside of the book with a new cover to completely change its appearance
If you want to change the front cover of the book, you can attach cloth, wrapping paper, or other colorful paper to the front of the book. You can also cut out shapes like hearts or stars and glue them to the front cover. To make it easier to decorate, stick a paper cover to the front of the book. You can always let go of the paper if you want to create a new cover from scratch.
If you want to use glue, try using a glue stick instead of bottled wet glue. This way, the glue is less likely to reach the pages of your book.
If you have a journal with a leather cover, you will need hot glue or strong adhesive tape to attach fabric and other materials to the front of the book.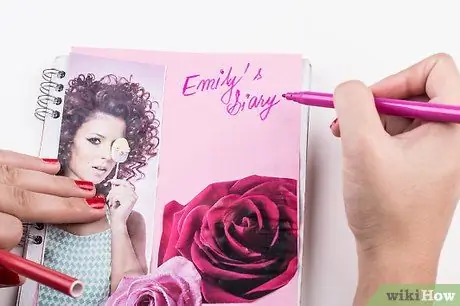 Step 4. Include your name, diary title, and a warning message for "snoopers" on the front cover
Because it will always be visible every time you open your diary, the front cover can be a great starting "space" to decorate your book.
If you want to make it look prettier and neater, try using the original cover (as is) or using a darker color like dark green, black, or brown.
If you want to give your diary a festive and cheerful look, use a few sheets of colored paper and stick them to the front of the book like a jigsaw puzzle.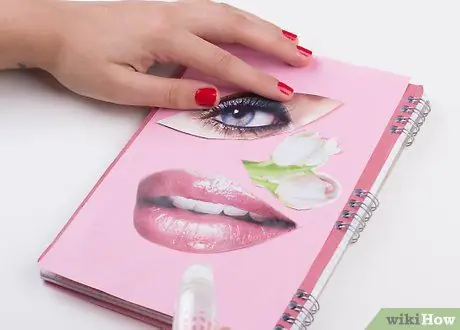 Step 5. Decorate the back cover using decorations that match the front cover
For the back cover, use the same colored fabric or paper as the fabric or paper you used on the front cover if you want to create a cohesive and beautiful look. You can also create a completely different look on the back of the book to highlight another side or personality to make your book more unique.
Keep in mind that the back of the book will touch the surface of the table on which you are writing, so the back cover may not look as clean as the front cover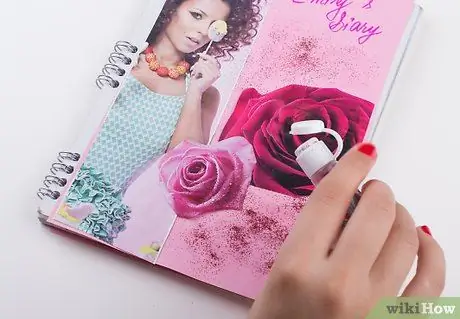 Step 6. Add glitter powder to attract attention
Draw a pattern on the inside, front cover, or back cover of the book using glue and sprinkle some glitter powder over the pattern. You can draw a heart, star, or lettering pattern and then coat it with glitter powder.
If you don't have glitter powder, you can use eye shadow to create a sparkling effect.
Draw rainbows, musical notes, clouds, puppies, or any other object you like!
Method 2 of 3: Decorating the Inside of the Book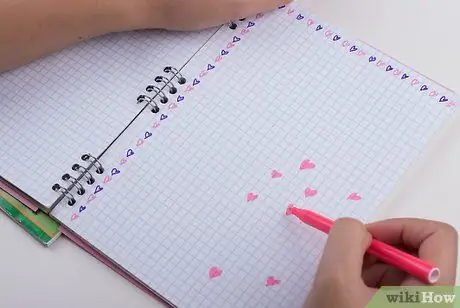 Step 1. Decorate the inner cover with a painting or drawing
If you want, you can use the paper that was previously used on the outer cover to be pasted on the inner cover. You can draw, stick stickers, or even paint on the inner cover as they are usually easier to decorate. At this stage, you will decorate the inside of the diary so that you can decorate it with things related to your personal interests. As an example:
Print your favorite photos of you and your friends, then write your full name and each friend's under the photo. Draw a speech bubble and write down the phrases that everyone uses frequently.
Cut out a picture of a movie star that you find adorable, then stick it on the cover in the book.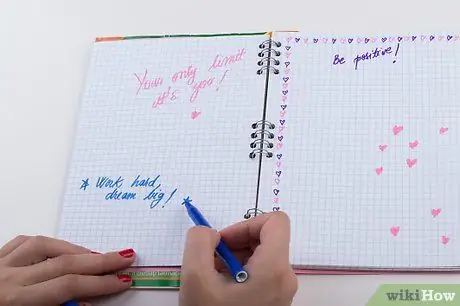 Step 2. Write a message for yourself on each page of the book
Write down some personal goals that you want to remember every time you open your diary. You could write, for example, "Don't forget to laugh today!" or "Chase your dreams!". This article may be added to the inner cover or at the top of some pages of the book. Little surprises like these are fun to write in your diary because over time, you may forget about your dreams or personal goals until you finally see them on the right page.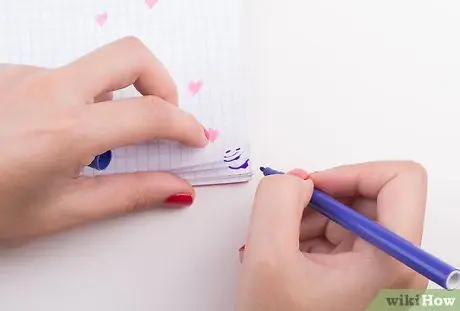 Step 3. Create a simple flip-book in the corner of the page
A flip book is a small image made on all the pages of a book. For each page that opens, reposition the image. When you quickly turn the page, the image appears to move so you can create an "animation". If you are an artistic person, develop your drawing every day while journaling. When you reach the end of the book, you'll have a diary, complete with little cartoons in the corners of each page.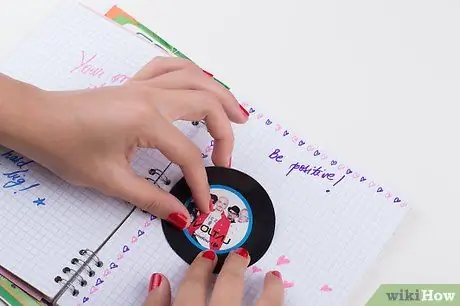 Step 4. Glue the sticker on the inner cover
Buy some sticker sets from a craft store and stick them to whatever part you like. You can also paste the sticker on the book page.
You can use "bloated" stickers, but this type of sticker works better on the outer cover of a book. If you put too many bloated stickers on the inside of the book, there is a chance that the book won't close tightly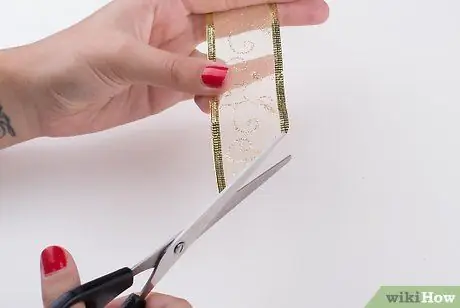 Step 5. Add the bookmark ribbon
Ribbons will make your diary look neater and more beautiful. You can add ribbons to books easily. If you want to install it:
Prepare a ribbon with an additional 6.3 centimeters of the length of the book on both sides.
Use a glue bottle with a nozzle, then stick the nozzle over the spine opening and dispense a small amount of glue inside. Make sure you add enough glue, and not too much so the glue doesn't spill.
Tuck the tape into the opening. You can use a sewing needle or a sharp pencil to push one side of the tape into the 3-5cm long opening. If the book is closed, the back will press against the binding firmly enough to hold the tape while the glue dries.
Make sure you glue the tape to the top of the book, and not the bottom.
Now, cut the other end of the ribbon into a pretty "V" angle by folding the half side of the ribbon vertically, then snipping off the loose ends at an angle with sharp scissors.
Method 3 of 3: Installing the Lock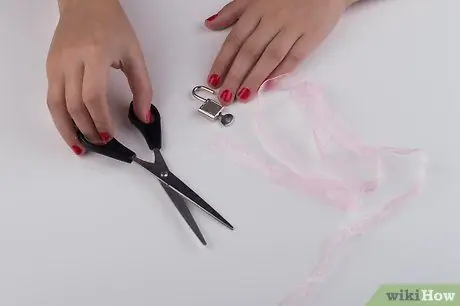 Step 1. Gather the required equipment
If you want to keep a secret diary and make sure no one else can read it, you can put a lock on the book (if it's not already there). To create a book key, you will need:
hole punch tool
A short piece of ribbon or thin leather cloth (long enough to go around the book)
adhesive tape
Scissors
Diary lock and lock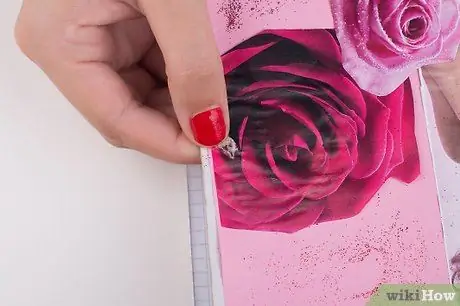 Step 2. Make a hole near the end of the book, around the bottom half
Punch holes in the front and back covers of the book. If you want to close the book with a padlock, you will need to make the holes in order to lock the book.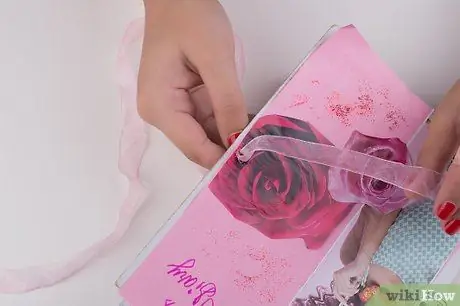 Step 3. Insert the tape into both holes
Turn the book over and thread the tape into the hole in the back cover first. This way, your lock will close and be at the front of the book.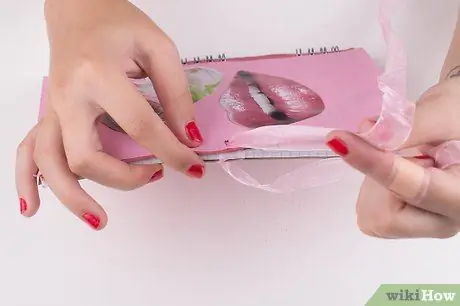 Step 4. Align each end of the tape until they meet
Make a knot at the back and trim the ends of the ribbon that are too long.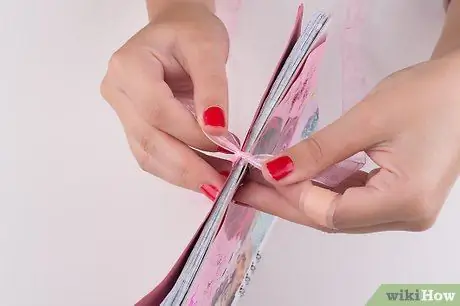 Step 5. Twist the ribbon so that the knot is near the hole
Attach the tape using the adhesive tape, turn the book over so the front cover is facing up, and slide the tape toward the front of the book.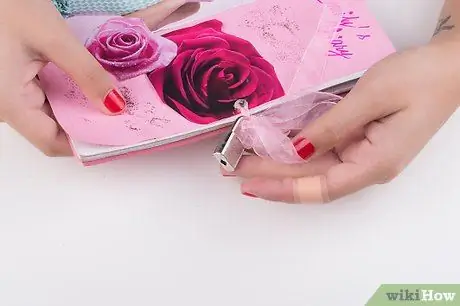 Step 6. Install the lock
To lock the book, thread the tape through the hole, from the inside cover to the outside (front cover). Tuck the padlock into the knot you made.
Make sure you keep the lock key in a safe place so only you can find it
Tips
Begin each diary entry with the date and time it was written if desired. This element will grab your attention when you read your entry again later.
When on vacation or going to a special place, take the time to pick flowers or leaves from a tree you see to stick in your diary when you get home.
Books with thick covers seem more authentic and more durable.
If you like sketching, choose a book with white blank paper so you have plenty of room to draw.
Fill your diary with souvenirs like coins and stamps.
Make sure your family members and friends know that your diary is personal and very important to you.
Sharing a diary with a close friend can be fun. Try decorating your and your best friend's diaries together and swap your books every day, then write special entries for each other.
You can add memorable photos to make your diary even more interesting! For example, if one day you go out with your friends and take a photo, it would be nice to see a description of the activities you did that day along with the photos you took.
If you want, you can write stories, poems, and other creative writings to make your diary even more interesting if you ever want to read it in the future.
Pour your heart out in a diary. A diary is a valuable space for discussing your deepest secrets. The more you tell, the better you get to know yourself. However, keep in mind that other people can read it if your diary doesn't have a lock.
You don't have to fill your diary with words alone. You can create an image on each page. In fact, you can draw a sketch or create a mini comic. Feel free to fill the book with whatever you want. Make a colorful picture or work if you want!
Try to write entries neatly so that you can still understand your writing when you are old.
Warning
If you bring your diary to school, don't tell anyone. Some people can just take it out of your bag when you're not paying attention.
Don't put your diary in a public place and leave it. Make sure you always carry it with you so you don't lose it.
If you lock your diary, make sure you keep it in a safe place so you don't lose it or forget to put it.
Keep your diary in a safe place. If you just put it at home, someone might get curious and accidentally open it.
Lock the diary for more security.