Calling employers to inquire about job openings is a good opportunity to make a positive first impression on potential employers. In addition, you can find more information about the company you want to contact and establish good relationships with the people you talk to. Before calling, make the best of your preparation by gathering as much information as possible, practicing what you have to say, and preparing to communicate in a professional and pleasant manner over the phone.
Step
Part 1 of 4: Gathering information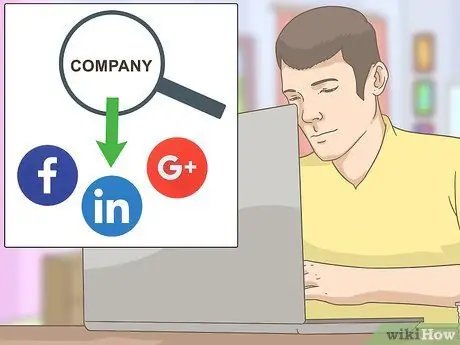 Step 1. Find out the personnel in the company you should contact
Use LinkedIn, Facebook, Google, and company websites to find out how to contact hiring managers or contact potential employers on the company phone. Usually, the operator will tell you the telephone number in the workspace or the extension number of the personnel you want to call if you already know the name.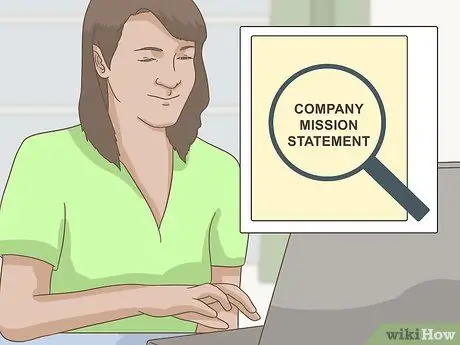 Step 2. Gather information about the company
Prepare yourself as best you can by finding out various things related to the company, such as the mission and goals of the company's establishment. In addition, find out the organizational structure and job descriptions of employees by position to get an idea of the qualifications of the personnel recruited by the company and the responsibilities of each employee.
Use LinkedIn, company websites, and other social media to do research.
Before calling, determine the positive aspects of the company that motivated you to apply for a job in preparation for being asked why you want to work for the company.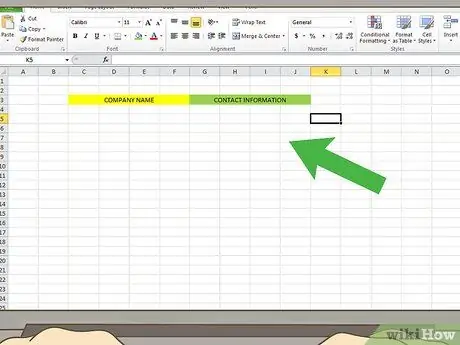 Step 3. Keep a neat record of all the information for each company you research
If you want to contact multiple companies, record each company's information on a separate sheet. Write contact information in large font for easy reading. Each time you call, record the date, the result of the conversation, and the name of the person who communicated with you to monitor progress and serve as a source of information if follow-up is necessary.
Part 2 of 4: Preparing a Conversation Draft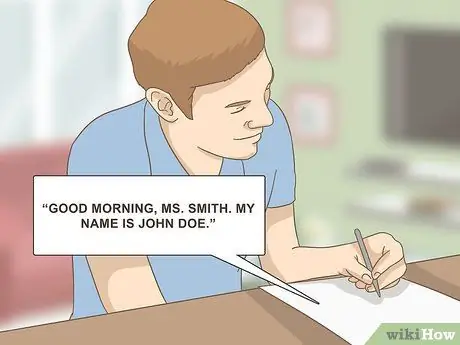 Step 1. Write down what you want to convey
Use serial numbers to write down important information that you need to convey. Compose sentences to introduce yourself, provide information on educational background and work experience, and the desired job. If you want to talk on the phone while reading a script, write down the words and use your normal intonation to make your voice sound natural.
Introduce yourself by stating your full name, for example, "Good morning, Mrs. Siti. My name is Joni Doremi".
If he wants to know your background, explain your competence, for example "I work as a web designer and information systems analyst with 10 years of work experience. I continue to develop myself by looking for new challenges".
Explain why you are calling. For example, you could say, "Please Mr. Lasido be willing to provide time and information whether there are currently vacancies in the information technology department that you lead".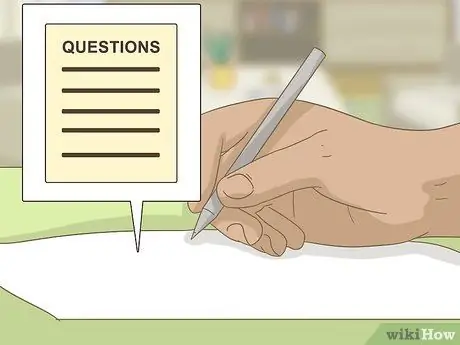 Step 2. Write down the questions you want to ask
To prepare before calling, write down the questions you'd like to ask to get more information about the company. For example, ask for vacancies according to your profession and how to apply for jobs. Have any other information about you that may be asked.
Think about the various questions that might be asked and prepare the answers.
Prepare answers if asked: why do you want to apply for the job, what do you know about the company, when you can interview or start working, and how much salary you want.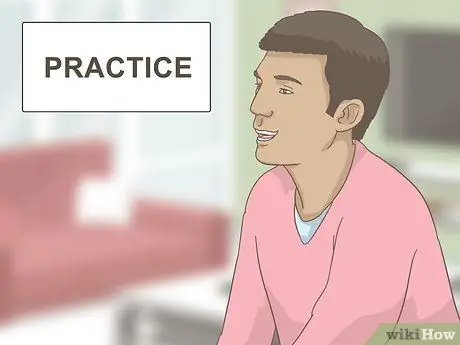 Step 3. Practice having a conversation before calling
Find a quiet place with a draft conversation and a list of questions and then practice communicating over the phone. Say each sentence with a different intonation until your speech sounds natural. Record the duration of the conversation to find out how long you talked and get the important things going in under 1 minute.
Practice speaking with clear articulation.
Speak with a smile so that you appear confident.
Record what you say and then listen to how you speak. Improve the way you speak that seems unprofessional, for example because you often say "umm", speak too fast, or your voice is monotonous.
Part 3 of 4: Preparing Before Calling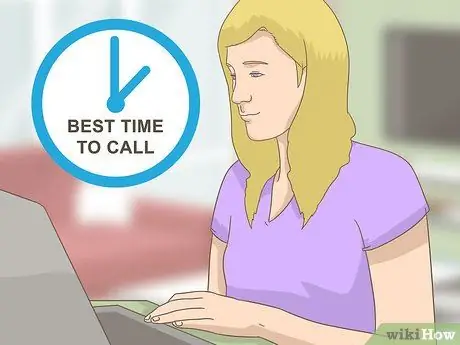 Step 1. Determine the most appropriate time to call
Use the company website and your knowledge to decide when to call is best. If you want to make the first call, do so in the morning when the new employee starts work. Don't call during the day when employees are busy or on a lunch break.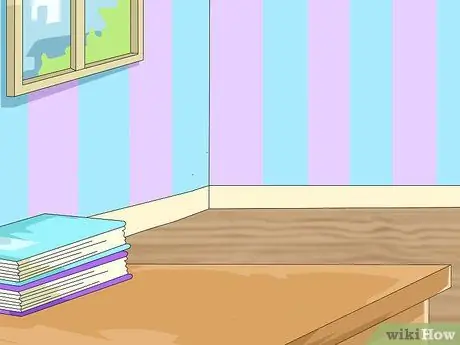 Step 2. Find a quiet place
You should call in a quiet place so you can focus on having a professional conversation. Make sure there is no noise from the street or indoors to distract you. If someone is nearby, let them know that you can't be bothered because you want to call someone and need a quiet, quiet environment.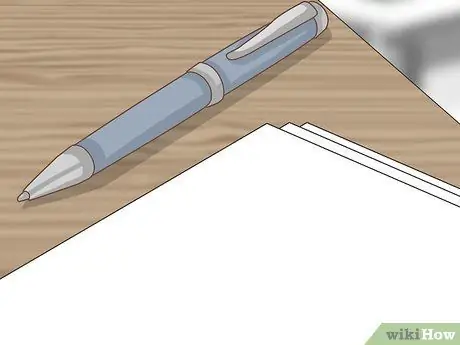 Step 3. Prepare to call
Have a pencil or pen and a piece of paper on the table to take notes. Open a notebook or file (document on your computer) with contact and company information for easy reading. Use landlines or buildings for a better connection and conversations aren't interrupted by incoming phone calls or messages. Keep drinking water ready in case your mouth feels dry.
Don't ask the recipient to wait for an incoming call.
In addition to preparing drinking water, do not eat, smoke, or chew candy while on the phone.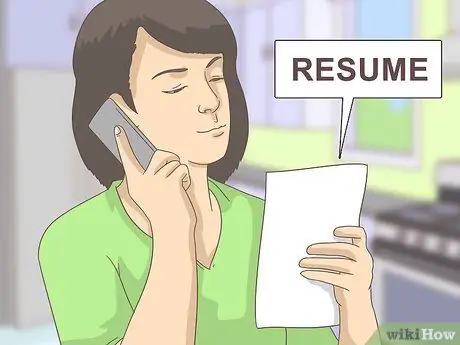 Step 4. Put the bio in front of you when calling
Read the bio if you are asked to describe work experience. If you are asked to send a bio, he will get the same information over the phone and when reading the bio. Don't forget to update your bio before calling so that the written information is up to date.
The easy-to-read biodata helps you answer questions fluently if you feel nervous when talking on the phone
Part 4 of 4: Calling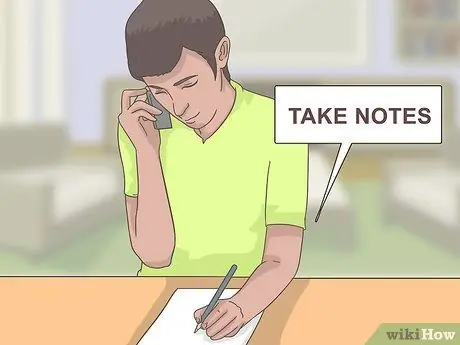 Step 1. Record the information you get
During the conversation, write down as much detail as possible, such as the name of the person you spoke to, the title, the date and time of the call, and what you should do about the conversation. Also, write down unexpected questions so you can find the answers and be better prepared for the next call.
Record the information in detail.
Before ending the conversation, confirm what you need to do and ask if the mailing address you wrote down is correct.
For example, before saying thank you, say, "As I said earlier, I will send a bio and reference list within 2 working days".
Step 2. Prepare a schedule for the interview
Don't respond to a planned interview or next meeting by saying "anytime" because you seem unprofessional and incapable of making decisions. Respond immediately by sharing your schedule, for example, "I can take Tuesday or Wednesday off or get permission from my boss on Friday afternoon." Open the agenda in front of you so it's easy to read on the phone.
Before calling, make sure you know the schedule of activities for the next 2 weeks.
Do not change the agreed schedule, except in an emergency.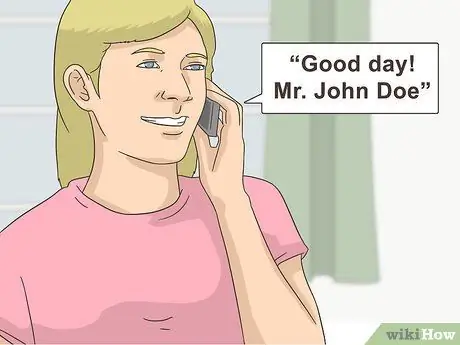 Step 3. Demonstrate good telephone etiquette
Be polite to everyone who takes the call, such as the operator, administrative staff, or assistant manager. Company leaders will be informed if you are rude. Address the person on the phone as "Father" or "Mom," unless he or she has personally asked you to say hello in a different way. Listen carefully when he is talking and do not interrupt. Before ending the conversation, thank you for your time and attention even though there are no job openings.
Start the conversation by asking if he would be willing to give you a few minutes to talk to you. If not, ask if you can call again and when he can be reached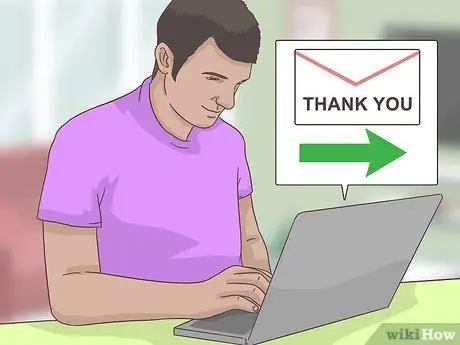 Step 4. Say thank you
Send a formal written thank-you note via email the same day to the person you're talking to. Don't delay sending an email more than a day after you call. If there is a job opportunity, attach your biodata and job application letter according to the information you obtained through telephone conversations.