The right way to polish shoes will not only make the shoes look shiny, but will also make them last. Learning how to shine shoes will give you satisfaction and save you money for years. Shining shoes is very easy to do, if you have the right equipment and a little patience.
Step
Part 1 of 3: Setting Up the Right Equipment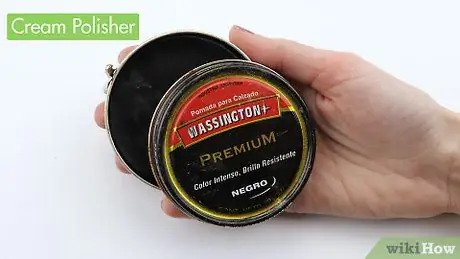 Step 1. Choose a shoe polish
Shoe polish is available in wax, cream, and liquid forms. Wax and cream shoe polishes are heavier, make the leather last and protect the shoes from water damage. Liquid shoe polish makes shoes shiny quickly and easily. Shoe polish is available in a variety of colors. You can buy a polish with a certain color that matches the shoes you want to polish or you can also buy a neutral colored polish that can be used for various shoe colors.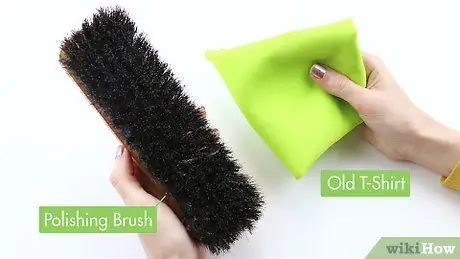 Step 2. Decide whether you want to use a polish brush or an old t-shirt
You have several options when it comes to polishing. Most people only use an old cotton T-shirt or a soft cloth, although it is also possible to use a polishing brush with short, stiff bristles. This brush comes already in the shoe polish package, so you can choose one for stock. You'll also need an old toothbrush or cotton swab to polish hard-to-reach areas of your shoes.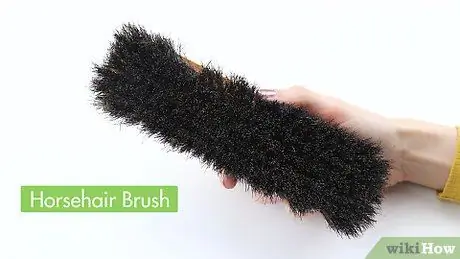 Step 3. Use a horsehair brush
A good shoe polish brush is the essential tool you need to polish your shoes properly. This type of brush has longer, softer bristles than the polishing brush described above. This brush is used to brush off excess polish on the shoe and allow the remaining polish to be completely absorbed into the leather.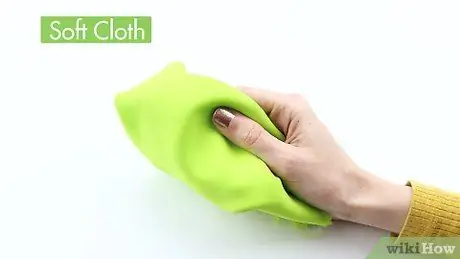 Step 4. Provide a soft lint-free cloth
If you want to give your freshly polished shoes a shine, you'll need chamois, which is a soft leather type. Alternatively, you can use a soft, lint-free cloth, such as an old cotton T-shirt.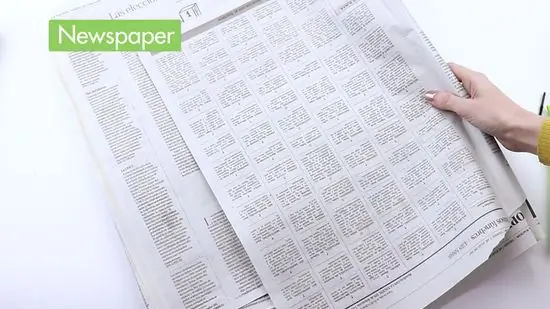 Step 5. Cover the place where you polish your shoes with newspaper
Shining shoes is a dirty job, so protect the floor and surrounding furniture by spreading out newspaper. You can also use brown paper bags.
Part 2 of 3: Putting Polish on Shoes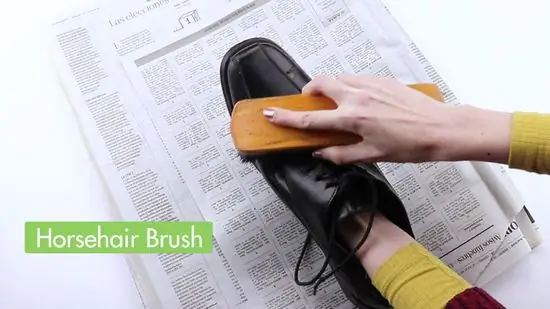 Step 1. Clean the shoes
Before polishing, first clean the shoes from dirt or dust that has accumulated. Otherwise, dirt can get trapped under the polish or scratch the surface of the shoe. Brush the shoes vigorously with a horsehair brush to remove dirt.
Alternatively, use a damp cloth to clean the shoe's surface. Allow the shoes to dry completely before moving on to the next step.
At this stage, you should also remove the shoelaces. This will make it easier for you to clean the tongue-shaped part of the shoe and prevent the polish from getting on the laces.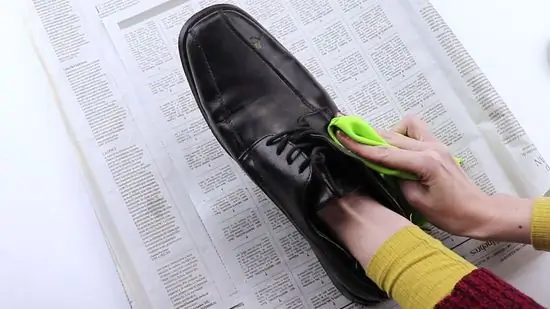 Step 2. Apply polish in small circular motions
Apply shoe polish to an old t-shirt or polish brush and apply the polish to the surface of the shoe using small circular motions. Apply by pressing it and make sure that the surface of the shoe is evenly coated with polish. Pay attention to the toes and heels of the shoes, which are the most frequently stepped on to the surface.
The easiest way to use an old t-shirt is to wrap your index and middle fingers in the t-shirt and use them to polish shoes.
Use an old toothbrush or cotton swab to polish hard-to-reach areas, such as the top of the shoe and the crevices on the tongue of the shoe.
You'll also need to polish the sole of the shoe, which is the part between the toe and the heel that never touches the surface.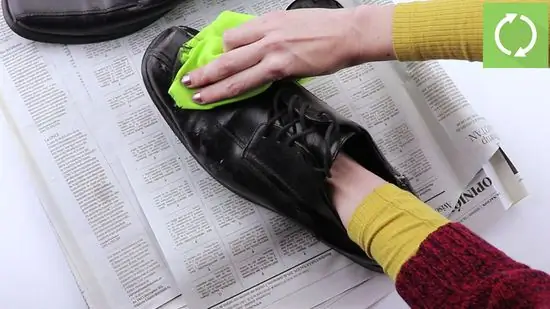 Step 3. Allow the polish to dry and polish again if needed
If the first shoe has been polished, set it aside, and polish the second shoe. Each shoe takes 15-20 minutes to dry.
If you think your shoes need to be polished again, polish them using the same polishing technique above.
Remember, use as little polish as possible to coat the shoes. It is even better to apply several thin coats of polish rather than a heavy coat of polish.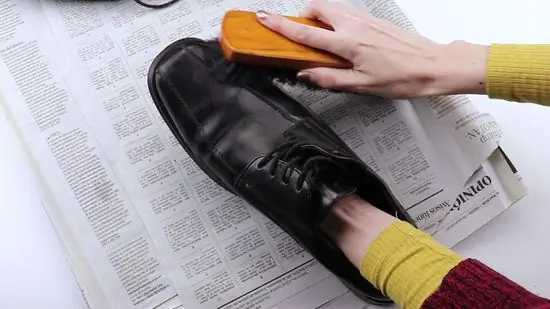 Step 4. Brush off the excess polish
When the extra coat of polish has dried, take a horsehair brush and brush off any excess polish in short, quick strokes. Don't be afraid to polish vigorously as the heat from the vigorous motion of the brush helps the polish absorb into the skin.
Part 3 of 3: Making Shoes Shiny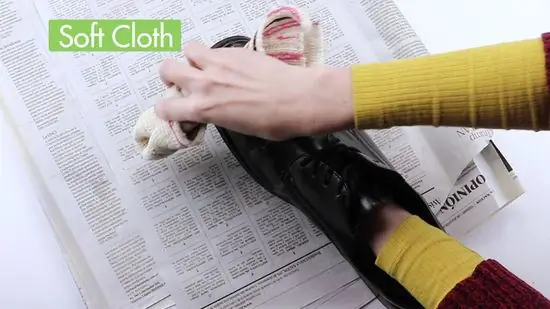 Step 1. Rub the shoes with a soft cloth to make them shiny
The easiest way to make your shoes shine is to use a soft cloth, such as chamois or an old cotton T-shirt. Hold the edge of the cloth and rub the shoe in a quick left-to-right motion.
Some people like to exhale into the shoe (like a foggy mirror) before rubbing it to make it shiny.
If you prefer, you can place the first shoe on a shoe butler (a device for placing shoes on for easy polishing) or just wear them on your feet to make this process easier.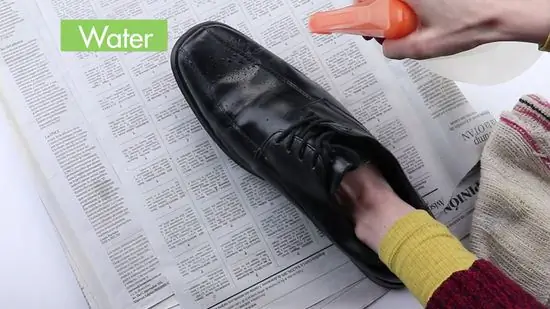 Step 2. Use the spit-shine method
The spit-shine method is a method used in the military to make shoes shiny. After applying the first coat of polish, spray a small amount of water on the shoe and rub it all over the shoe. Then, dampen a cloth with warm water and use it to apply a second coat of polish.
Keep repeating this process until you get the desired level of gloss. Make sure each coat of polish dries completely before applying the next coat.
The spit-shine method can be done using a soft cloth or cotton balls.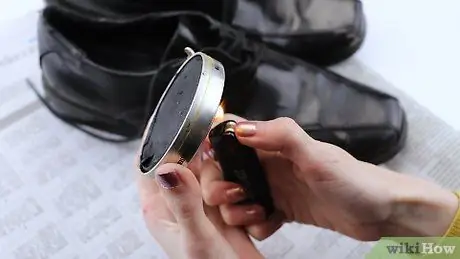 Step 3. Try the fire-shining method
It's a fun and somewhat dangerous way to shine shoes. The trick is to heat the shoe polish over a fire for a few seconds until it melts and becomes sticky. This melted shoe polish is then applied to the shoes using the same technique as spit-shine.
If your shoes have been given several coats of melted polish, you can use fire by heating the polish evenly over the shoe's surface, so that it melts and looks wet.
Don't let the fire touch your shoes and move the lighter constantly like spraying paint. When the polish has melted evenly, let it dry.
Apply a final coat of polish, then rub the shoes with a soft cloth to make them shine like glass.
Tips
The key is not to put too much polish on the shoes, just apply a few thin coats of polish. This is called the fat-on-lean process."
Never expect you to be able to polish the best shoes to shine like glass without trying hard, unless your shoes are patent-leather. However, if you have done your shoe shine carefully, using a shoe tree (a tool that is inserted into the shoe that is useful for maintaining its shape) to prevent wrinkles on the leather of the shoe, then keeping your shoes shiny will be relatively easy.
You can buy a shoe polish kit consisting of a can of black polish, a can of brown polish, a cloth, a polishing brush, and an applicator brush with a round tip at major supermarkets.
Shine your shoes after you buy them, even if they are brand new. This method helps to stretch the shoe while caring for and protecting it for future use.
It's a good idea to use a stiff toothbrush to clean the welt, waist, quarter (back of the shoe), and heel (including the sole).
If there is a scratch on the shoe, you can melt shoe polish on the scratch. Heat the polish until it melts and absorbs into the scratches. Shine your shoes, let them dry, and try again. It's really hard to do that, but if any of you have any clues on how to do it, please let other readers know how to do it. This may be more than just a scratch problem.
Once some of the shoe polish has dried, use good stockings to even out the polish. This method will make the shoes more shiny.
Buy shoes that shine the best. This shows that the shoes are indeed good.
If you want smooth-skinned shoes, don't buy shoes made of pigskin. Pigskin looks thinner and tends to have blemishes and scales, especially on the shiny toes. Shoes made of cowhide are more expensive, but have a strong and durable appearance.
Another way to give the welts and heels a shiny finish is to apply a vinyl preservative such as Armor-all or Turtle Wax F21. Use a soft cloth to apply the preservative to the welt and heel. Do not apply preservatives to leather shoes or areas of shoe soles that often experience friction.
Store polished shoes in a cool room or warehouse to dry. Put it in a shoe box with a lid.
In an emergency, use a silicone cloth. This method will give your shoes a very high gloss when you're rushing to a job interview, for example, but it won't be as good as a regular polish. What's worse, silicone fabrics can scratch the leather even if you don't see them (synthetic fabrics against natural products). So, use this silicone cloth wisely.
Do not use a polish that has cracked because the texture is too dry. You can check it by shaking the can when you buy it. If the contents don't move, then this polish is still good.