From various aspects, mosquitoes are the most dangerous animals in the world. Conservative estimates hold that mosquitoes are responsible for hundreds of millions of cases of malaria each year. Mosquitoes also transmit a number of other diseases, including West Nile virus, yellow fever, and dengue fever. There are many reasons why you should take steps to avoid an itchy, stinging mosquito bite. The best way to avoid mosquitoes is to know where mosquitoes live, how to repel mosquitoes, and how to kill mosquitoes.
Step
Part 1 of 3: Preventing Mosquito Bites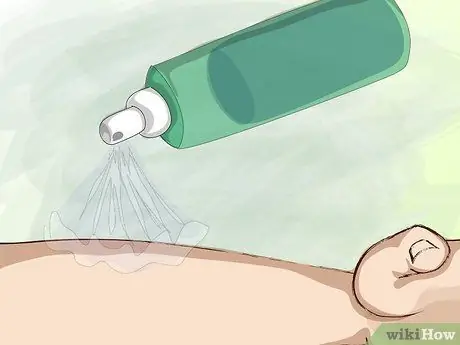 Step 1. Use mosquito repellent
A variety of specially formulated insect repellents are sold in sports stores. Apply insect repellent to exposed skin when outdoors, especially during the day. When using sunscreen, apply it before the insect repellent. Here are some effective chemical solutions to repel mosquitoes:
Repellents containing 30% to 50% DEET (N,N-diethyl-m-toluamide), recommended for adults and children over 2 months of age, are effective for several hours. Mosquito repellents with lower doses of DEET have short-term protection and should be applied more frequently.

DEET can irritate the skin when applied directly in high concentrations or for long periods of time. It can even cause severe skin reactions in some people.
Contrary to rumours, DEET has never been scientifically proven to cause cancer.

Mosquito repellents containing up to 15% picaridin (which requires frequent application), are available in the United States. Repellents with higher picaridine concentrations may be available in some areas outside the US.
Step 2. Use natural solutions
Experiment with non-chemical solutions like citronella (a natural plant oil). Tea tree oil and B vitamins are reported to have helped some people in repelling mosquitoes. Whatever product it is, its effectiveness depends on the situation, the condition of the body's skin, and the type of mosquito present. However, these "alternative" solutions sometimes don't pass the testing standards like most commercial mosquito repellents - look for alternative solutions and see testimonials before buying them.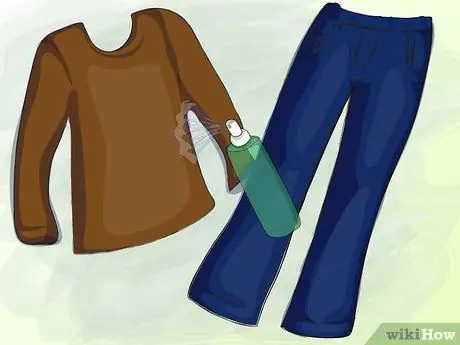 Step 3. Wear a loose long-sleeved shirt and long pants when outdoors
One of the best ways to prevent mosquito bites is to cover your skin. Wear long sleeves and long pants for as long as possible to cover as much skin as possible. Wear loose clothing as much as possible. The benefits are: first, the body is much more comfortable in hot and humid weather where mosquitoes thrive. Second, mosquitoes can sometimes bite the skin through tight clothing, especially if the fabric is thin.
If you have extra cash, camping and sports shops sell specially designed pants and t-shirts, made of strong yet lightweight materials. These clothes offer maximum protection from mosquito bites as well as a relatively high level of comfort.
For greater protection, clothing can also be sprayed with a repellent containing permethrin or another repellent that is EPA-licensed. (Remember: do not apply permethrin to the skin.)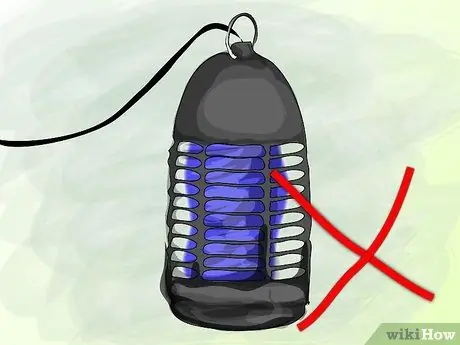 Step 4. Don't buy a "zapper", an electric hanger for insects
This tool is proven to be effective in killing many insects but generally only harmless insects. Plus, the resulting sound tends to be annoying. Mosquitoes can be killed more effectively with special machines that use heat and carbon dioxide to attract mosquitoes and then trap or kill them using nets, containers or chemicals.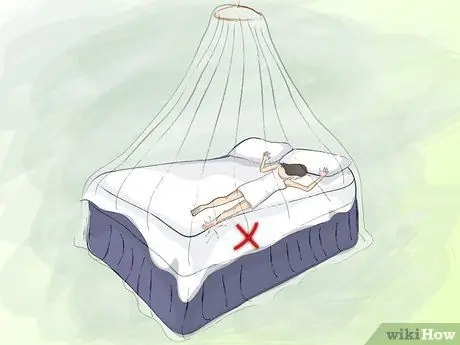 Step 5. Sleep with a mosquito net over the bed
Mosquito nets have fine holes that are just enough for wind to pass through, but small enough for mosquitoes and other biting insects to pass through. Hang the mosquito net over the bed, securing the top of the mosquito net to one or more surfaces. Support the tent so that it hangs properly. Make sure you sleep without touching the sides of the mosquito net - mosquitoes can bite you through the mosquito net if the mosquito net sticks to your skin. Check the mosquito net holes regularly - for a quick fix, patch the holes with tape.
Protect babies who are less than 2 months old by using a carrier wrapped in a mosquito net with a tight elastic edge
Part 2 of 3: Avoiding Mosquito Habitat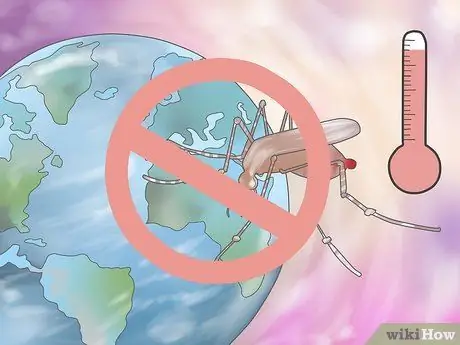 Step 1. Avoid areas where mosquitoes are generally found
Unfortunately, mosquitoes live on every continent except Antarctica. However, they generally live in warm and wet areas, which tend to be close to the equator. To avoid mosquito bites, stay away from tropical climates completely.
Mosquitoes are mainly found in forests and swamps in Central and South America, South and Southeast Asia, Sub-Saharan Africa, and Oceania.
If you're not sure whether it's safe to visit a particular area, visit the Center for Disease Control's (CDC) Malaria Travel Information website. this site provides details on the prevalence of malaria as well as malaria drug resistance for each country.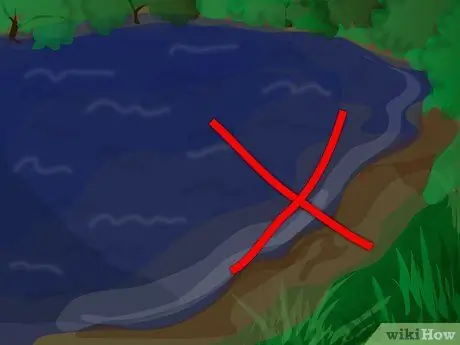 Step 2. Avoid standing water
Mosquitoes are attracted to water, especially standing water, so lakes, creeks, marshes, and swamps are breeding grounds for mosquitoes, especially during the dry season. Most mosquito species lay their eggs in standing water and some have even adapted to laying eggs in salt water. Stay away from areas of stagnant water, including small puddles or large swamps, to reduce the risk of getting mosquitoes.
Many species of mosquitoes live quite close to where mosquitoes hatch and breed. Avoid being in waterlogged and wet areas to avoid this species completely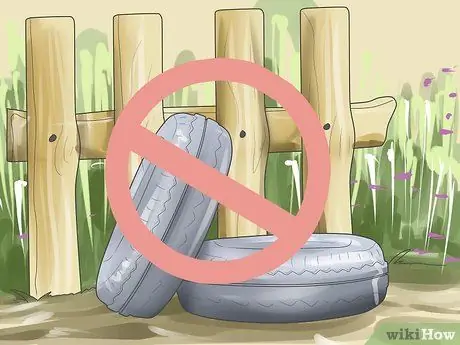 Step 3. Do not allow standing water near your house or campsite
Mosquitoes are very easy to live and breed there. For example, a children's pool left in the hot summer sun for a few days can quickly become a breeding ground for mosquitoes. Remove any standing water around the house or campsite. If you have a swimming pool, cover it when not in use and apply chemical additives such as chlorine to the water according to the manufacturer's instructions. Here are some places where water can pool:
Used tires or industrial containers
Construction ditch or trench
Swimming pool
Low area around the house
Clogged drains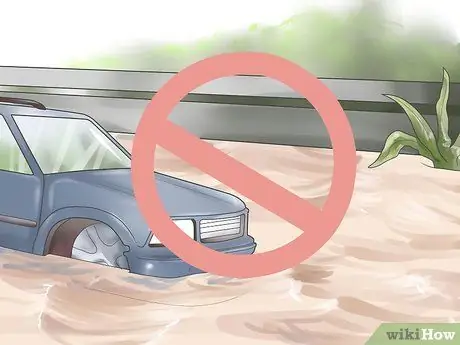 Step 4. Avoid certain "mosquito" seasons
In the tropics, the difference between the seasons is very low, so mosquitoes can thrive in hot weather all year round. However, in temperate climates mosquitoes are only active during the hot months. In the cold period, mosquitoes hibernate and the new adult mosquitoes do not mature past the larval stage. For example, the American Midwest has snowy winters that completely eradicate mosquitoes, but also have humid summers, causing mosquito populations to swell. "Mosquito Season" varies and depends on the region, but generally occurs during the hottest and/or most humid month of the year.
Another seasonal factor that can affect mosquito populations is flooding. Some parts of the world, such as the Egyptian Nile, experience periodic flooding. Stagnant water from flooding can cause a mosquito population explosion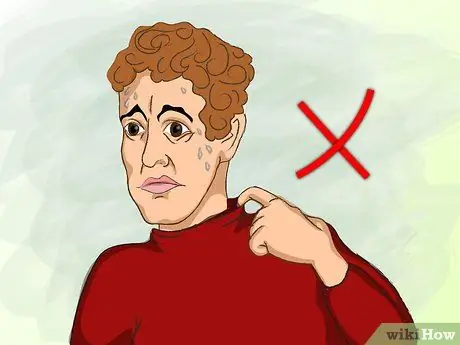 Step 5. Avoid body temperature that is too hot
This advice is especially important if you live in a hot humid climate. Mosquitoes are thought to be attracted to warmth, so letting your body cool is one way to avoid being bitten. Avoid wearing dark colored clothes, as they absorb more of the sun's heat than light colored clothes. Also avoid excessive exercise. Exercising will not only emit heat, it will also cause you to breathe heavily. Carbon dioxide, one of the gases released by the breath, can be smelled by mosquitoes even at relatively long distances.
Part 3 of 3: Killing Mosquito Yourself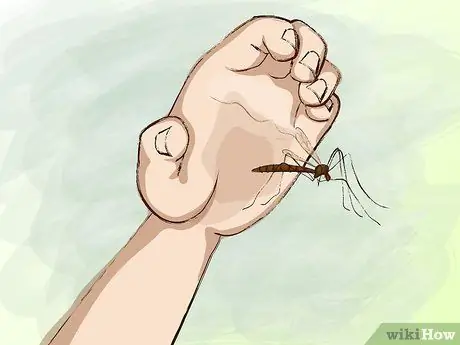 Step 1. Catch a flying mosquito
It may be difficult to reach mosquitoes. The air from moving hands warns mosquitoes, it can even blow mosquitoes out of your grip, unless you practice a lot.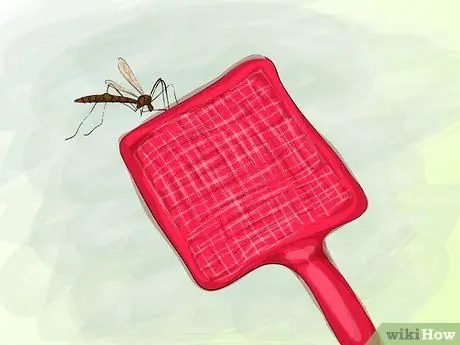 Step 2. Use a mosquito racket
The racket wand is usually made of metal or thick plastic and has a soft wire at the end. This increases the chances of killing mosquitoes in a stationary state. You can also use your hands in a quick circular motion.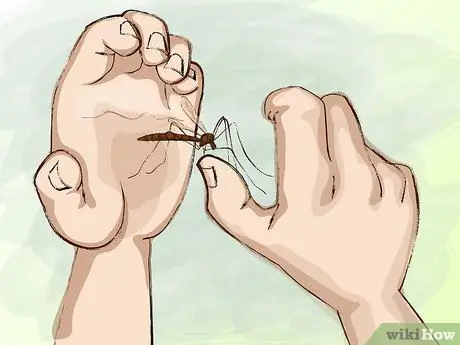 Step 3. Use two hands
Using two hands is more effective than one, because the air from each hand will blow mosquitoes into the open palm.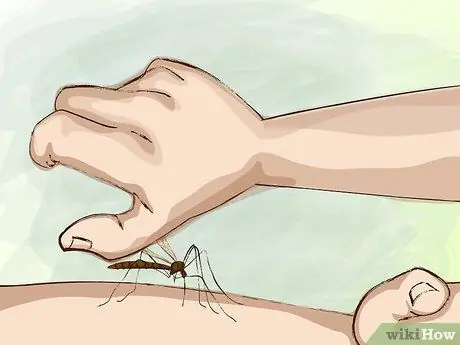 Step 4. Do not catch mosquitoes that are biting you
This is a myth that also says that if you just flex your muscles or stretch your skin tight when a mosquito bites, then the mosquito's trunk will be trapped in the skin and the mosquito will drink blood until it explodes. There is no scientific research to support this myth. Even if this is done correctly, the mosquitoes will bite and you are at risk of contracting malaria, West Nile virus, etc. If you want to avoid mosquito bites, why kill mosquitoes by let you get bitten?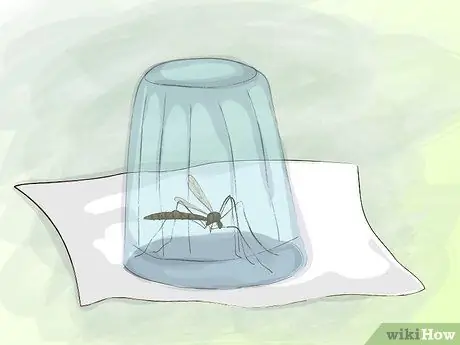 Step 5. Catch mosquitoes with a saucer
If the steps above don't work or killing mosquitoes makes you feel guilty, catch them alive and then release them outside your house or tent. Place the cup (preferably made of hard material) over the mosquito and then slide the paper under the cup. This gives you control over the mosquitoes and gives you a safer approach instead of just killing mosquitoes. Keep the paper under the cup as you move the mosquito to a more appropriate habitat.
Tips
Mosquitoes are attracted to the lactic acid in sweaty skin, so bathe regularly to help avoid bites.
Rub an oil jelly containing menthol on your ankles, wrists and shoulders.
Mosquito swabs come in many shapes and sizes. Each bat will create a longer reach, so you can swing faster, including using a rolled magazine.
Make sure the toilet is closed; this will remove one of the sources of moisture. This is especially important for outdoor toilets.
If there is a lemongrass plant, take it and break the twig. The smell that comes out can prevent mosquitoes.
Apply Skin so Soft cream from Avon, and wear an insect repellent jacket.
Don't be outside for long periods of time.
Warning
The ultrasonic mosquito device can repel mosquitoes by emitting a high-pitched sound. This device will simulate the sound of dragonflies, which are natural predators of mosquitoes. However, there is no scientific evidence to support this opinion.
Mosquitoes tend to be most active at dawn and dusk - be careful during this time.
Always remember that DEET is a toxic substance. Use infrequently.
If you are going to a forest area, seek malaria prevention.