If you're a seamstress, an organized sewing room can be the perfect place to sew quietly, store supplies, or get inspiration for your projects. Although a sewing room can be managed privately, a good sewing room is one that is well organized. Sewing room layout requires thinking about needs, space, and storage space.
Step
Part 1 of 3: Organizing the Room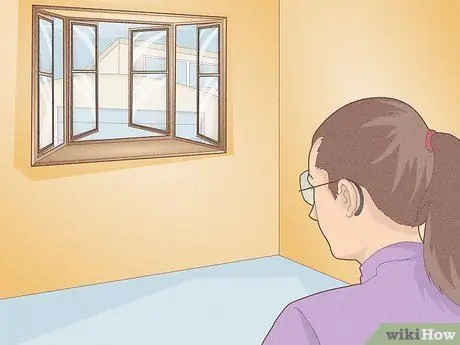 Step 1. Decide what space you will use
A fully unused workspace or bedroom is perfect for turning into a sewing room. Although it doesn't have to be big, make sure the room is enough at least for a storage area and a table or sewing machine.
If you don't have space devoted entirely to sewing, set up one area in the room that is used for other purposes. Areas in the bedroom, office, family room, workspace, or even a storage room that is often used to store clothes (closet) can be used for sewing.
If you're sewing in another room, decide whether you want the room to remain open or to be sewn up for separate purposes.
Make sure any space you choose has easy access to a power outlet for your appliances, lights, or computer.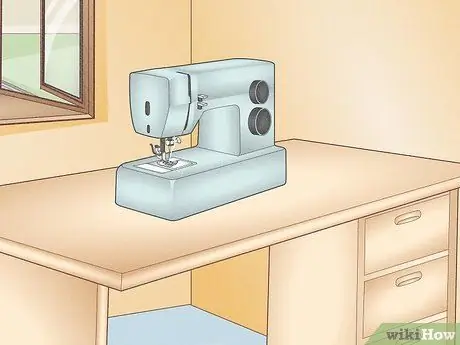 Step 2. Decide what equipment and furniture you want to put in the sewing room
An old computer desk would be great for a sewing table. You can also use drawers for storage. Consider large items you want in the room, such as an ironing board or sofa.
If you want to include a cutting table, it must be accessible from all sides and large enough to cut the fabric of the project you are working on. You'll also want to make sure the table is high enough to be used while standing without causing back pain.
If you have a small room, try using furniture that will double the storage. For example, you can place your sewing machine on a table and use its drawers for storage.
Don't forget to include a place for trash, storing items that can be reused, and patchwork.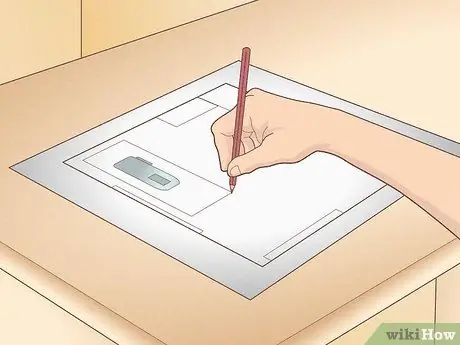 Step 3. Draw a floor plan of your sewing room or area
Include tools and items from step 2. This floor plan includes items such as a table for a sewing machine, a table for cutting, a small sofa, an ironing board, storage, and shelves.
Don't forget to include a bookshelf or wall shelf. A furniture store can help install a storage cubicle that is tailored to the room, or you can purchase a storage cubicle installation kit and install it yourself.
Create areas for cutting, sewing, and ironing. Place these areas in a triangular arrangement to maximize efficiency as you move around the room.
If your room is large, place all work equipment in the center of the room to allow you to work from all sides.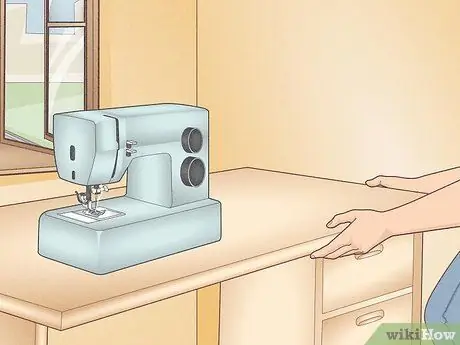 Step 4. Arrange the equipment and furniture according to the floor plan you have made
Start with integrated storage, then a desk or sewing machine, and other storage.
Think about power plugs when you set up machines and lights. Make sure you don't need to use a power cord. The power cord can be dangerous if you accidentally trip over it. If you use an electrical connection, use a surge protector to avoid damage to the machine.
Make sure the room has good lighting. Light can come from the window. You'll also be using lots of local light for some projects. You will need a special lamp to get direct light.
Part 2 of 3: Organizing Items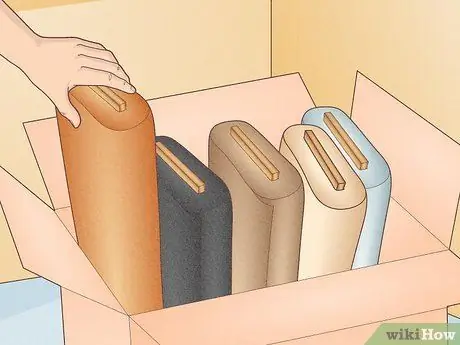 Step 1. Start by sorting and organizing the largest items
Large items include rolls of cloth, ironing boards, or body-length mirrors. Make sure the items you use frequently are easily accessible, while tools that are only used occasionally are properly stored and labeled so you can find them.
An ironing board hanging on the door is great for saving space in a small sewing room.
Large mirrors can be affixed behind the door, if you can't find a place for a body-high mirror in the room.
Be careful when storing cloth. Make sure the fabric is not exposed to direct sunlight, as prolonged exposure to sunlight can cause the fabric to fade. Fabrics can be hung, folded and stored on shelves, rolled up and stored in boxes, or arranged in cabinets.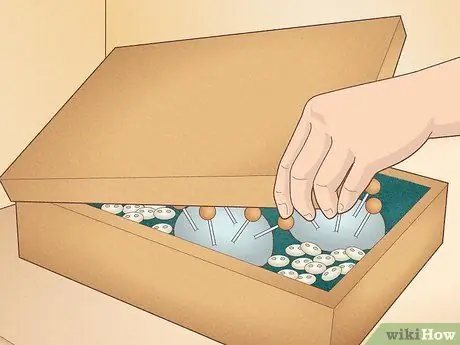 Step 2. Decide what you want to hide when saving
These items could be tools that you don't use often or that you just want to keep but are out of sight. For example, maybe you have a small sewing kit that you sometimes use but want to keep. You might consider stashing everything in the toolbox compartment, then placing the box in a storage cubicle.
Storage cubicles are one of the best places to store materials. The shelves are great for storing rolls of cloth, or a toolbox and patchwork. You can also hang fabric from bars in the booth.
Pull-out storage can hide items, but is easy to access. Consider using pull-out shelves in a cabinet or table.
File cabinets can be used to keep fabric patterns in order. If you don't want to see a file cabinet in the room, you can always place it in a storage cubicle and store things on top of it, for extra storage.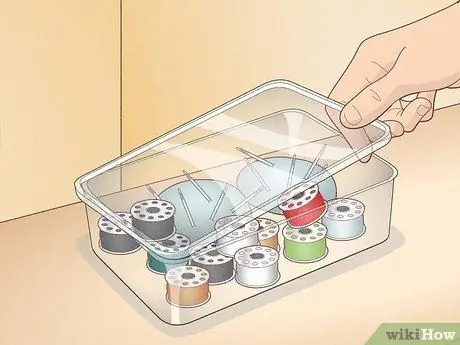 Step 3. Choose what you want to keep in the open
The advantage is that you can find these items quickly. Clear containers are great for storing bobbins, needles, measuring tape, and pins.
If you're worried that the room will look cluttered, make sure all items are organized by type, but displayed in the same way. For example, storing all buttons, regardless of color, in the same few clear jars can indicate what color you have and keep them all uniform.
Pegboards are also an option for displaying and storing frequently used tools. Several bars can be attached to hold a spool of ribbon or yarn. Hanging boards are also a great alternative to storage drawers for ease of use.
Part 3 of 3: Decorating the Room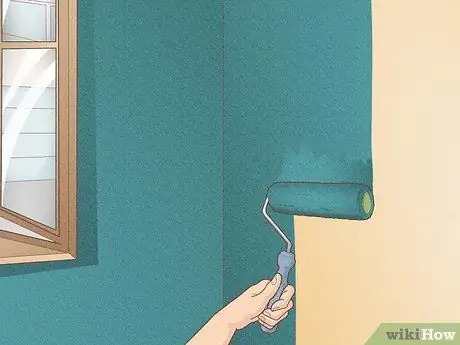 Step 1. Paint the room or cover it with wallpaper
Remember that cool colors (blue, green, purple) have a calming effect, while warm colors (red, pink, orange) are uplifting.
Consider the atmosphere you want to evoke in the room. For example, if you want a calming room, consider green. Yellow and orange create an inviting atmosphere. To help you focus on the project, consider blue and green. Red and orange can encourage creativity.
Consider light when choosing a wall color. If your room doesn't have a lot of natural light, you may not want to choose a darker color. Lighter colors can make a room feel brighter and bigger.
If you don't want to paint or apply wallpaper, but still want to change the color of the room, you can install a quilt, hang curtains, or paint the shelves in a color of your choice.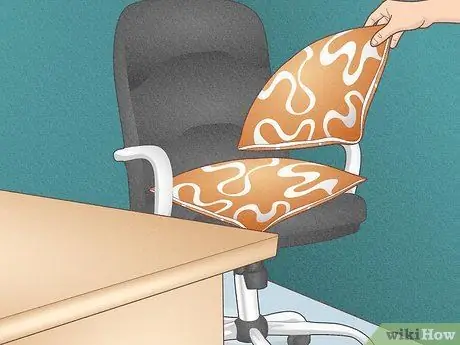 Step 2. Add soft decor in your room
Make sure the sewing space is comfortable so you enjoy using it. Cushions, cushions and soft cushions can make a room more comfortable and charming. It's also a way you can add color and display soft decorations that you've made yourself.
Padded decor has practical benefits. Carpets are great for comforting hard floors and annoying noises. Pillows and cushions can make a chair or sofa more comfortable. A wheeled work chair with a seat mat can also prevent back pain when you work for a long time.
If you're looking to redecorate your sewing room as the seasons change, replace the rugs, cushions, or curtains for a quick and inexpensive way to update the room.
When arranging a room according to your personality, think vertically. The large wall is perfect for hanging the finished wicker blanket. Bookshelves are a useful place to store blankets or sitting mats so they are easy to use and also display color in the room.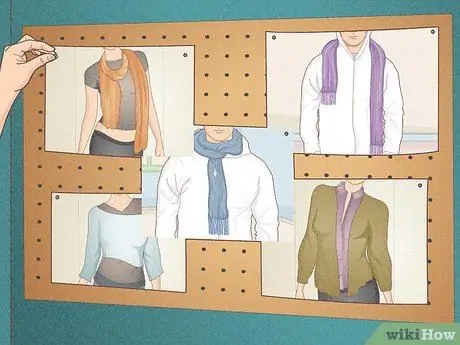 Step 3. Showcase your work and what inspires you
Have an inspiration board or wall on which you can hang ideas for projects. You can hang magazine clippings, rags, paper of your choice of paint colors, or whatever motivates you.
Popular inspiration boards can be made of cork, lined with a suitable fabric, or magnetized.
Place magazines, books, and craft prints on shelves that allow you to get ideas quickly. Place a comfortable chair nearby so you can sit back and think about a new project.
You can also create an area to show off a finished project or a collection of stitches. Arrange them all on a wall-mounted shelf or frame and hang them around the room. For smaller items, such as bobbins or thimbles, arrange them individually in insulated containers.