Fashion design is a very exciting and growing field. Fashion design also requires a lot of work and is incredibly competitive. If you want to be a successful fashion designer, you have a long road ahead of you, but there are some direct steps you can take to get started in the process.
Step
Method 1 of 5: Build Basic Skills
Step 1. Learn to draw
You don't have to be a great illustrator; Many designers have a cute style when it comes to designing. Importantly, you must be able to visually communicate your vision. Take a drawing class, study books, or keep practicing.
To learn a new skill, the important thing is to do it often. Set aside 30 minutes each day for drawing practice.
You Can Draw in 30 Days by Mark Kistler is a great reference book.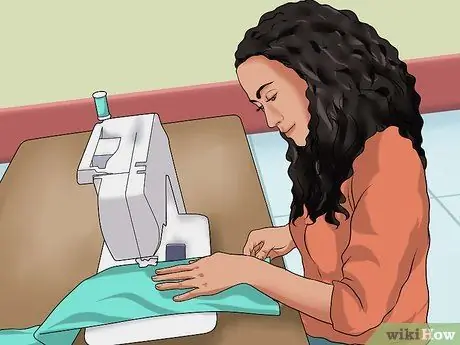 Step 2. Learn to sew
Even if you don't have to sew your own designs, you need to know about sewing. Knowing what can be realized through the media you use is very important so that you can get innovative and great ideas.
Many craft shops offer sewing courses at a very low cost.
You have to learn to make patterns if you want to sew your own clothes. You have to know how fashion patterns are arranged. Knowing how to break a design down into different shapes is an important part of sewing clothes.
Purchase some simple patterns at a craft store for practice.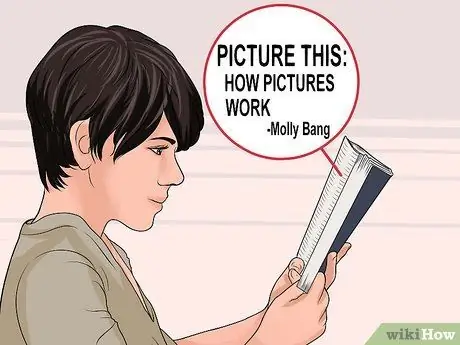 Step 3. Learn about design
If you want to create innovative designs, you need to know the theory of design. You could start with Molly Bang's book Picture This: How Pictures Work. This book will help you learn to think like a designer.
Don't limit yourself to just learning about fashion. The principles of design theory can apply in all areas of the discipline. You might be surprised if learning something like typography can teach you about fashion design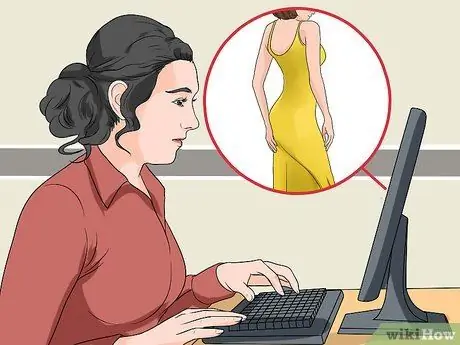 Step 4. Learn about fashion
If you want to be a fashion designer, you have to learn all about the world of fashion. You may consider yourself a stylish person, but knowing how to dress yourself in style is only the tip of the iceberg. If you design clothes based on current trends, by the time your design is complete, it may be out of date. Professional fashion designers are constantly thinking ahead, about the next big thing.
Watch videos or see photos of high-end fashion shows on websites, or watch live if there is a fashion show being held near where you live. Professional designers design their seasonal collections months in advance, so these fashion shows can give you an idea of what trends will emerge in commercial fashion in the future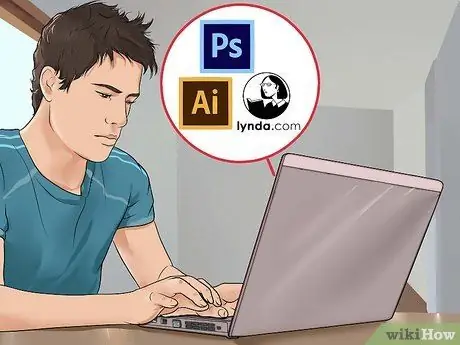 Step 5. Learn about technology and find sources of information
There are tools available to designers today than ever before. In addition to being proficient with sketchbooks and sewing machines, you need to be proficient with Adobe Photoshop and Illustrator.
Sites like Linda.com or Tuts+ are great sources of online information.
If you want to sketch on a computer instead of a book, you'll need to buy a good pen tablet, such as a Wacom.
Method 2 of 5: Imagine Your Design
Step 1. Look for inspiration
What excites you the most? What are you most curious about doing? It could be a certain fabric, a piece of visual art you see, something you want but can't seem to find in a store, an outfit you see on the street, a certain color pattern, a retro trend you want to bring back, and much, much more. There is no particular way to get inspired. The important thing is to find something that excites you.
Consider your customers. What kind of person do you envision buying your design? What kind of clothing does this person need?
Combining existing fashions with trends can be an interesting way to create new looks. How about combining the military elements with something softer and curvy? What if the 1990s style was combined with the 1930s style? How can you incorporate elements of menswear into womenswear?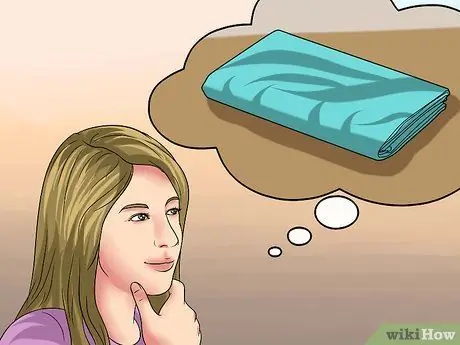 Step 2. Pay attention to the fabric
Do you want a stretchy material, or something less pliable? Is your design squiggly, or rigid and architectural? Should the fabric be soft or textured? If your initial inspiration was an amazing fabric you found, that's got you covered. If not, think about what kind of fabric your design requires.
Also consider other embellishments such as buttons, lace, beads or embroidery floss. These things often affect your choice of fabric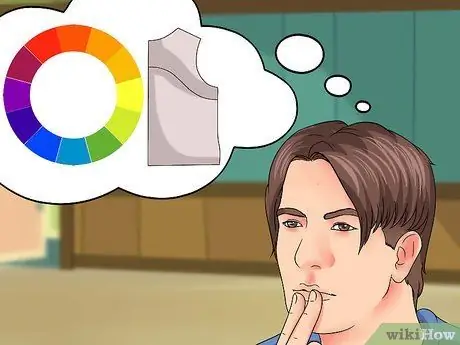 Step 3. Think about colors and patterns
The impact of your design will depend a lot on the colors and patterns you use. Think about what the clothes are made for and how you imagine people wearing them. Think about your customer, and what he or she wants to wear. Most importantly, make what you think looks good. There are no strict and easy rules here. You're the designer, and you have to be honest with yourself more than anything else.
Look at the color blend guide circle. Remember, contrasting colors (colors that are opposite each other), will highlight each color. This can add a dramatic effect to your design, but if not styled properly, it can be destructive and misplaced.
Get a color sample from a paint store, and use it to experiment with other color combinations before you buy the fabric.
Method 3 of 5: Draw Your Design on People's Sketch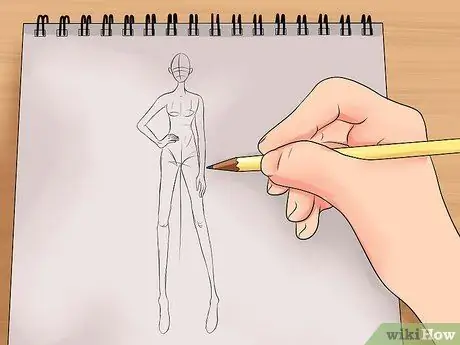 Step 1. Draw a sketch of a person
When designing clothes, you need to think about how the clothes will feel when worn on the body. That's why most designers draw their designs in human form. You can feel pressured and run out of time if you sketch people from scratch every time you create a design. Because of this, many designers sketch people. This is just a model that you can use every time you sketch a new outfit. You need to start drawing sketches (outlines) of people with a pencil. This is a prospect that can be stressful, but need not be difficult.
If you're not too stressed, draw freely. Here your drawings don't need to be anatomically correct, and most of the people's sketches that the designers create represent a personal style. Your design will look more unique on a sketch that you draw yourself. Don't worry about the little details; Just imagine your drawing like a two-dimensional mannequin.
If you feel like you can't sketch people from scratch, use someone else's drawing. Trace pictures from books or magazines, or download one of the hundreds of free-to-download people sketch models online.

Many designers use a method called 9 heads to get their images proportional in size. Use one head as the unit of measurement, and draw a body that measures nine heads from the feet to the top of the neck.

Draw a straight line, then divide it into 10 equal parts. This becomes your guide when drawing.
Section 1 starts just below the head, then measure the body from the top of the neck to the middle of the chest; part 2 is measured from the middle of the chest to the waist; section 3 from the waist to the bottom of the hips; section 4 from the bottom of the waist to the middle of the thigh, section 5 from the middle of the thigh to the knee, section 6 from the knee to the middle of the calf, section 7 from the top of the calf to the middle of the calf, section 8 from the middle of the calf to the heel, and section 9 is the leg.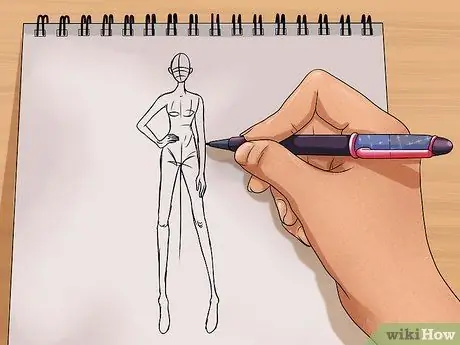 Step 2. Trace the image of the person with the black pen
Place the paper on top of the person's image, then trace it. Use black ink to trace the person's image.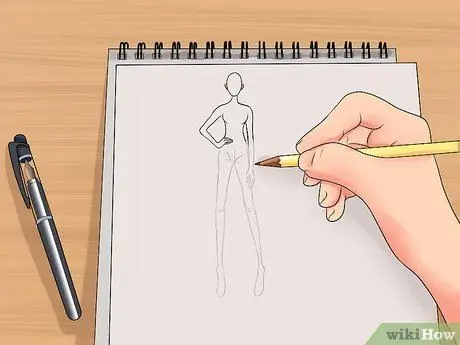 Step 3. Trace the picture of the person on another piece of paper
For this step you don't need a pen, but use a pencil. Place a plain white sheet of paper on top of the sketch of the person you just drew. The image can be seen relatively clearly as long as you use a black pen and your paper is not too thick.
If you have a light box (a lightbox or some kind of glass table with a lamp inside), this is a good time to use it. Put the picture of the person in the light box, place a blank paper on it, then turn on your light box, and start tracing.
If you don't have a light box and have trouble seeing the picture through the paper, try sticking the two pieces of paper against a window in daylight. This might be an odd position for tracing, but the effect is basically the same as if you were using a light box.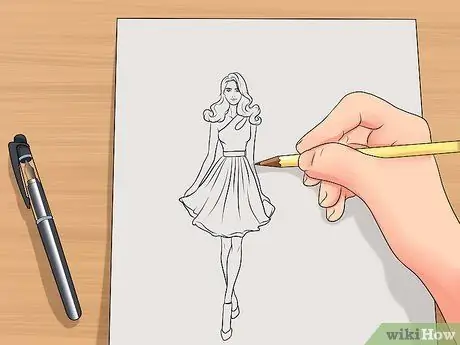 Step 4. Start sketching your design
Using a pencil so that you can erase the inevitable mistakes, lightly draw the shape of the dress you envision. Start with something general like the basic shape of the dress, then slowly add details as the design takes shape. When you are satisfied, bold the entire image with a pen.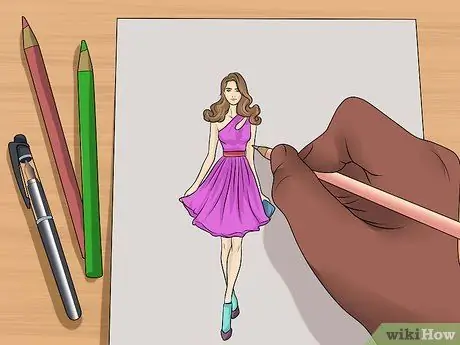 Step 5. Color your design
You can use any drawing tool you like at this stage. You can especially use markers and colored pencils as they are great for layering. Start with the lightest color you want to use, and color the wider areas in long, consistent strokes that move in the same direction as the fabric. Gradually add darker colors, patterns, and shadows as you color.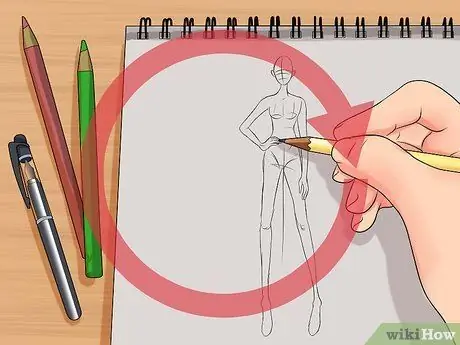 Step 6. Repeat if desired
Now that you have sketches of people, of course you can start making new designs faster. Trace the sketch of the person, then move on.
Method 4 of 5: Sewing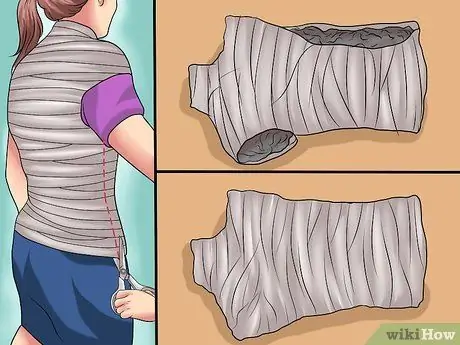 Step 1. Make the mannequin
You need a mannequin to design clothes and make sure they fit your body. If you don't have a mannequin, you can make a life-size makeshift mannequin of your own.
Wear clothes you don't like. While you're wearing it, tape the entire garment over with a large piece of tape. Later the clothes become stiff clothes covered with tape the size of your body.
Remove the garment by cutting it at the sides, starting from the hips to the armpits, then along the sleeves.
Tape back the cut parts so that the clothes are whole again. Cover with newspaper, then cover the bottom, neck, and sleeves with tape again. You can keep or cut off the sleeves.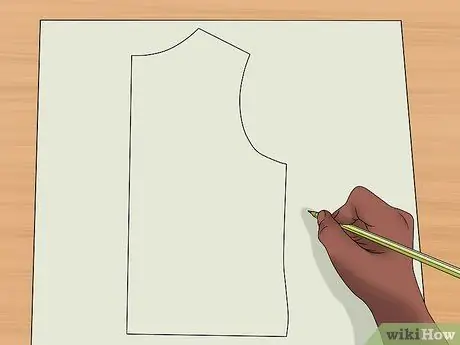 Step 2. Draw your pattern on a wide parchment paper
Use a pencil in case you make a mistake, then label each section so you don't get confused later. Remember the old carpenter's motto: measure twice, cut once. You can waste a lot of time because of one mistake. When it fits, cut it according to its shape.
You should know a little about how to make patterns before doing this, but you don't have to be an expert. However, you need to be able to imagine what the garment you're designing will look like once it's sewn, and have the skills to execute it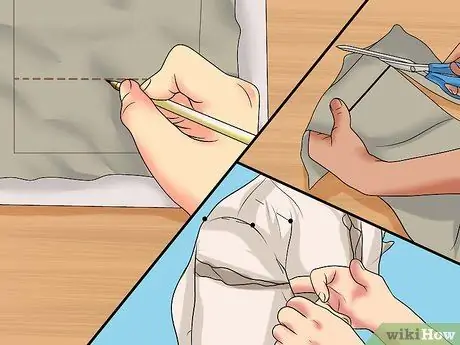 Step 3. Recreate your pattern on the muslin
Spread the parchment paper cut according to the pattern on the muslin, then trace. Also cut this fabric, and pin it to the basic shape of your garment with a pin.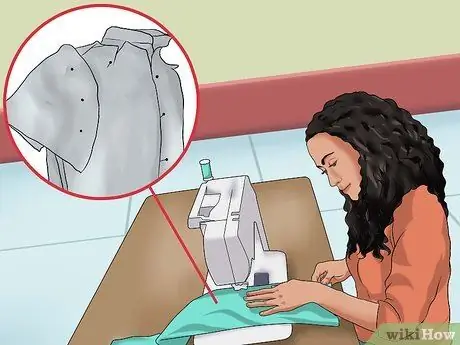 Step 4. Sew the temporary design of your shirt
Sew the muslin with a sewing machine. Remove the pins, and attach the garment to a mannequin, or wear it over your body if you are designing it for yourself.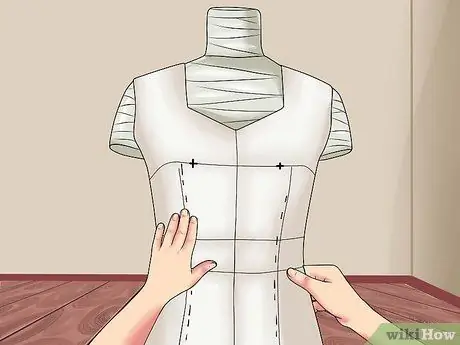 Step 5. Evaluate the outfit
See if it fits. Think about the shape. What is appropriate? What's not yet? Take notes, sketch, draw or cut the muslin, or anything else that helps you understand the changes you want to make.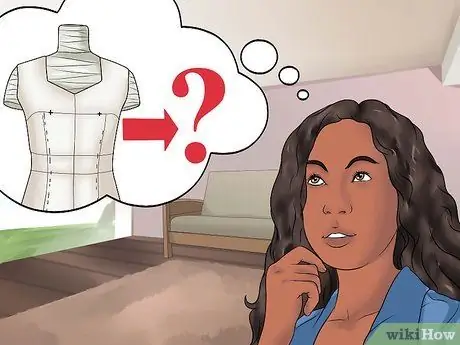 Step 6. Decide on your next step
How similar is the design of the shirt to the design you imagined before? Are you ready to continue with this plan? Do you need to make it again with a nicer fabric? Depending on what your temporary design looks like, you could either go back to the drawing table again or be ready to sew the actual shirt.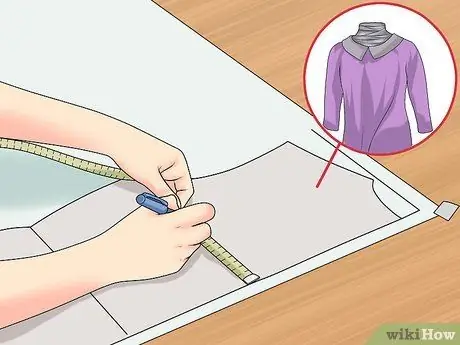 Step 7. Proceed to the actual design
Now is the time to actually put your design into action. Continue your design by making as you did with the temporary design with muslin. Remember, you will probably make mistakes, especially in the beginning. Make sure you buy more fabric than you need, spend more time, and always double-check your measurements. Things don't always go according to plan. Get ready to work things out, or change your design a bit. Sometimes the best innovations come about because something went wrong.
Method 5 of 5: Selling Your Work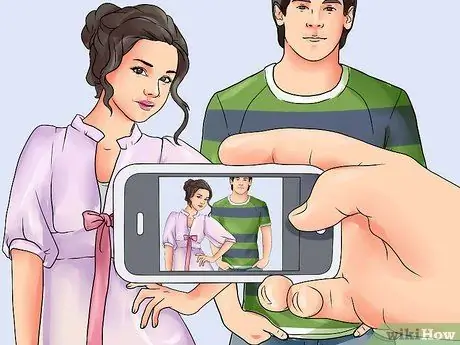 Step 1. Build a portfolio
Document your work in the form of photos when you create a fashion design. This is how you promote yourself as a fashion designer as your career progresses. Remember that you need to show your skills, while showing that you have a unique style and point of view. It's a good idea to have a variety of your works in your portfolio, but all of them reflect your uniqueness.
Take quality photos. Don't just lay your designed shirt on the bed and take photos in poor lighting and use your phone camera. Have a model dress in your design, make sure the shot is in good lighting (if you don't have the means to do this indoors, shoot outdoors on a slightly overcast day - this will provide even lighting), use a camera that nice, and pay attention to details like hair, makeup, and accessories. The way you present your work matters a lot
Step 2. Do your research
Are there independent fashion boutiques in your area that sell clothes in a similar art style to yours? Is there a site on the internet that sells clothes that remind you of the clothes you designed? Try to find a designer whose work reminds you of your own, or you want your design to be like his. Observe their tactics.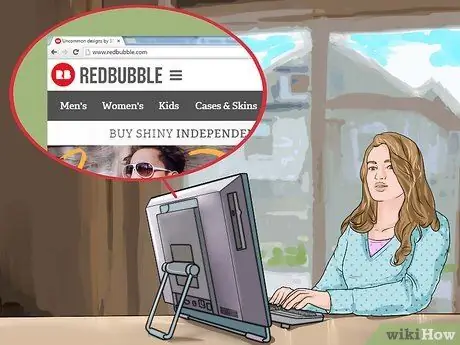 Step 3. Use internet sources
Some sites will embody your design if the site provider or their visitors are sufficiently impressed. Visit sites like Gamz or Fabricly if you think you have a great design that you haven't sewn yourself.
If you feel inclined to be more of a graphic designer, but think your work is great in fashion, visit a site like RedBubble, which can print your art on a variety of different products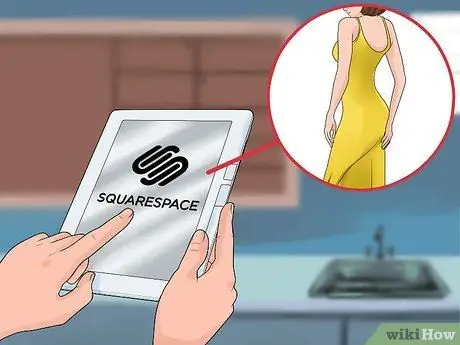 Step 4. Create a website
If you want to sell clothes, the world must know your genius. Anyone can build a great website now; use a platform like Squarespace to create a site that showcases your portfolio. Make your website look simple and elegant. You should focus on your fashion design, not your web design.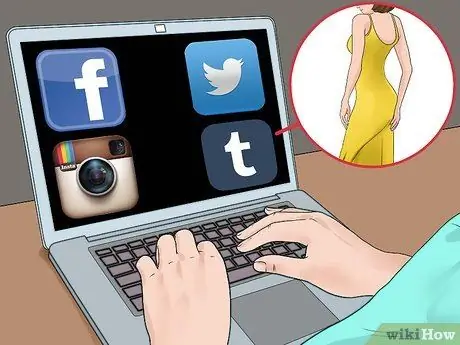 Step 5. Introduce yourself
Exist in the social world. Create Twitter, Facebook, Instagram, Tumblr accounts and so on. You especially need people to see your work. Don't worry too much about sales. Now, you need to exist for people to know you.