We all make mistakes from time to time. Some of the everyday mistakes we might make include: mistaking a concrete task (writing, typing, graphing, etc.), offending someone, committing an act we regret, and engaging in risky circumstances. Since accidents are common, it's important to learn how to correct and deal with them. Overcoming any error involves: understanding the error, making a plan, taking care of yourself, and communicating properly.
Step
Part 1 of 4: Understanding Your Mistakes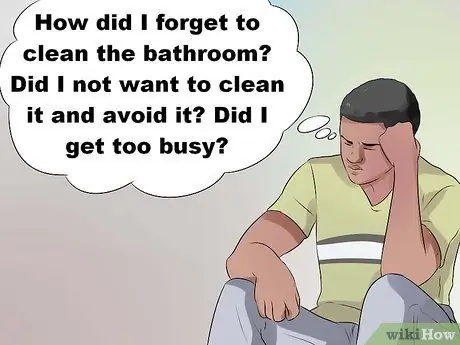 Step 1. Know your mistakes
First, you have to understand your mistake in order to change it.
Define the error. Did you say the wrong thing? Did you make a mistake on a project at work or school by mistake? Did you forget to clean the bathroom as you promised?
Understand how and why you made the mistake. Did you do it on purpose and then regret it? Are you just not paying too much attention? Think something like, "How could I forget to clean the bathroom? Don't I want to clean it and then avoid it? Am I too busy?"
If you're not sure what you did wrong, ask someone (a friend, family member, teacher, coworker, boss) to help figure it out. For example, if someone is upset with you, you might ask, "I think you're annoyed with me, can you explain what I did wrong?" Then this person might say, "I'm pissed at you because you said you were going to clean the bathroom and you didn't."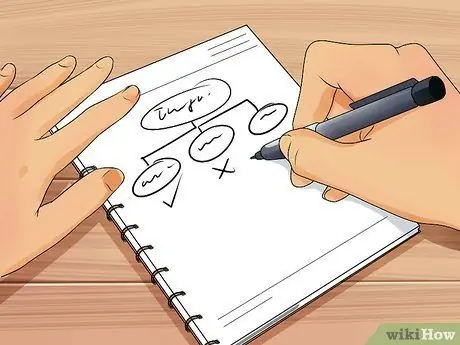 Step 2. Remember your past mistakes
Pay attention to your own behavior patterns and how you've had similar problems in the past. Are there other times when you forget something?
Take note of any patterns or themes that you are aware of that keep popping up in your mind. This may help you find the larger goal you need to work towards (attention span, specific skill set, etc.). For example, you may tend to forget about tasks you don't want to do, such as cleaning. This could indicate that you are avoiding the task or that you need to be more organized in order to remember to complete a responsibility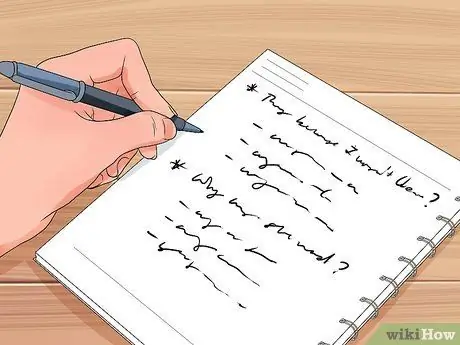 Step 3. Take responsibility
Understand that your mistakes are your own. Take your responsibility and avoid blaming others. If you're always blaming others, you won't be able to learn from your mistakes, and can keep making the same mistakes over and over again.
If you have contributed to a problem, write down your part or the specific mistake you made.
Find out what things you could actually do differently to produce better results.
Part 2 of 4: Making a Plan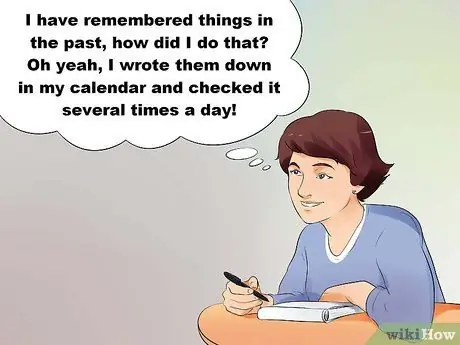 Step 1. Think of past solutions
One of the best ways to resolve a problem or error is to recognize how you have resolved similar problems or errors in the past. Think things like, "I remember things from the past, how can I do that? Oh yeah, I write them down on my calendar and check them out several times a day!"
Make a list of similar mistakes you have made. Know how you deal with each mistake and whether it benefits you or not. If not, maybe it won't work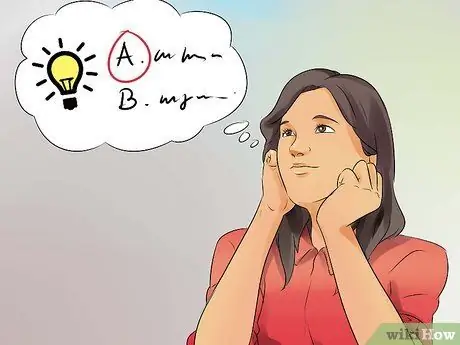 Step 2. Consider the options
Think of as many ways as possible to correct your mistakes. In the example just described, there are various options: you can clean the bathroom, apologize, offer to clean the rest of the house, negotiate, make plans to clean it the next day, etc.
Use your problem solving skills to think of a possible solution to your current problem.
List the pros and cons of each possible solution. For example, if you recognize that one possible solution to the problem of forgetting to clean the bathroom is to make sure to clean it tomorrow, the pros and cons list might look something like this: Pros - the bathroom will eventually be cleaned, cons - the bathroom won't be clean today, and I'll probably forget about it tomorrow (I can't really be sure this will do), forgetting to clean the bathroom won't solve my problem. Based on this assessment, it may be best to clean the bathroom the same day if possible, then develop a plan so you remember to clean it at a later date.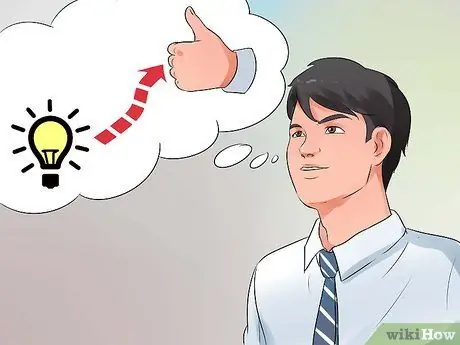 Step 3. Define an action and do it
To solve a problem, you need to come up with a plan. Find out the most likely solution based on your past and available options, then commit to doing it.
Obey. If you promise to fix the problem, do it. Being a reliable person is important for building trust with others and making relationships last longer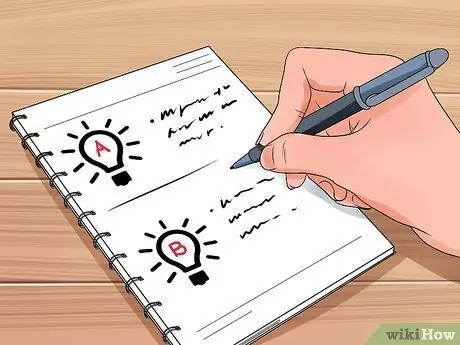 Step 4. Create a backup plan
No matter how much the plan will succeed, there is still a possibility of failure. For example, you might end up cleaning the bathroom, but the person who asked you to clean it may still be annoyed with you.
Find other possible solutions and write them down from the most helpful to the least helpful. Go through the list from top to bottom. This list might include things like: offering to clean another room, apologizing frequently, asking him in what way he would like you to make amends, or offering him something he enjoys (food, activities, etc.)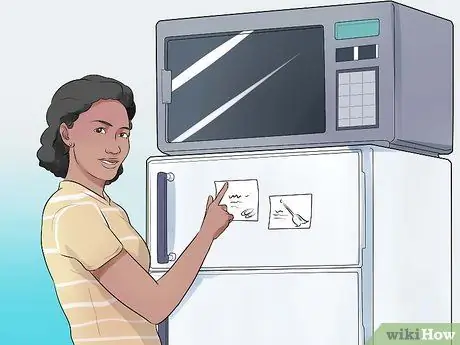 Step 5. Prevent future mistakes
If you can manage to find a solution to the error, you are starting the process of future success and how to avoid the error.
Take note of what you did wrong, in your own opinion. Then write down what goals you want to do in the future. For example, if you forget to clean the bathroom, you can set goals such as: write a to-do list each day, check the list twice a day, tick the completed tasks, and place a Post-it containing the most prioritized tasks on the refrigerator
Part 3 of 4: Taking Care of Yourself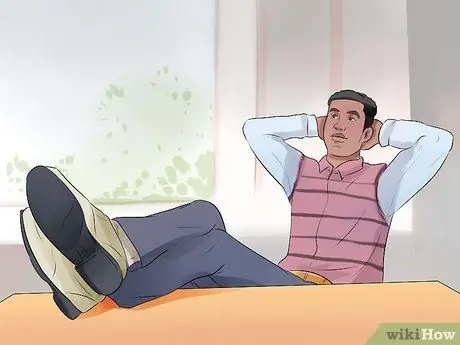 Step 1. Know yourself
Understand that making mistakes is not a problem. You may feel guilty, but it's important to accept yourself despite your weaknesses.
Forgive yourself and move on, and don't stop to think about your problems.
Focus on doing better now and in the future.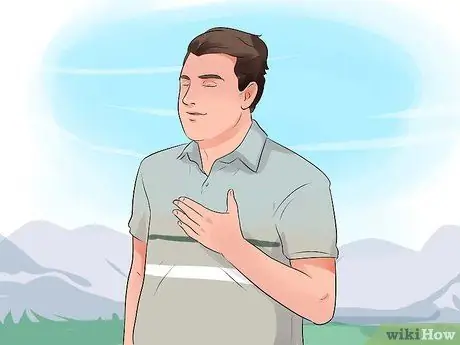 Step 2. Always pay attention to your emotions
When we make mistakes, it's easy to get frustrated, overwhelmed, or completely give up. If you're feeling overly emotional or stressed, take a break. Trying to make amends when your emotions are running high won't do you any good.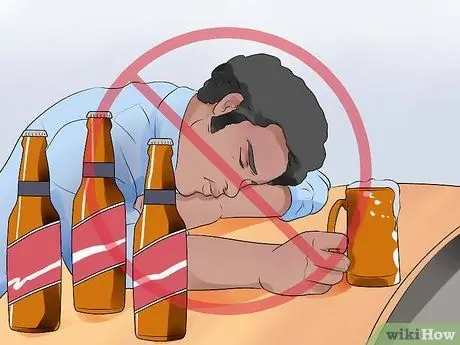 Step 3. Face it
Focus on how to deal with negative emotions that can make you feel better. Think about how you have dealt with your feelings when you made a mistake in the past. Find out how you can deal with it better and ways that make you feel worse.
Some common strategies for dealing with mistakes are: positive self-talk (saying nice things about yourself), exercising, and engaging in relaxing activities such as reading or playing.
Some unhelpful ways of dealing with mistakes include self-destructive behaviors such as: consuming alcohol or other substances, physically hurting yourself, brooding, and thinking about yourself negatively.
Part 4 of 4: Communicating Effectively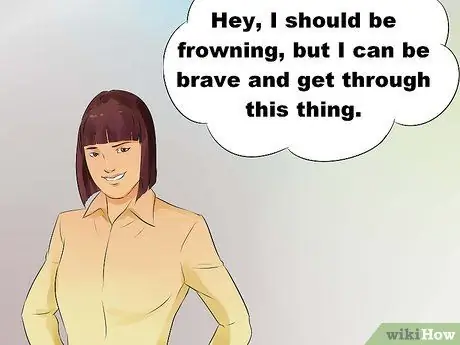 Step 1. Be assertive
Using assertive communication skills means saying what you're thinking and feeling in a respectful and courteous manner. When you are assertive, you are admitting that you were wrong and admitting that you are wrong. Don't blame others for your own mistakes.
Avoid passivity, which includes avoiding talking about it, hiding out, going along with what everyone wants you to do, and not standing up for your stand.
Don't be aggressive, including: raising your voice, yelling, belittling, cursing, and abusive behavior (throwing things, hitting).
Avoid being passive-aggressive. Attitude This is a mix of passive and aggressive forms of communication, which means that you may be upset but not being honest about your feelings. Because of this, you may be doing something behind the person's back to take revenge or silence him. This is not the best form of communication and he may not understand what you are trying to communicate and why.
Convey a positive non-verbal message. Non-verbal communication will send messages to the people around us. A smile said "Hey, I should be surly, but I can be brave and get through this".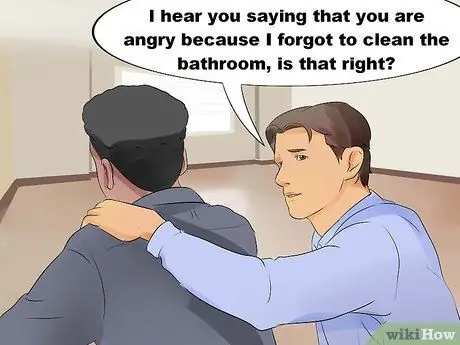 Step 2. Use active listening skills
Let the annoyed person vent his frustration and wait for a response.
Try to focus solely on listening to the person rather than thinking about how to respond. Focus on other people's feelings and thoughts rather than your own.
Make a concluding statement and ask clarifying questions, such as, "I heard you were angry because I forgot to clean the bathroom, right?"
Give empathy. Try to understand and put yourself in that person's shoes.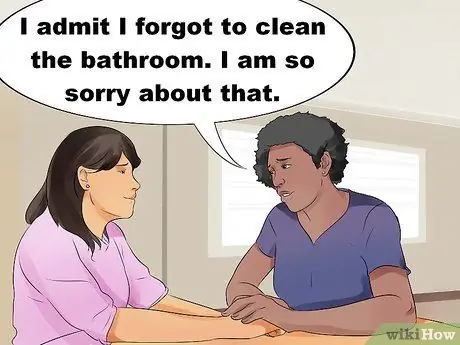 Step 3. Apologize
When we make mistakes, sometimes we hurt other people. Expressing regret shows that you regret the mistake, feel bad about the consequences, and that you want to do better in the future.
Don't give excuses or try to explain them. Admit it. Say, "I admit I forgot to clean the bathroom. I'm sorry about that."
Be careful not to blame others. Don't say things like, "If you remind me to clean it, maybe I'll remember and do it."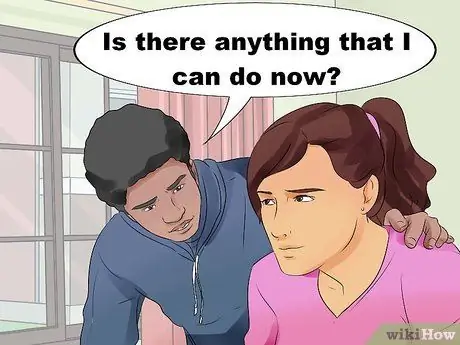 Step 4. Make a commitment to make positive change
Showing how to solve the problem and making a commitment to work on solving the problem are effective ways to correct mistakes when dealing with other people.
Try to find a solution. Ask the person what he or she would like you to do to make up for it. You can say, "Is there anything I can do now?"
Find out how to do things differently later on. You can ask the person, "What do you think will help me not to make this mistake again?"
Tell him you're willing to put in the effort to reduce the chances of making the same mistake in the future. You can say something like, "I don't want this to happen again, so I'm going to try to ____". Say exactly what you're going to do, such as, "I'll make sure to write down my to-do list so I don't forget it again."
Tips
If the task is too difficult or overwhelming, take a break or ask for help.
If you can't fix it or make things better right away, focus on how to make it better in the future.