Well-groomed hands can make you look stylish and civilized. However, you don't have to spend a lot of money at the salon to get beautiful nails! If you take care of your own nails, take a little time to push the cuticles, or thin skin that grows at the base of the nail. Your nail bed will appear longer, which makes your nails more elegant. However, never cut your cuticles as this can lead to a dangerous and painful infection.
Step
Part 1 of 3: Soften Cuticles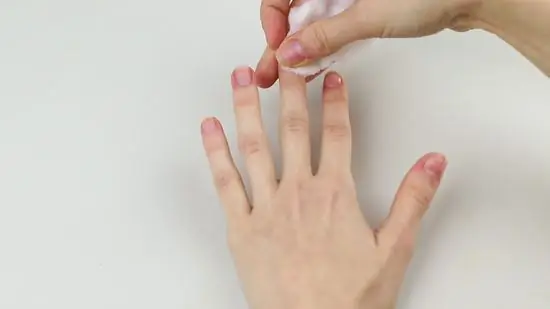 Step 1. Remove stuck-on nail polish with a non-acetone nail polish remover
Dip a cotton swab in nail polish remover without acetone, then gently dab it on your nails until all the polish is gone. It's a good idea to do this first as the cuticles will become slightly soft as you push, and the nail polish remover can sting the cuticles.
Also, if there is still some nail polish stuck to it, some small bits of nail polish can get into the nail bed when you work on the cuticles. This can lead to infection.
Unless you apply acrylic nails or a specific manicure treatment that requires it, don't use acetone-based nail polish remover as this can dry out your nails and cuticles.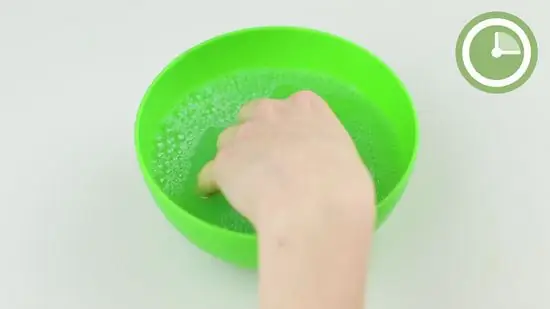 Step 2. Soak your nails in warm water for 5 to 10 minutes
The warm water will soften the cuticles so they can be pushed in easily and comfortably. If you wish, you can heat jojoba oil or coconut oil to add to the water to make the cuticles more moist.
Prolonged baths can also soften the cuticles so they can be pushed inward.
Alternatively, apply avocado oil or cuticle oil (you can buy it at a beauty store) on your cuticles and let it sit for 2 to 3 minutes. Rub the oil in a circular motion, then soak your hands in a bowl filled with warm soapy water. Make sure the cream or oil is still on the cuticles and continue to soak for 5 to 10 minutes.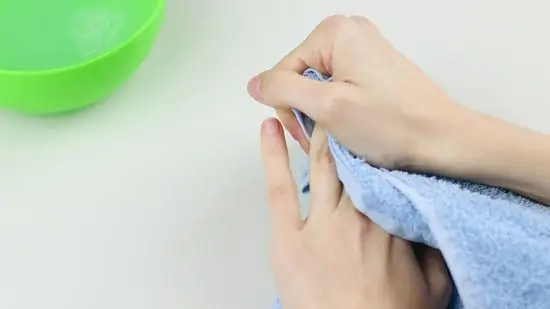 Step 3. Dry your hands with a clean towel
After soaking your nails, remove any remaining water with a flick of your hand. Next, dry your hands with a soft and clean towel. This action keeps the moisturizer on the nails.
A clean towel will prevent the spread of bacteria to your hands, which can make you more susceptible to infection after pushing your cuticles in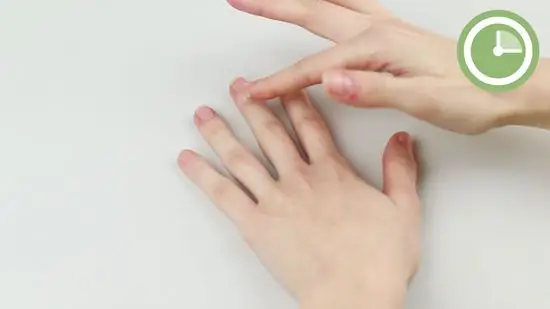 Step 4. Apply a small amount of oil on the cuticles and let it soak for 3 to 5 minutes
The cuticles are actually soft after you soak them, but you can add moisture by applying lotion, oil, or cuticle remover to your nails and letting them soak in. If you use an oil (such as coconut oil or a special cuticle oil), you can leave it on your nails as much as you like.
If using a chemical cuticle remover, read the product packaging to find out exactly how long you should let it soak in. Otherwise, the nail under the cuticle can be damaged.
You can buy an oil or cuticle remover at a beauty supply store.
Part 2 of 3: Using a Cuticle Pusher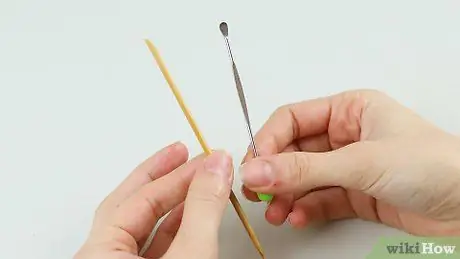 Step 1. Choose a wooden cuticle pusher to avoid damaging the cuticles
Orange sticks (also called orange wood sticks) are small round pieces of wood with rounded, flat ends, which are suitable for gently pushing the delicate skin around the nails. You can buy orange sticks at a drug or beauty supply store.
If your skin is very sensitive, wrap a cotton swab around the end of an orange stick before use. You can use a cotton swab or cotton bandage if you have one.
You can also push the cuticles using a soft cloth, cotton swab, or even your fingers. However, if you want a clean look, use orange wood sticks.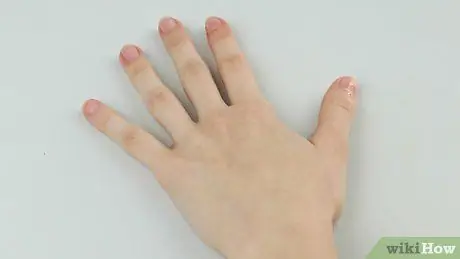 Step 2. Place your hands on a flat, firm surface for a steady position
If you push your cuticles without placing your hands on a surface, you'll have a hard time controlling the pressure when you push the stick. By placing your hands on a sturdy table, you're more likely not to pick or tear your cuticles.
Step 3. Gently push the wooden stick against the skin along the bottom of the nail
Holding the stick at the corner, gently push the cuticle into the corner, and continue to do this all over the nail. This can help remove dirt and prevent the nail from growing inwards. It's also useful for controlling the stick if you use a circular motion when handling your nails.
Do not push too hard or scrape the nails with a wooden stick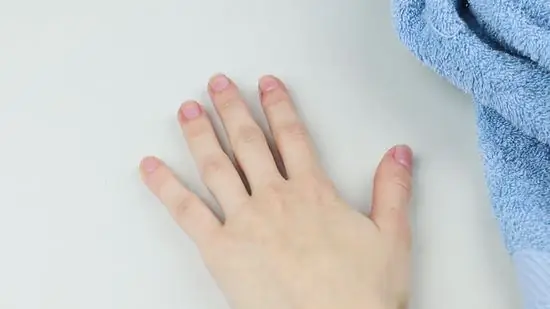 Step 4. Rub the cuticles gently with a washcloth soaked in warm water
You may find a tear in the skin at the base of the nail where you pushed the cuticle. Do not cut or tear the skin as you may cut too deep, exposing the nail bed and potentially causing infection. Instead, gently exfoliate with a clean washcloth dipped in warm water.
When finished, the cuticle will form a fine, thin line at the base of the nail.
If you have hangnails or patches of skin that are difficult to treat, use a cuticle clamp to remove any remaining pieces. This tool is specially designed to minimize damage to the cuticle. Be careful, only cut off the dead skin that is transparent in color. Do not cut the skin under the nails.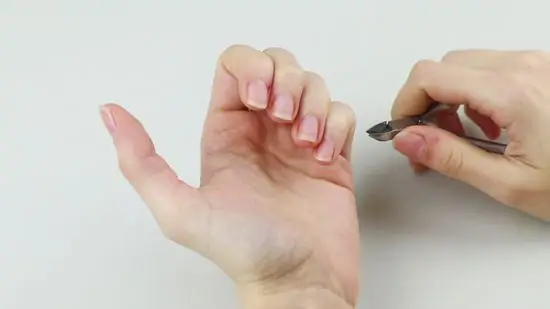 Step 5. Use tongs to trim the nodules (if any)
These tweezers are usually used to trim cuticles, but their long, pointed blades are perfect for trimming hangnails. Aim the clamp as close to the base of the torn skin as possible, then trim the nodule in one smooth motion.
Nail nodules are part of the cuticle or skin that is torn or split, and is usually found in the folds at the edge of the nail or under the cuticle.
If you don't trim it, the nodule can tear longer, which will cause pain and increase the risk of infection.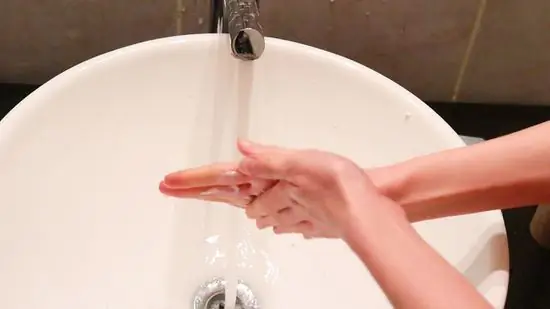 Step 6. Wash your hands with warm soapy water when you're done
There may still be some leftover cuticle oil on your hands, or flakes of skin left over from the peeling process. However, all this dirt can definitely be removed easily when you wash your hands.
Before applying nail polish, dry your nails thoroughly and make sure all the excess oil is gone. It's also a good idea to wipe each nail with a cotton swab dipped in acetone-free nail polish remover to speed drying
Part 3 of 3: Caring for Cuticles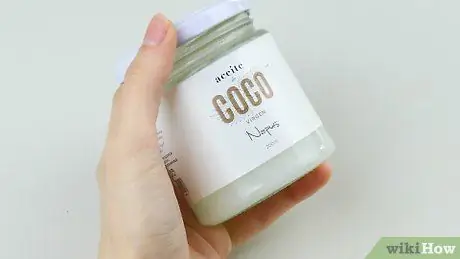 Step 1. Moisturize cuticles daily
To keep your cuticles healthy, you need to moisturize them every day. You can use moisturizing lotion, petrolatum (petroleum jelly), or any other oil you like, as desired. Apply moisturizer, then rub it in so the cuticles can absorb the moisture.
Dry cuticles are more prone to peeling or splitting. If this happens, it will be painful and can lead to infection. In addition, the cuticle will also grow thicker than before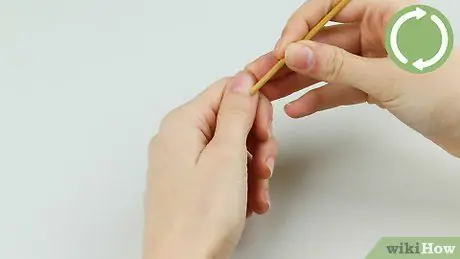 Step 2. Push the cuticles once a week
Over time, the cuticles won't need to be pushed in so often, but it's a good idea to stick with it. Always stock up on sticks and hand lotion, and take a few minutes to moisturize and encourage cuticles once a week after showering.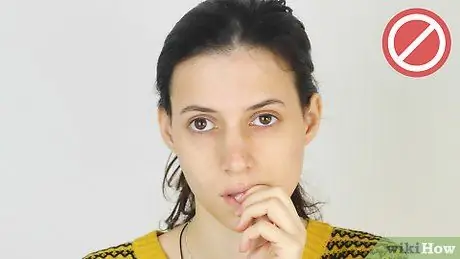 Step 3. Avoid biting your nails or the skin around your nails
Biting your nails can damage the nail bed beyond repair. Chewing on cuticles, nodules, or the skin around the nails can lead to dangerous infections. In addition, damaged cuticles can make them grow thicker, making them difficult to push inward.
Instead of biting your nails, it's best to smooth cracked or split nails with a nail file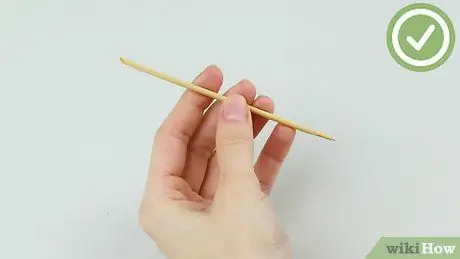 Step 4. Use a new wooden stick each time you push the cuticles
Orange wood sticks have pores so they are difficult to clean. It's best to throw away the sticks after you use them to prevent the spread of bacteria when you treat your nails again in the future.
Citrus sticks are made for one time use, so they are cheap and are usually sold in packs of 10 or more sticks
Warning